The past weekend saw the return of the Bundesliga albeit in a much quieter form, the most noticeable changes being the lack of crowds, the coaching, and training staff in masks, and social distancing being enforced for those on the bench.

There were 5 games played in the Bundesliga's first week back with some thrilling matches being played by Borussia Dortmund, Leverkusen and FC Koln for example. 
Millions tuned in over the weekend, in fact, more than five million viewers were recorded for pay-TV broadcaster Sky Deutschland on 16th May. Here in the UK, our thirst for top-flight football led us to tune in too, with BT Sport reporting over 600k viewers for Dortmund's win over Schalke!

Interest was such in the UK that it was the first week in history where searches on Google for Bundesliga eclipsed that of the Premier League!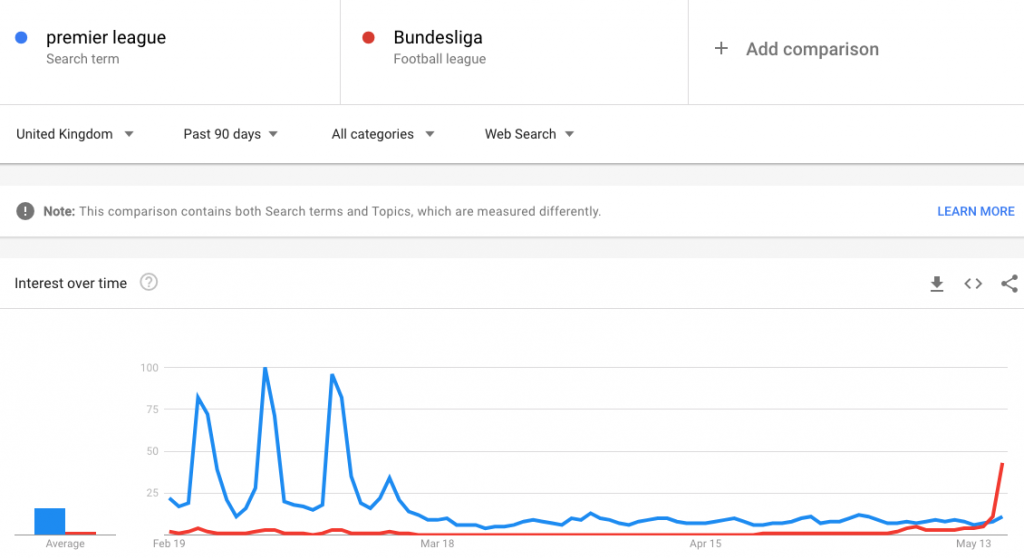 The bookmakers were making the most of having some football to have punters bet on too with a plethora of offers including:

Bet365's 2UP offer 

William hill offering £10 cashback Money back IF B. Dortmund beat Schalke

Bet £20 on Bundesliga to get £10 free bet from Betfair
To name just a few offers, it was a very busy weekend for Football betting indeed in comparison to the previous 8 weeks!
Fans are obviously happy to see the return of the Bundesliga but caution must be adhered too as despite the best efforts to be mindful not to break social distancing rules, Hertha Berlin players broke rules when they celebrated their goals in the win over Hoffenheim.

Bundesliga International chief executive Robert Klein says "In the hygiene concept, the guideline is to celebrate within social distancing rules. One can imagine at the height of a goal being scored that maybe, sometimes, the players get closer.
"The clubs are working actively with the players. They speak to them every day to remind them of what needs to be done to ensure we earn the right to a second match-day and a third and to finish the season

It is imperative for reminders to be instilled in the players as it seems the situation is being assessed and reviewed constantly.

Most major European leagues will be watching how the Bundesliga copes over the next couple of weeks under the new scrutiny, which will no doubt have an influence on decisions in their respective leagues too, including our own. Odds on the Premier League returning in June are currently 4/9, seemingly the betting markets think next month is extremely likely for the return of UK top-flight football.

There were a few signs close to home that we might not see a return of the premier league this season, for example, the SPL crowning Celtic champions but teams have been given the green light to start training and we have our fingers crossed for a June return.