VAR is having a huge impact on football and that doesn't look like stopping anytime soon.
Despite some not really knowing what VAR actually is – Visual Assistant Referee – many are keen to find out.
VAR has only been used in the Premier League since the start of the season, but it is already making a big impact although many are departing just how good or bad it is.
The opening couple of couple of weeks of use in England and it certainly seems VAR is here to say, and you only have to look back over the last few months at the biggest footballing trends on the internet to see just how big it has become.
Using Google Trends you can see that VAR currently ranks alongside the biggest names in world football – Neymar, Paul Pogba, Lionel Messi and Cristiano Ronaldo.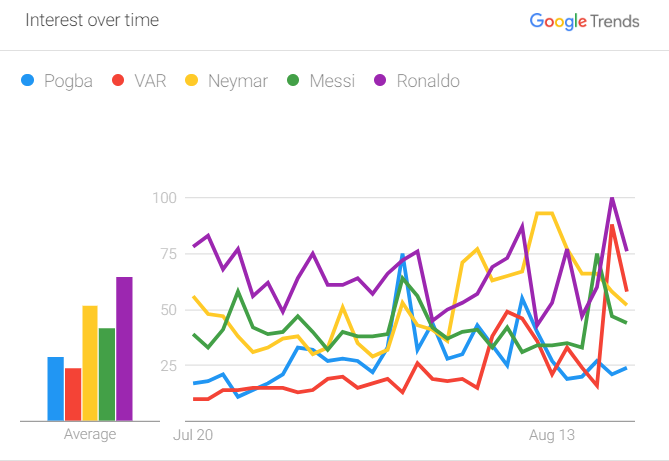 OddsMonkey spokesman Peter Watton commented: "Before VAR, who would of thought that it would attract so much interest, and every week it seems to be creating its own headlines.
"One thing is for sure, it is causing headlines and interest in equal measures – as the Google Trends shows it is competing with the biggest names in the game."
Please note that we can tailor this release to your needs or produce bespoke content for free on any subject, please get in touch to see if we can help.

Spokesman Peter Watton is available for further comment or one-on-one interviews on this subject or anything connected with a betting market – for more information please contact press@oddsmonkey.com 
You can also check out all our latest Press Releases  – which you are free to use