EDIT: THIS OFFER IS NOW CLOSED.
That's right! Betfair are offering just 2% commission – exclusive to OddsMonkey Premium members. This will add up to some great extra profits compared to the usual rate of 5%.
Make sure you OPT IN between Wednesday 13th September 09:00 and Monday 18th September 12:00 (midday) to be eligible for 2% at Betfair across all markets until the end of the year!
How to opt in to this exclusive offer
Register at OddsMonkey and upgrade to Premium (if you're not already a Premium member)
Link your OddsMonkey account to your Betfair account – there's a guide covering this here
Follow this link to opt in to the offer at Betfair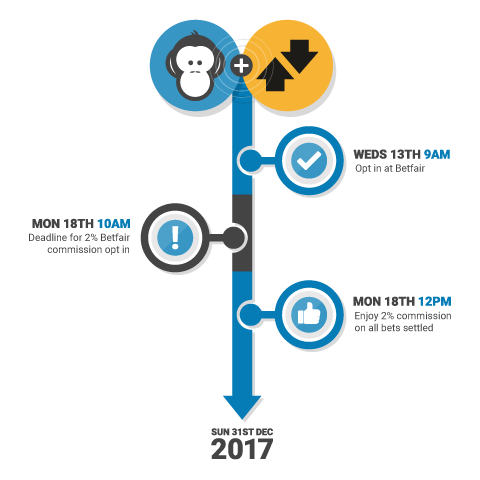 How did you come up with the idea of striking a deal for 2% with Betfair?
Well, we're very pleased you asked! Take a look at the video below and all will be revealed 😉
What are the benefits of using Betfair Exchange?
Betfair is the biggest and, most importantly, most reliable exchange platform on which to place your lay bets. With the widest range of markets available, they are already the exchange of choice for many matched bettors.
What is Betfair Commission?
Betting exchanges charge commission on bets placed. Read this post for more info on Betfair commission
What does 2% commission mean?
Here's an example: I place £100 lay bet at Betfair and my lay bet wins. At 5% I would be paying £5 in commission. However, at 2%, I would only be paying £2 commission. So every time you place a lay bet, you'll be increasing your profits by paying a lower commission rate at Betfair.
How do I make sure I keep the 2% commission?
Betfair do have a few rules that you'll need to follow in order to keep the 2% commission until the end of the year:
Your account must be linked to Betfair through the Betfair Integration at OddsMonkey. If you haven't already done this, please read the Betfair Integration Guide.
You'll need to place at least 1 lay bet using Betfair Integration once every 2 weeks.
You must not exceed a maximum of ten back bets per calendar month (including those executed by using Exchange Cash Out or netting off lay bets)
You must not exceed a threshold of £300 in commission paid between the start and the end of the promotional period.
If you have any questions then you can contact our support team or in the OddsMonkey community