Great news for all OddsMonkey Premium members! The 0% Smarkets commission offer is being extended! Meaning that you can take advantage of 0% commission on winning lay bets at Smarkets until 30th April 2023.
What is Smarkets commission?
Most betting exchanges charge a commission on winning lay bets. This is how they make their money. Smarkets is one of the biggest and most well-known exchanges.
How much commission does Smarkets charge?
Smarkets' commission is set at 2%. Therefore, on a winning lay bet of £200, you would pay £4 in commission. But not with this fantastic extension to the Smarkets commission offer!
During a typical month, most Premium members place bets similar to the example above. This means that you could easily save enough to pay for your Premium membership many times over. All thanks to this Smarkets 0% commission offer…And that's without the actual profit you'll be making from the bookmaker offers and free bets.
Follow the instructions below to ensure you pay nothing for your winning lay bets.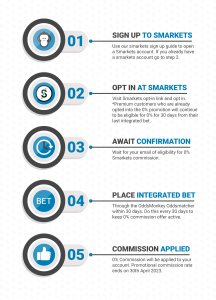 How to get 0% commission on Smarkets
To activate this 0% Smarkets commission offer, follow these simple steps:
Key Terms of Smarkets 0% offer:
Using Smarkets integration will enable 30 days of 0% commission. For example, if you place a bet on July 29th, you would get 30 days from that point. If you don't place an integrated bet, you will revert to paying the standard 2% commission rate. However, if you place a bet through integration after that, you'll be eligible for the 0% again.
Terms and conditions
You must remain a Premium member with OddsMonkey for the duration of the offer.
Opt-in to the offer.
You must place an integrated bet every 30 days via the OddsMatcher.
Smarkets reserve the right to remove any individuals from this promotion at their discretion.
Note: Customers who are already opted into the "Smarkets 0% Commission Promotion" will continue to be eligible for 0% for 30 days from their last integrated bet without the need to opt-in again.
Got a question?
If there's anything else you'd like to know about this fantastic 0% Smarkets commission offer for OddsMonkey Premium members, swing by our Facebook group. It's a great place to get guidance and meet fellow matched bettors. The group is for members and non-members, so what are you waiting for?!
Or give matched betting a go with our Free Trial.
Once you've made your first matched betting profits, thanks to our free guides, you can upgrade to Premium and grab 0% commission at Smarkets in the process!