Every season in the Premier League the key figure we all hear is 40 point – but is that really what is needed?
OddsMonkey has looked back through the history of the Premier League and it turns out that 40 is not the magi figure.
After crunching the numbers – the average points total needed is 36…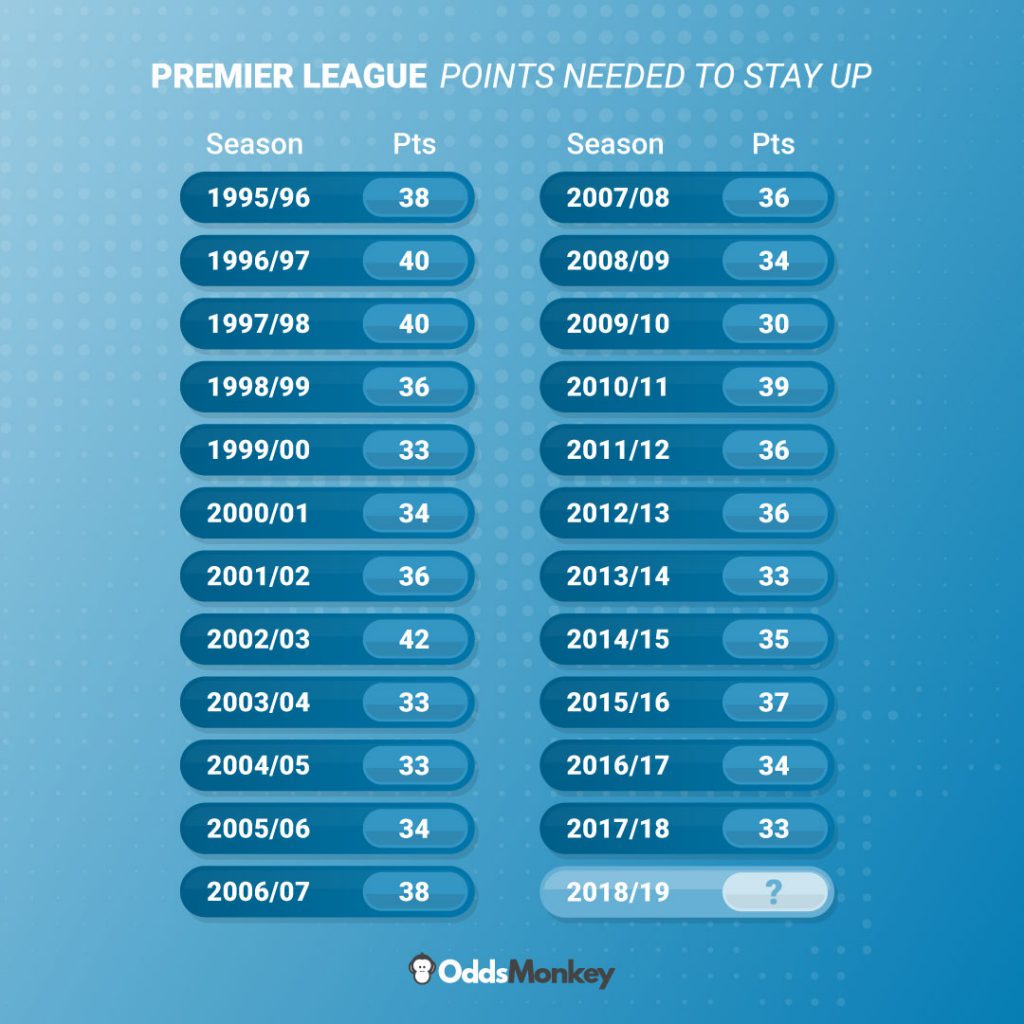 As it stands, Huddersfield and Fulham are well adrift of safety and have their work cut out to even get to 30 points, let alone 36 or even 40 – and their relegation odds of 1/500 and 1/50 respectively, only confirm their perilous positions.
Cardiff are also odds on, but they have seen an up-turn in form, and are only within a couple of points of Southampton and Brighton – indeed, the relegation battle is well and truly on.

OddsMonkey spokesman Peter Watton commented: "We have worked out that 36 points is the average points needed to stay up and if you offered that to the likes of Cardiff, Brighton and Southampton now, they would probably snap your hands off.
"It really looks like a battle for one spot with Fulham and Huddersfield gone, and with Cardiff at 2/7 – it means Brighton and Southampton offer some real value here at 7/1 each."
Selected Premier League relegation odds:
Huddersfield 1/500
Fulham 1/50
Cardiff  2/7
Brighton 7/1
Southampton 7/1
Burnley 10/1
Newcastle 33/1
Crystal Palace 40/1
*Odds correct at time of publishing
Spokesman Peter Watton is available for further comment or one-on-one interviews on this subject or anything connected with a betting market – for more information please contact press@oddsmonkey.com or call 01916404262