Once again, we're closing in on the end of another year at OddsMonkey. And what a year it's been! From product upgrades to exciting brand partnerships, we've seen it all. Take a look in this 2017 end of year roundup…
Product Improvements
New tools
Through the year, we've introduced a series of new tools and product upgrades, all with the sole purpose of making matched betting more simple, and most importantly, more profitable for everyone!
One of these new tools, Acca Finder, has quickly become a firm favourite and is now one of our most popular. Acca Finder shows you the top 2000 accumulators available, sorted by 'EV' (expected value).
Another tool we've had some fantastic feedback on since it was unveiled in the summer is the Extra Place Matcher. This tool does a great job helping our members take their each way betting to the next level.
We've also introduced a number of new calculators this year, including: Sporting Index, Early Payout, Rule 4, Trigger Bet, and Risk Free Equal Profit calculators. Our calculators do all the maths for you, making some very complicated calculations as easy as falling off a log. And far less painful, too!
Security
We take account security seriously here at OddsMonkey, which is why we've really beefed up on it this year, introducing both 'Two-Factor Authentication' and 'Google Authentication'. 
Spreadsheets
These have long been a thorn in the side of many a matched bettor. Keeping an eye on how much you're making can be both tricky and time-consuming but that changed with the launch of Profit Tracker!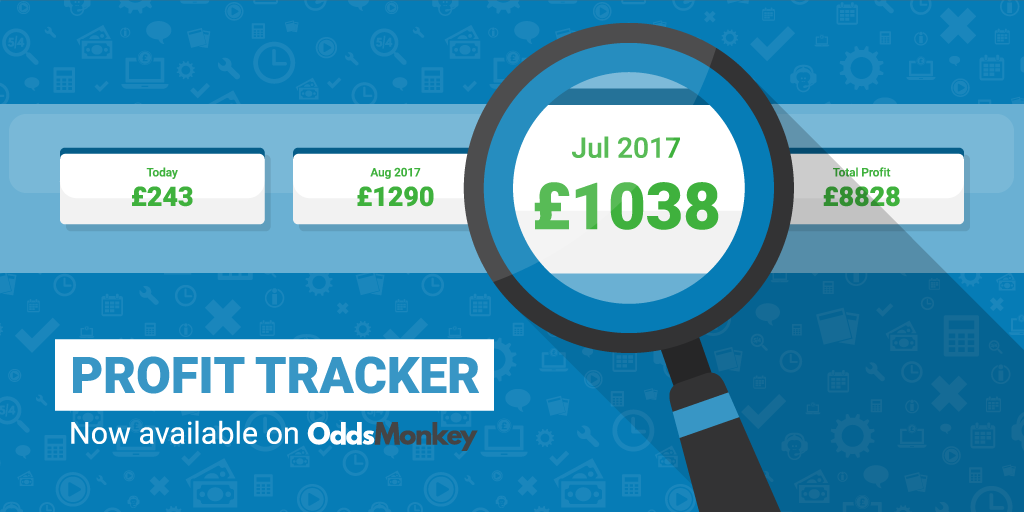 In just a couple of clicks you can automatically add and track bets you've made through any of our tools. Plus, Profit Tracker shows you detailed breakdowns of your progress over days, months, tools and sports. And the best bit? It's available to all OddsMonkey Free and Premium members!
---
Partnerships
Feedback's one of the most important things we get from our members. In July, after listening to what you had to say and some hard work behind the scenes, we were able to introduce a new kind of partnership with gambling giants, Betfair.
Our market-leading 'One-Click Integration' helped members lay their bets even faster, without even having to leave OddsMonkey.
Within days of the Betfair Integration launching 1000s of members linked their accounts and we've been blown away by the positive feedback we've had.
But we weren't finished there…Betfair went on to offer OddsMonkey members with the integration just 2% commission on lay bets. This promotion also brought about the debut of our own comedy duo, Pete and Paul!
We're also closing the year with a deal with betting exchange, Matchbook. Members can opt in to pay 0% commission until January 31st 2018. Find out more here.
---
Media coverage
We've had a great deal of interest from the media wanting to hear our thoughts on the odds and betting markets of transfers, popular television and award winners. This has led to us being featured in a number of publications including, The Sun, The Express and The Daily Star, on topics ranging from the Ballon d'Or to Strictly Come Dancing!
One of our personal highlights was our report on the Pie and Pint League that was picked up by the regional Burnley Express and in many other online publications.
---
OddsMonkey HQ
We're really proud to say that the OddsMonkey team has grown in 2017. We've strengthened the fantastic team we have working hard across the UK to make your matched betting experience even better. From answering your customer service queries to developing the tools and software you use each day, we're proud to serve the best matched bettors in the UK and around the world.
Finally, we'd like to say "thanks!" to all of our fantastic members. Everything we've achieved this year has been for and because of you. And it wouldn't have been possible without you!
We're already so excited to get stuck into 2018 and can't wait to get started developing more tools, techniques and training to help you make more profit.
And on that note…From everyone at OddsMonkey, we'd like to wish you a very Merry Christmas and a Happy New Year.