The Ryder Cup begins this week and Social Media will again feature heavily, and every player going into the match has a strong presence, and OddsMonkey has taken a look at the media battle.
It is no surprise to learn that every player taking part has an online presence and from that their Social Media followings.
The two captains Jim Furyk and Thomas Bjorn have already confirmed that they fully embrace Social Media.
"In the bigger scheme of things, it's great for the game of golf," Bjorn said. "So you know, there's a lot of things that play into it.
"I'm sure you'll see a couple of posts here and there, but as long as they stay in the right place."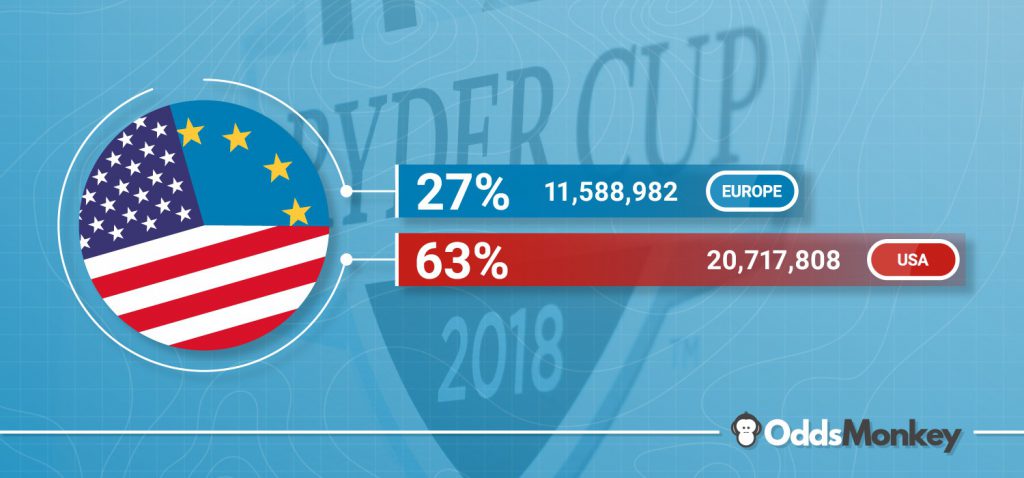 OddsMonkey took a close look at stats, and it is quickly to see who is the dominant force – and that is Team USA.
Tiger Woods leads the way. He by far has the most Twitter followers with 6.3million followers, nearly twice as many as Europe's most popular player Rory McIlroy who is on 3.1million.
Team wise Team USA boasts 13.5million Twitter followers, a good lead in Europe's 8.1million.
Looking at Instagram, and it is an even more dominant story – although the most popular player of them all is Rory McIlory with 1.6million, but he is the only European players with more than a million followers.
USA boasts three players with more than a million in the shape of Jordan Spieth, Rickie Fowler and Woods, leading to overall figures of 7.1 for Team USA and 3.4 for Europe.
Combined, USA boasts more than 20million which means nearly double that of Europe.
OddsMonkey spokesman Peter Watton commented: "To think USA nearly has twice as many Social Media followers, was a shock to us.
"Although, adding the huge numbers that Tiger Woods brings was a boost and that is something that only emerged in recent weeks, after his return to form.
"On Social Media and on the green grass of France, we are going to see a sensational battle between these two teams going forward."
OddsMonkey are the leading Odds Experts, and specialise in analysing odds and betting markets.
Spokesman Pete Watton is available for further comment or one-on-one interviews on this subject or anything connected with a betting market – for more information please contact press@oddsmonkey.com or call 01916404262