When Joe Sugg was named for Strictly Come Dancing – most people over 21 did not know who he was, Bookmakers did not believe he was a threat, but could he land the Glitter Bowl trophy in 2018? OddsMonkey investigates.
Sugg is famed for his social media work, mainly on YouTube where he boasts more than 8million subscribers.
And top of that, Sugg has over 11million followers combined when you take in his Twitter and Instagram followings – staggeringly that is nearly twice as many as every other Strictly participant COMBINED!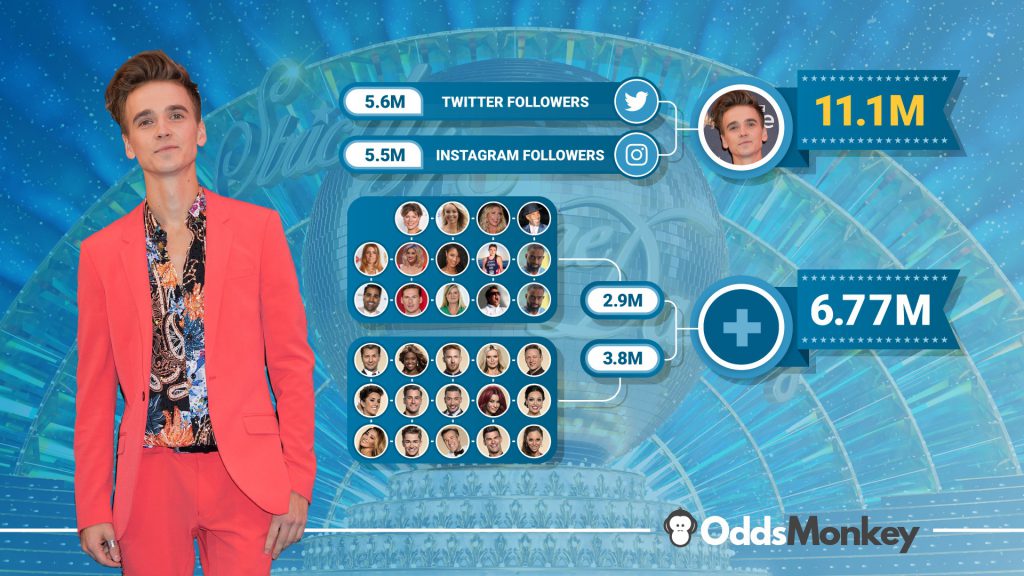 The other celebrities between them, when you add their Twitter and Instagram followers together, come to 3.8million, slightly more than the professional dancers who are just short of 3million.
But together they are only on 6.77million – someway short of Sugg on over 11million.
There is only one other participant who can boast more than a million followers, and that is model and presenter Katie Piper.
OddsMonkey spokesman Pete Watton commented: "Joe Sugg's on-line popularity is phenomenal, and it has to be noted that he is posting on Social Media about his Strictly experience – and one of his videos on Instagram has had over 1million views.
"It is hard to imagine his Social Media presence not having an impact, if just a small section of his fan base back him – then he could go a very long way.
"Let's not forget at the end of the day Strictly comes down to a public vote, it is a popularity contest above a dancing one.
"And we believe the Bookmakers have not really reacted to Joe yet, he is around 12/1 – but we expect him to come in significantly from that over the coming weeks.
"The main movers in the market since the pairings were confirmed have been DJ Vick Hope – who is now favourite at 3/1, and TV presenter Stacey Dooley – who has come into 6/1."
Selected Strictly Come Dancing Odds:
3/1 Vick Hope
7/2 Ashley Roberts
6/1 Stacey Dooley
7/1 Danny John-Jules
10/1 Charles Venn
12/1 Faye Tozer
12/1 Joe Sugg
16/1 Graeme Swann
16/1 Katie Piper
20/1 Lauren Steadman
25/1 Lee Ryan
25/1 Ranj Singh
33/1 Katie Silverton
66/1 Seann Walsh
66/1 Susannah Constantine
OddsMonkey are the leading Odds Experts, and specialise in analysing odds and betting markets.
Spokesman Pete Watton is available for further comment or one-on-one interviews on this subject or anything connected with a betting market – for more information please contact press@oddsmonkey.com or call 01916404262