OddsMonkey knows that matched bettors come in all shapes, sizes and levels of experience. We also know that there's always more to learn. New offers appear, software is created – you're welcome 😉 – and there's all manner of strategy, method and loophole to discuss! With that in mind, you may need to 'learn matched betting' whether you're a novice or have years of experience.
Learn matched betting with one to one training
There are a number of ways to learn matched betting on OddsMonkey. We've got product tutorials, offer guides – for both new and exisiting customers – and the Community. We also recently introduced the option for all new OddsMonkey Premium members to book a 30 minute training session. Cristiaan and myself are on hand to answer questions from matched bettors of all knowledge levels. So, whether you're a 'newbie', 'intermediate' or 'experienced', we can help you boost your daily, weekly, monthly profits.
Newbie:
First thing's first: there's no such thing as a silly question. At OddsMonkey, we can't stress that enough. Everyone has to learn somewhere and where better to start than with the basics of matched betting? Or how about the tool you'll use most to make money online: the OddsMatcher. The answers to all this and more can be found on our site. However, you might not feel like jumping straight into the Community or you might want something explaining differently. No problem – this is exactly why we're offering personal matched betting training.
Intermediate:
If you've previously completed the New Customer offers we have available, you might be wondering how you can continue to make money with matched betting. In fact, that's probably one of the most common questions we see asked in the Community. In your one to one, we'll teach you how to transition from new customer offers to reload offers.
Or, the session can be used to introduce you to some of OddsMonkey's other tools, like the RacingMatcher. Because horse racing odds move so quickly, new matched bettors are sometimes a little wary of betting on them. However, once you've built up some experience, you might feel confident enough to have a go. Great! Let's get you ready for the off.
Experienced:
If you've been matched betting for a while, you might wonder what the point of a one to one is. Especially if you've been comfortably earning a monthly income for a year or more. In this case, you might want to ask specific questions about the software built by OddsMonkey. Maybe there's a feature you want to find out more about. Or you might want to discover more about our advanced tools. The EachWayMatcher and AccaMatcher have the potential to boost your profits. Discuss the different accumulator methods available on AccaMatcher and choose the one that suits you best.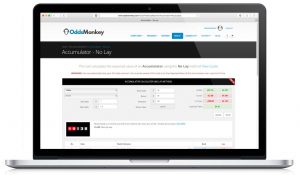 So what are you waiting for? If you've got a question (or 10), book your one to one today, learn matched betting and boost your profits.
One to one training is available to all OddsMonkey Premium in their first month of membership. The 30 minute sessions are booked via your personal dashboard and are included in your £15 subscription fee.
See our prices and sign up today