We all know that footballers in the Premier League are on outrageous wages these days, but that hasn't always been the case…
We decided to take a look at the average wages of a top-flight footballer over the last 50 years and compare them to the national average wage at the time.
In 1970 Footballer's wages were comparable to the average person
Turns out that even going back 50 years to 1970, footballers were still paid a lot more than the average person, but their lifestyles were relatively 'normal'. That is until around 1992, when the Premier League launched.
For example, a footballer in 1970 was paid around £70 per week which was 2.5x the average UK wage at that time. In today's money, that would mean a salary of £1074 per week or £55,841 a year for a footballer.
Still a handsome salary, but footballers certainly weren't living the millionaire lifestyles that they are today…Footballer's are paid now paid 1000x more
In 2019 the gulf between a footballer's wage and the UK average has increased dramatically with footballers getting on average 1000x more than the average worker.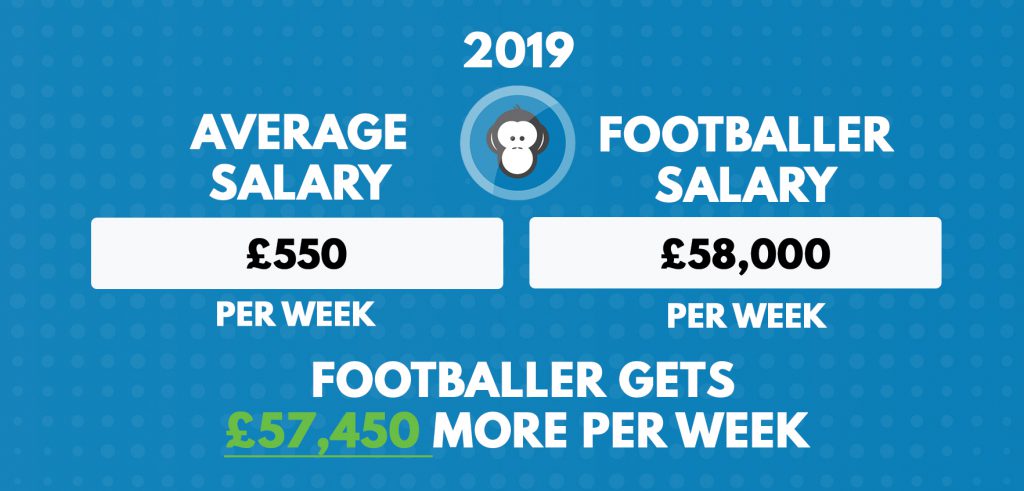 Check out our Footballer vs Average person wages tool for all annual breakdowns between 1970 to 2019The Footballer can pay for your house in full in a month
The average house price in the UK for 2019 is £212,964, so while most of us are struggling to save up a deposit to buy one house in our lifetimes, the average footballer could buy 1 house, outright, every single month.
The racing bar chart below shows how the gulf between our wages and theirs has grown over the years.Milestones in Footballer wages over the last 50 years
The acceleration in footballing wages really took off during the 90's when the big money started to come into the game from Sky and other TV services. The following table shows how weekly wages have increased each decade.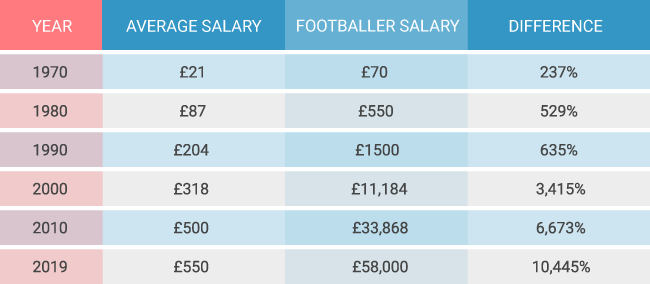 In 2019, it would take someone on the average UK salary 105 years to earn the same as a footballer earns in 1 year.
Between 1970 and 2019, if the average worker saved every penny they earned they would amass around £696,500. In 2019 a footballer could earn this amount in just 12 weeks. So the average footballer in the Premier League is now earning the average lifetime earnings once every 3 months.Why have footballers' wages increased so much?
Football has increased in popularity dramatically over the years and with the advancements in TV technology, there is an ever-growing global audience for top-class football. Teams in the Premier League earn a percentage of the TV rights and as that grows, the desire for clubs to get into – and stay in – the Premier League grows with it. In order to do that, you need the best players and that has caused player wages to increase as they have.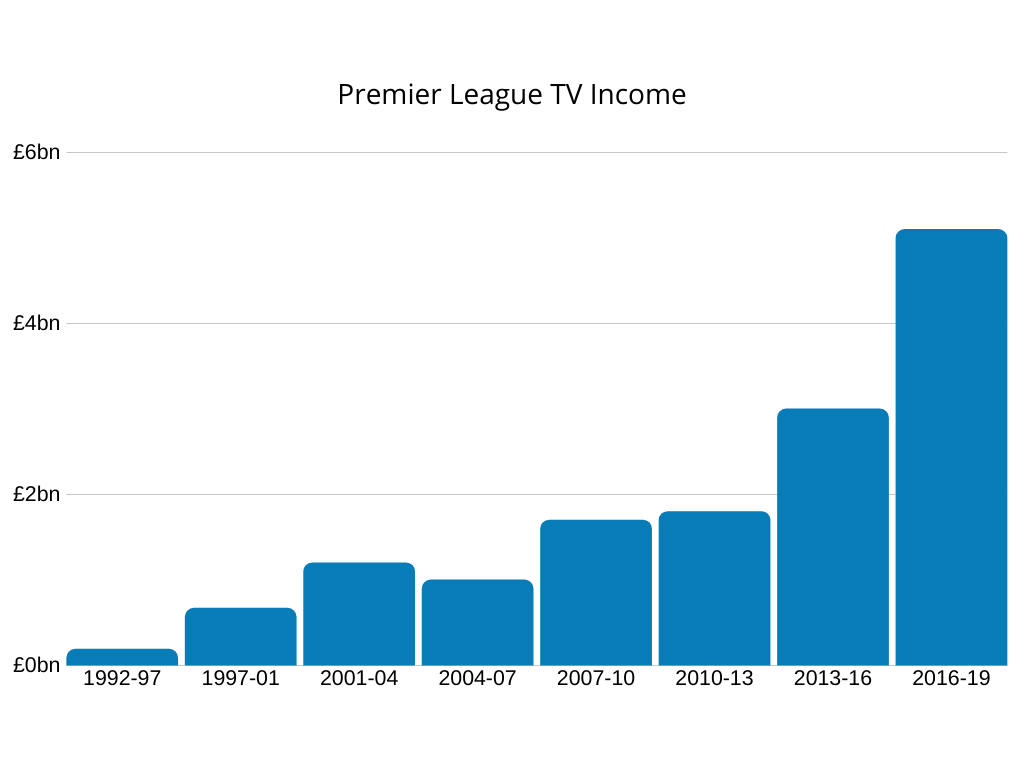 So football clubs in the top flight now have massive earning potential; not only TV money, but everything else that comes with having a huge audience.
Other income streams include sponsorship and advertising, hospitality, match day income (ticket sales etc), retail and player trading. And a club can expect all of these income streams to sky rocket if they are in the Premier League.
Unfortunately, that has put increased pressure on clubs to stay in the Premier League. Clubs will now spend more in wages to try and stay there, but the huge decrease in earnings if they are relegated often leaves them in huge financial trouble.
To combat this, the footballing authorities have introduced measures, like Financial Fair Play, that limit what clubs can spend on player wages and transfers. But this doesn't seem to have slowed down the rate at which salaries for top-flight players is increasing. In the last 10 years, player wages have increased from £31,000 per week to £58,000 per week and they show no sign of slowing down anytime soon.Wages tool to compare the Footballer vs UK average person
You can use our comparison tool to view and compare player and UK average wages over the years. Just click here to launch it.
Sources:
https://www.sportingintelligence.com/2011/01/20/from-20-to-33868-per-week-a-quick-history-of-english-footballs-top-flight-wages-200101/
https://www.ons.gov.uk/
https://www.bbc.co.uk/sport/football/43002985