Join the OddsMonkey Affiliate programme
If you have an awesome website, app or community you can spread the OddsMonkey word by becoming an OddsMonkey affiliate to receive 50%* commission on every Premium member you sign up every time they pay us!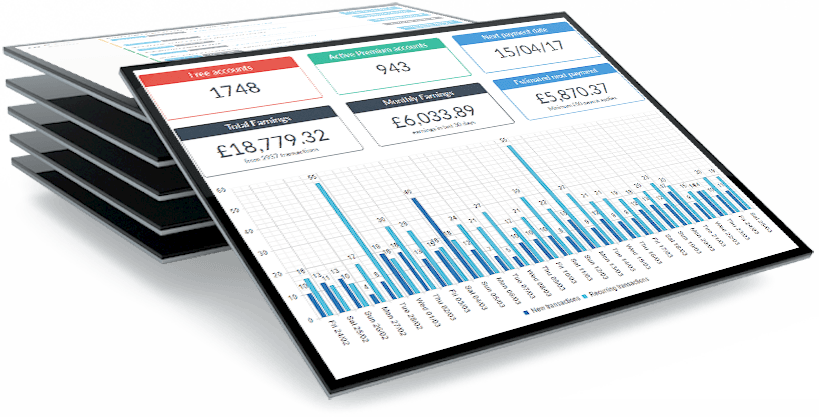 Add an extra £1000 – £6000 to your account!
Our top affiliates are currently earning between £1000 and £6000 every single month just for sending new customers our way.
OddsMonkey's job is to deliver awesome software, training and customer support to our Premium members. Your job is  to tell everyone about us! That way, they'll get great service, we get new, happy customers and you get a commission to say 'thanks'.
Click here to read some recent reviews from some super-satisfied OddsMonkey Premium members.
Why become an OddsMonkey affiliate?

Ongoing profits
You'll receive 50% share of net revenue share every time a member that you referred pays us for premium access. This applies to monthly and annual payments.

Live stats
Login to your affiliate control panel and view live data on how much traffic you have sent, how many free accounts, how many paid accounts, all updated within minutes.

Low minimum payout
Our minimum payout is only £50 and you'll receive payments on 15th of each month for all qualifying commissions you have generated at that time.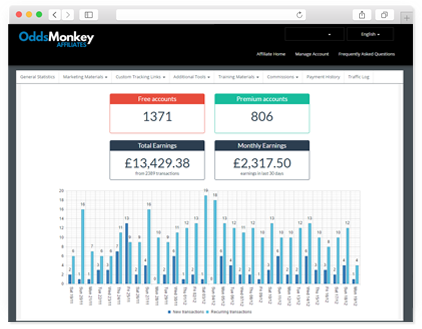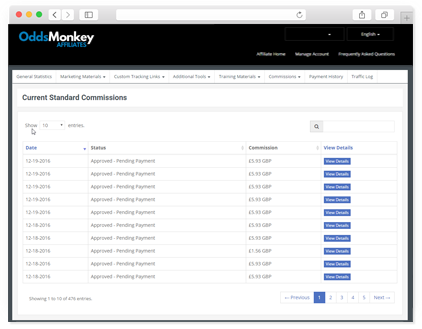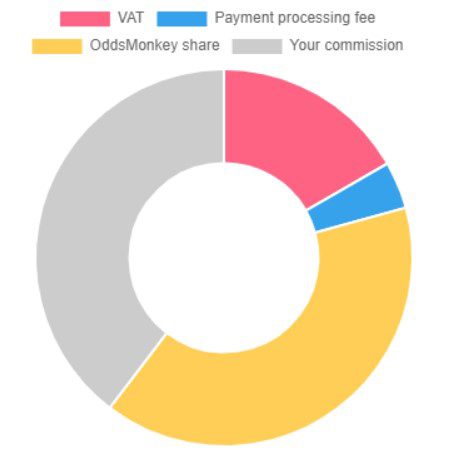 *Calculating your commission
Your exact commission is calculated by first removing the costs that we incur when accepting the payment. This includes VAT (that we pay to the tax man), and also payment processing fees that we need to pay to PayPal, Skrill or our banking partners.
For every £29.99 payment we receive from one of your affiliates, you will receive a commission of £11.96. We have provided an example of how this breaks down in the image to to the left.
| Monthly payment (£29.99) |   |
| --- | --- |
| VAT | £5.00 |
| Payment processing fees | £1.07 |
| OddsMonkey share (50%) | £11.96 |
| Your commission (50%) | £11.96 |
| Annual payment (£249.99) |   |
| --- | --- |
| VAT | £41.66 |
| Payment processing fees | £7.45 |
| OddsMonkey share (50%) | £100.44 |
| Your commission (50%) | £100.44 |
Sound good?
Apply today and start earning
Frequently Asked Questions