The Best Value Matched Betting Service In The UK
Whether you're brand new to
matched betting
or an experienced veteran, OddsMonkey provides everything you need in one set monthly or annual fee. We have thousands of members making a profit every single day, with some making in excess of £1,000 a month, and
their stories
are truly inspiring.

We have hundreds of video and written guides, all up-to-date for the latest offers, tools, and betting techniques. Plus, our world-class customer support will help you throughout your matched betting journey. No other service helps you maximise your profits better than OddsMonkey.
Our training has been tailored to suit matched bettors of all abilities, with comprehensive step-by-step guides for those just starting out, plus more streamlined options for more experienced members. You'll feel like we're there to hold your hand every step of the way.
We even offer a 30 day money back guarantee if you aren't completely satisfied!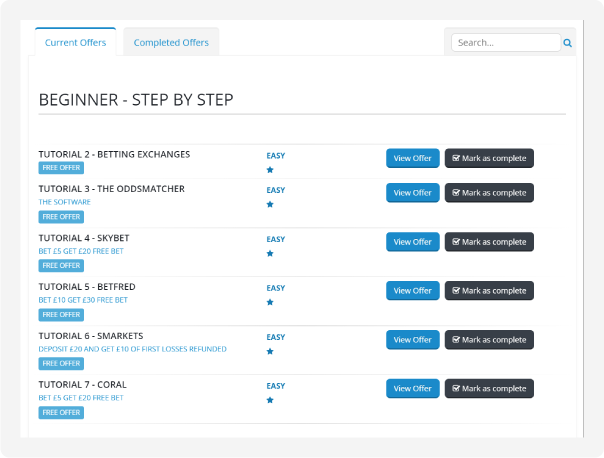 The Latest
Free Bets, Promotions, & Matched Betting Offers
With OddsMonkey you'll find close to £1,000 worth of sign up bonuses alone, with new offers added every day. Each offer comes with complete written and video guides to help you maximise your profits and our support team is always on hand to help too. Once you've finished all the welcome offers, you can take advantage of the ongoing regular promotions available in our Daily Offer Calendar.
You'll also have full access to our Casino Hub, where you'll find a huge variety of bonuses available at no extra charge. These offers range from free spins to deposit matches and can really help you turbo-charge your matched betting profits.
Our market-leading OddsMatcher is the original matched betting software. We wanted to build a tool that makes matched betting easy and accessible for everyone. Since its first iteration back in 2010, we've evolved and improved the OddsMatcher to help our members make profits as quickly and easily as possible. As your eyes when it comes to finding the best odds and your brain for all the calculations, this core tool helps unlock profits in minutes and is essential to anyone thinking about giving matched betting a go.
Try the OddsMatcher for yourself as part of your free trial or unlock the full version with OddsMonkey Premium to find, sort, and compare odds from over 100 bookmakers and 4 betting exchanges.
As with anything new, matched betting can seem daunting at first. Of course you'll have video guides and written tutorials on hand, but sometimes it's just good to talk to someone, isn't it? The OddsMonkey Community is home to members of all knowledge and experience levels, ready to help steer you in the right direction.
As well as our forum, you can also join our thriving Facebook group with over 3,000 members. It's a great place to meet other matched bettors, get help on a particular offer, or find out more about other OddsMonkey features.
Profit Tracker
& Calculators
Logging and tracking your bets has never been easier thanks to the OddsMonkey Profit Tracker. All of our tools are linked to the Profit Tracker, so entries are added automatically. Or you can manually add them yourself and even add previous profits if you've already started somewhere else. The Profit Tracker also provides you with essential statistics, showing you where you're earning the most money, so you know which offers to look out for.
We also have all sorts of matched betting calculators and spreadsheets available, designed to help you with everything from simple risk free bets to more advanced matched betting techniques. 
As well as the OddsMatcher, we have a wide selection of more advanced tools to help you get the most out of matched betting once you've finished the welcome offers.
Horse racing runs throughout the year and can be a brilliant source of income for matched bettors. This tool makes it easy to find the best matches every day to save you time and make you money.
Accumulators are bets with multiple selections. Bookies love offering bonuses on this type of bet, as the chances of winning are generally much smaller. With our Acca Finder and Acca Builder tools you can make a lot of consistent, risk-free profit from these bonuses.
Your horse doesn't always have to cross the line first to be a winner. Bring in regular profits by taking advantage of extra place offers. This matcher helps you simplify the process and extract the most value from these promotions.
Dutching is a method of backing all outcomes of an event. It's an alternative to laying and can save you potential commission fees with the betting exchanges. This tool shows you what stakes to bet in order to equalise the profit (or loss) among all outcomes.
Sign Up
and start Profiting Today!
Whether you're looking for a few hundred pounds to help with the bills or a more serious second income, OddsMonkey provides everything you need to help you on your matched betting journey. 
Become part of the OddsMonkey family today and sign up for your free trial here: