As well as being a bookmaker, Betfair also offers a casino, bingo and is home to the world's largest betting exchange. There are two key differences between a bookmaker and a betting exchange. Firstly, at a bookie, you bet directly against him, whereas in a betting exchange, you bet against other punters. Secondly, you can only bet to win at a bookmaker, whereas you can bet to not win in an exchange. But how do betting exchanges make their money? Well, all four betting exchanges available in the UK today charge fees for using their service including Betfair. So what is Betfair commission?
In this post, I'll explain Betfair's fees and take a look at the other betting exchanges and their commission costs.
Read this post to find out all about the Betfair Exchange.
What is Betfair commission?
Betfair charges its customers betting exchange fees in the form of commission. Commission is only charged on the net winnings of bets. Losing bets aren't subject to any charges.
Betfair commission is calculated using a market base rate of 5%. Commission = Net Winnings x 5% x (1 – Discount Rate).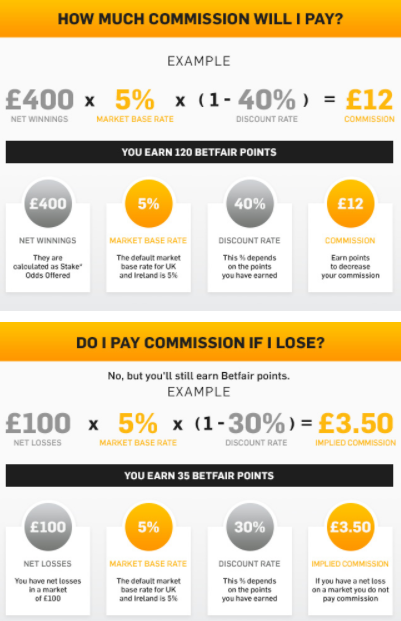 However, over time the commission Betfair charges its customers can change by way of a discount rate.
---
What is the discount rate?
The discount rate reduces the amount of commission you pay to Betfair and is based on the number of Betfair points you earn. The discount rate is capped at 20% unless Betfair's identity and verification requirements are completed.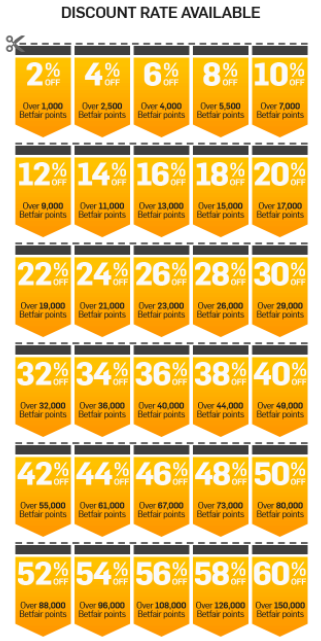 ---
What are Betfair Points?
Betfair Points is a reward scheme for using the Betfair Exchange. Points are used to decide how much commission is charged to customers when they win. Both winning and losing bets placed on the exchange qualify for points and the more points, the less commission is charged. Customers receive 1 point for every 10p of commission paid on net winnings and 1 point for every 10p of commission that would have been paid on a net loss.

---
Other betting exchanges
There are three other betting exchanges available to UK gamblers including:
Smarkets: 2% commission,
Matchbook: 1.5% commission
and Betdaq: 3% commission.
---
Using the Betfair Exchange to make money
Matched betting is a way to extract money from bookies' promotional offers. Place a back bet at a bookmaker and the opposing lay bet at an exchange. With your 'qualifying bet', you won't win anything, but you won't lose anything either. You'll trigger a free bet, which is where the value comes from.
To find out more about OddsMonkey and matched betting in general, download our free introduction:
[the_ad id="1391″]