Taking your first steps into the world of matched betting can be daunting. Don't worry – OddsMonkey has you covered. It's not just written guides and personal one-to-one training sessions. We've also got a whole library of matched betting video tutorials.
Matched betting video tutorials
Like the other types of training available on the OddsMonkey site, our matched betting video tutorials are in depth and there to guide you from beginner through to expert.
We've got videos on:
how to use OddsMonkey's tools and software,
matched betting concepts and strategies,
and offer guides for both sign up and existing bookie offers.
---
OddsMonkey membership
We've got two levels of membership available here at OddsMonkey: Free and Premium. When you join for free, you'll get access to our cornerstone tool: OddsMatcher. As well as this, you'll get 2 signup offers to try out. The profit potential for these offers are around £45. You don't pay anything and the money you make is all yours!
You'll also see videos for our other tools so you can see what else is included in a OddsMonkey Premium membership. Click the thumbnail below to check out videos like this one for our Extra Place Matcher: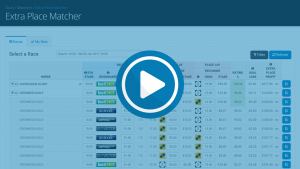 Premium members get access to video guides for more bookmaker offers. There's around £1000 to made from our signup tutorials, alone. We've currently got around 40 video tutorials but we're adding more all the time.
Hit the button below to see teasers for our Premium video content: