The OddsMatcher
OddsMatcher is our core product and it's where OddsMonkey began. In 2011, OddsMonkey's founder created a piece of software that would find, sort and compare odds from both bookmakers and betting exchanges. In other words, the ultimate odds matching tool. OddsMatcher does all the hard work. It find the best matched betting opportunities available, saving you valuable time and effort.
Used throughout the matched betting community, OddsMatcher is essential to anyone thinking about giving it a go. We currently offer a free version which shows the odds for the two bookmaker offers but the Premium version's where it's at.
Search and filter
Find specific sporting events by using the search box. Or set a date range to see what's coming up.
Filter results by sport, market, bookmaker or betting exchange to make sure you find the best one to bet on.
'Save' your filter to use it again, or 'Apply' it for a one off search. It's up to you!

The results
Then it's time to pick an event and place your bets. Sort the results however you want: 'bet type', 'match rating', 'available liquidity' and more to find the one for you.
Don't worry. We've got guides which show you exactly how to use OddsMatcher, so we're with you every step of the way.

OddsMatcher calculator
The built-in calculator does all the maths for you. It shows you all the event information so you know when and where it's happening.
The calculator also tells you exactly how much you need to bet (back and lay) and how much you'll make. Which, let's face it, is pretty important!
You can then link directly to the bookmaker and betting exchange sites. Save time, quickly add events to your betslip and get the best odds.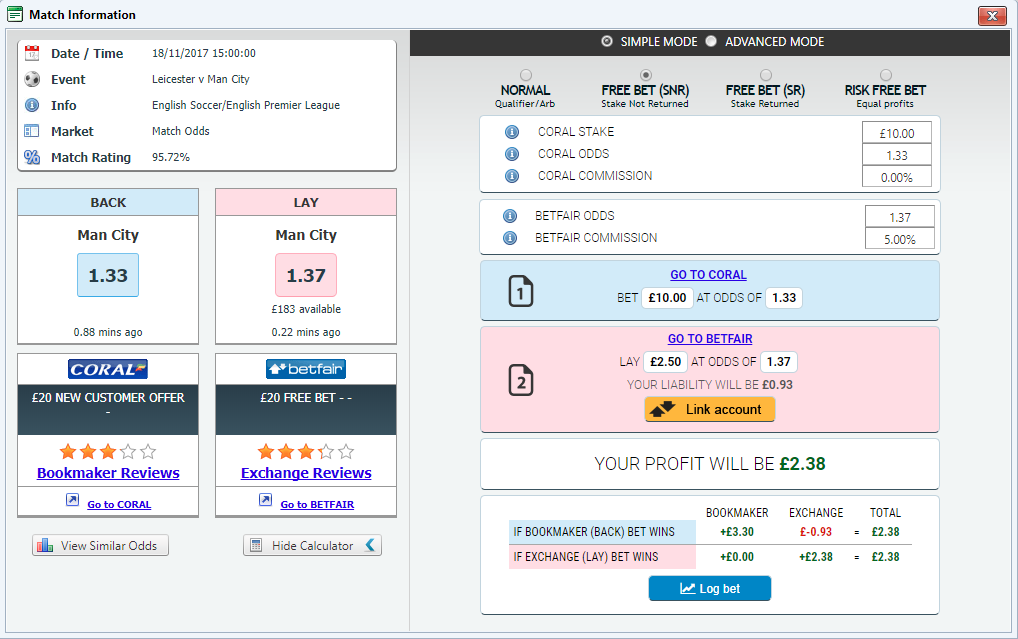 Maximise your profit in the minimum time with OddsMatcher. It's the quickest and easiest way to extract value from free bet offers. And it's just one of the tools available in our Premium package. Click on the menu to the left to see what else is on offer.