A beginner's guide to lay betting
Lay betting is the opposite to 'traditional' betting. With lay betting, you bet on a team not to win instead of backing them to win. Lay bets can only be placed at an online betting exchange, like Betfair. This guide will show you how important lay betting is to the matched betting process and how it's not as complicated as it sounds!
What is a lay bet?
Lay betting is an option on a betting exchange which allows gamblers to play the role of a traditional bookmaker. You set the odds of the bet, and you potentially win the backer's stake if the selection loses. If the selection wins, you lose the backers stake multiplied by the price of the selection (minus the stake amount).
---
Lay betting explained
You'll often see people asking what lay betting is. On first impressions, it can look complex – but it really isn't. A simplistic way to think about it, is that when you place a lay bet on a selection, you are betting on it not to win.
This is a particularly relevant bet to make in a market that has 3 or more selections. Take a horse race as an example.
Your best friend's dad has a milkman that apparently knows the cousin of someone who cuts the hair of a famous jockey. The hot news is that a famous horse has come down with a mysterious illness.
You spot an opportunity to make some money. In the old days, this would be a very difficult process that involves backing all of the other horses in the market for varying amounts.
Thanks to lay betting though, you can take someone else's bet on that horse. Just as long as that horse fails to win, you win. This can be seen in the below image, with the red number showing your potential loss if that selection wins, and the green numbers your potential win if those selections win the race. The horse with the £255 liability is the horse with the lay bet.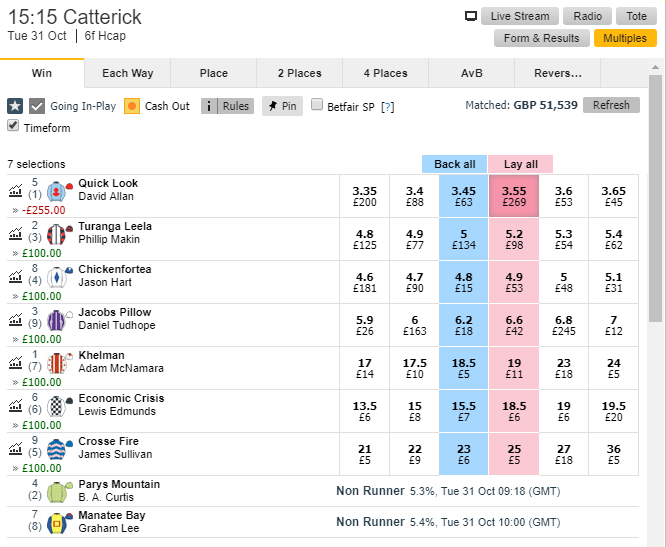 How to place a lay bet with Betfair
Now you know what a lay bet is, it's time to learn how to place one. We're going to show you step-by-step how to place a lay bet so you can take advantage of these benefits.
1 Go to Betfair and find your chosen market
We're using Betfair for our example, but the on screen layout at all betting exchanges is similar. What you will notice are two different boxes. The blue box is your traditional back bet, and the pink one a lay bet.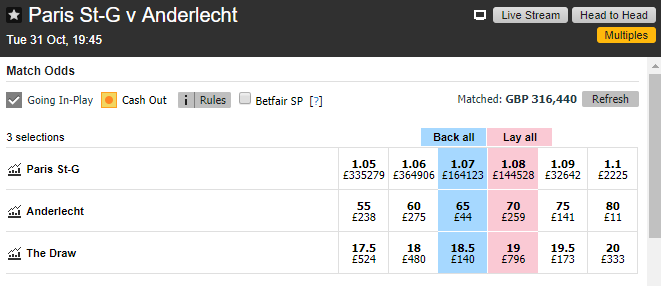 2 Click on the lay box for your chosen selection
For the purpose of this example, we are going to show you how to place a lay bet on Paris Saint-Germain. Remember, this the same as backing Paris Saint-Germain not to win.
Once you click the pink box, the selection will show on the bet slip on the right hand side of the screen.

Once you add the selection to your bet slip, you can add the stake. This differs from a traditional bet, because you're inputting the amount you wish to make available for punters to bet on. For example, just imagine you're the bookmaker, this is the amount that the customer is going to hand you to place the bet.
The number circled below is your liability, and potential payout if the person taking your bet wins.
The formula to calculate this liability yourself is
Stake x (Lay odds – 1) = Liability
So for the below example, that is:
1.08 – 1 = 0.08
£100 (stake) x 0.08 = £8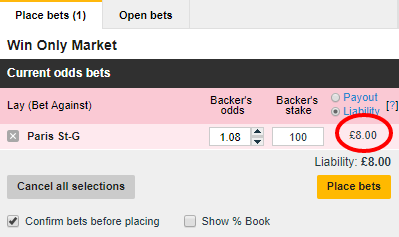 When you click on the 'place bets' button, the money will go into the market and is available for people to match. If there is someone who already has cash in the system at the same price, the exchange will match your bets immediately. Otherwise, you must wait for someone to take the price which you have offered.
If your lay bet wins, you'll receive the £100, minus a commission of 5%. This is how our betting exchange of choice for this example, Betfair, make their money.
If your lay bet loses, you'll be down your £8 liability.
---
How to place a lay bet with OddsMonkey
So we've shown you the basics of how to place a lay bet. But as we mentioned previously, lay betting is vital for matched bettors.
Matched betting is a process which turns bookmaker free bets into withdrawable cash, with little, or no risk.
This video will give you a great overview if you're new to the idea of making risk-free cash.Because lay betting is important for matched bettors, OddsMonkey have teamed up with the number one betting exchange, Betfair, to make life so much simpler.
OddsMonkey have a tool which we call the OddsMatcher. It was developed to make finding suitable matched bets easier. Previously, this would be a long, frustrating process.
To get a better return with matched betting, you need to find an event where the bookmaker price is close to the exchange price. Our OddsMatcher tool scrapes the data from every bookmaker and betting exchange, and allows you to filter for suitable bets.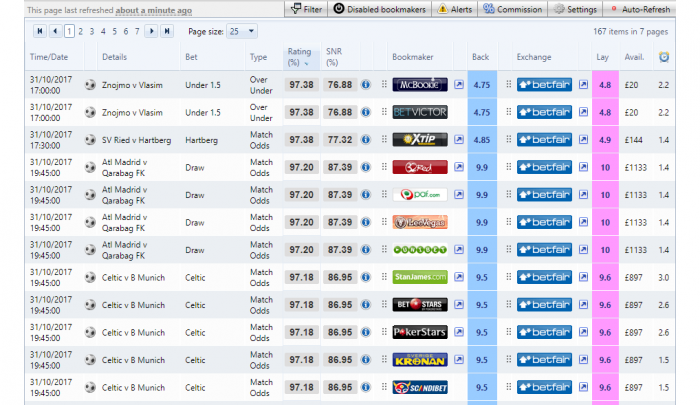 In the past, it was a point of reference only. You'd still need to go to the bookmaker and place a bet, and then repeat that process with the exchange. But time is of the essence in matched betting. Prices are constantly changing, so you need to be quick.
So what did we do? We spoke to Betfair, and with some technical wizardry, we integrated Betfair into our platform.
So now, when you're placing your matched bets, we calculate the amount you need to lay, and the integrated tool places that lay bet with the click of a button!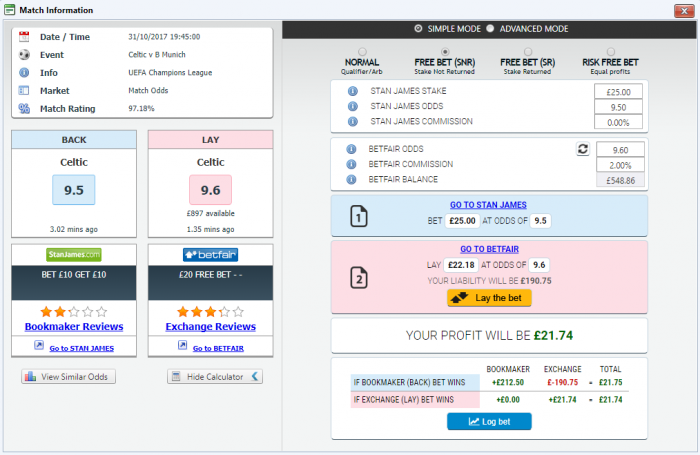 The above tool also gives you the 'what if' calculations of your matched bet so you can see what your potential profit is.
Before now, the biggest risk with matched betting has been human error. But our integration of Betfair takes us one step closer to eliminating that risk altogether!
For more information on lay betting, head over to our 'Free Guides' section: https://www.oddsmonkey.com/matched-betting/free-guides/