What does 'each way' mean in matched betting?
Each way betting is usually done on horse racing. An each way bet means you can bet on a horse to win or to finish in one of the first few places (usually up to 4) which means that you have a better chance of winning some money. This guide will show you how to combine each way betting and matched betting to unlock even more value from bookmaker offers.
While people who actively match bet often prefer the traditional process, the each way bet shouldn't be forgotten about. But what does each way mean in betting? With this guide, you can feel more confident in going each way when matched betting.
What does each way mean?
In regular betting, 'each way' is designed to give you a greater chance of winning, but with the bookmaker paying out a lesser amount.
For example, when you place a bet to win, you're putting all your money on exactly that: a win. With an each way bet, bookmakers will typically pay out to the first 2, 3, or even 4 places, meaning that you don't have to predict the winner, you can simply try to predict a high finisher.
However, when you bet each way, the odds are reduced. For example, if a horse you're betting each way on comes in second, the odds will be lessened, meaning the bookmaker will pay out less. The amount that it's lessened depends on the bookmaker, the market, and the race itself. Sometimes you'll see 1/4 odds offered for a second or third place finish, while other times you might only get 1/5 odds.
The markets that are ideal candidates for each way betting are horse racing and golf. Essentially, you should be able to place an each way bet on a sport or event where there is a whole field of entrants, rather than football for example, where there are only two teams competing.
---
How do you place an each way bet?
Naturally, placing an each way bet can slightly differ between bookmakers' websites. However, it's usually done in the same way as a win bet.
On the bookmaker's site, find the market you'd like to bet on and create a betting slip like you normally would. Often, there is a box to tick if you'd like to change it from being a win bet to an each way bet.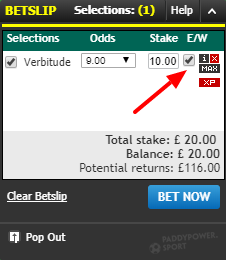 Your betting slip will also show you the number of places the bookmaker is willing to pay out to. For example, in motorsport, bookmakers will often only pay out to the first two places, whereas in horse racing events like the Grand National, it stretches to the first four places.
How is an each way bet paid?
If you place an each way bet and your horse wins, both the win and place parts of your bet will pay out. However, if your horse only places and doesn't win, you'll lose the win part of your bet, and only the place part of your bet will pay out.
The odds for the place part will be a fraction of your win bet and are shown when placing your bet.
For example, if you had a £10 each way bet on a horse with odds of 20/1 (21.0) and it finishes third and the bookmaker are paying 1/4 odds your place odds are 20 divided by 4, 5/1 (6.0). So your return would be £60 and your profit would be £40.
How does each way betting work in matched betting?
Because an each way bet is comprised of two bets – a win bet and a place bet – we need to lay both of these when matched betting.
Laying the win is the same as any normal matched bet, but for the place, we need to work out the odds the bookmaker is paying on the place and then find the place market at the exchange for this bet. We can then calculate our lay stake.
Now, no matter where our horse finishes with the right circumstances we'll make a profit.
For example, we back our horse £10 each way, with odds of 8/1 (9.0), and place terms of 1/4 1-2-3, which means if it finishes in the top 3 we'll get odds of 8/4 or 2/1 (3.0).
Now on the exchange we can lay £47.62 on the win at 9.5 and the £69.77 on the place at 2.2.
 
Bookmaker
Exchange
 
Place
Win
Place
Win
Place
Profit
1st
£400.00
£100.00
-£404.77
-£83.72
£11.51
2nd or 3rd
-£50.00
£100.00
£45.24
-£83.72
£11.52
Anywhere else
-£50.00
-£50.00
£45.24
£66.28
£11.52
Wherever our horse finishes, we make £11.51
Those are the basics of understanding each way betting and applying it to matched bets. Once you've mastered what's here, consider upping your strategy even further with the Each Way Matcher software. It's designed to browse thousands of odds for you to make picking your each way bets much easier.
For more information on each way betting and our Each Way Matcher, give this article a read.