It comes as little surprise to many that the Conservative Party and Boris Johnson are odds-on favourite to win the General Election next month but it may very well come as a shock to learn that just six months ago, Labour were favourites.
The chances of a Conservative Party victory in the forthcoming General Election is nearing 90% – twice what it was just six months ago!
The remarkable change has taken place from the beginning of June to now. We have analysed data provided by leading betting exchange Smarkets, to show the huge turnaround.
At the start of June, the Conservatives stood at a probability of 43% to win the General Election, which is just over Evens and remarkably at this time – Labour were favourites and stood at 50% probability to win at that stage.

Since then, things have changed quite considerably and you can see the change that takes place, towards the ends of July – and it is easy to map out and trace the changes.
Around the middle of July – it was all but confirmed that Boris Johnson would become the new leader of the Tory party, after Theresa May was successfully ousted from 10 Downing Street.
And with Johnson confirmed, Labour's chances have deteriorated and plummeted whilst the Conservative have gone the other way.
You see via the data that once Mr Johnson was coming into power, money started coming in for the Conservatives and the market has been going one way ever since.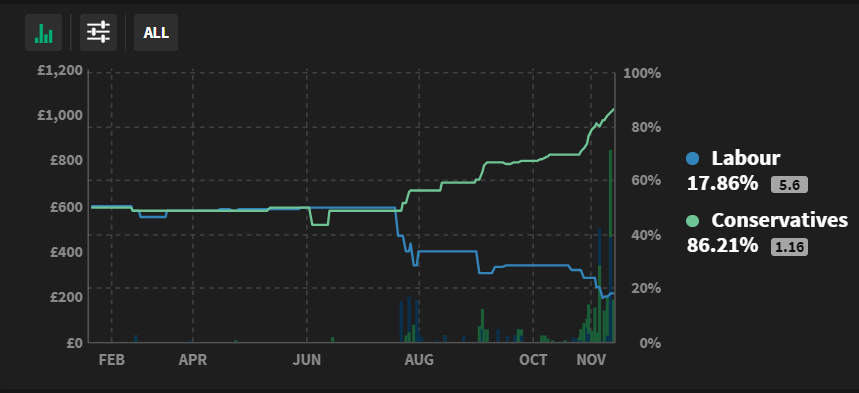 Now looking at today's trading prices – the Conservatives are at 86% probability, which is odds of 7/50, means they are now twice as likely to win as to what they were just six months ago, which represents a huge turnaround under Johnson.
And with Labour at 17.86% that means Labour are 17/1 just to win the most the seats on December 12, when the United Kingdom return to the polls.
OddsMonkey spokesman Peter Watton commented: "Six months is a long time in politics, and from being favourites in June – Labour are now huge outsiders at nearly 20/1 having been Evens in June with a 50% probability.
"And as for Boris Johnson, it seems he is firmly heading towards victory at near 90% probability – although we only need look back at Donald Trump, who defied huge odds when he won the US presidency having been 150/1 at one point, to see anything can happen in politics."
Selected odds:
Next UK General Election – Overall Majority
Conservative Majority – 1/2
No Overall Majority – 6/4
Labour Majority – 20/1
Conservative Minority – 13/2
Labour – Lib Dem – SNP Coalition – 14/1
Conservative – Brexit Party Coalition – 16/1
Labour – SNP Coalition – 18/1
Labour – Lib Dem Coalition – 25/1
Conservative – Lib Dem Coalition – 33/1
Lib Dem – SNP Coalition – 80/1
Conservative – Labour Coalition – 250/1
*Odds correct at time of writing

Spokesman Peter Watton is available for further comment or one-on-one interviews on this subject or anything connected with a betting market – for more information please contact [email protected]
You can also check out all our latest Press Releases – which you are free to use