Does betting on your team in blind loyalty every week produce a profit?
It's well established that football fans like a bet on their team at the weekend so we decided to take a look at which teams were the best value to bet on so far this season.
We analysed the best available odds from a range of bookies and calculated what profit or loss punters would have made if they had placed a £10 bet on their team to win every game from the start of the season. The results might surprise you!You will be shocked to find out the most profitable team!
The most shocking stat is that despite being rooted to the bottom of the Premier League table with only 2 wins to their name, Norwich are the best value bet this season. Norwich fans placing £10 bets on all their games would be sat with a nice profit of £162.10! That's thanks in most part to their shock win against Manchester City at odds of 25/1. That result is the biggest upset in Premier League history based on the odds. No team has ever won at such long odds with the bookies only giving Norwich a 3.8% chance of winning before kick-off.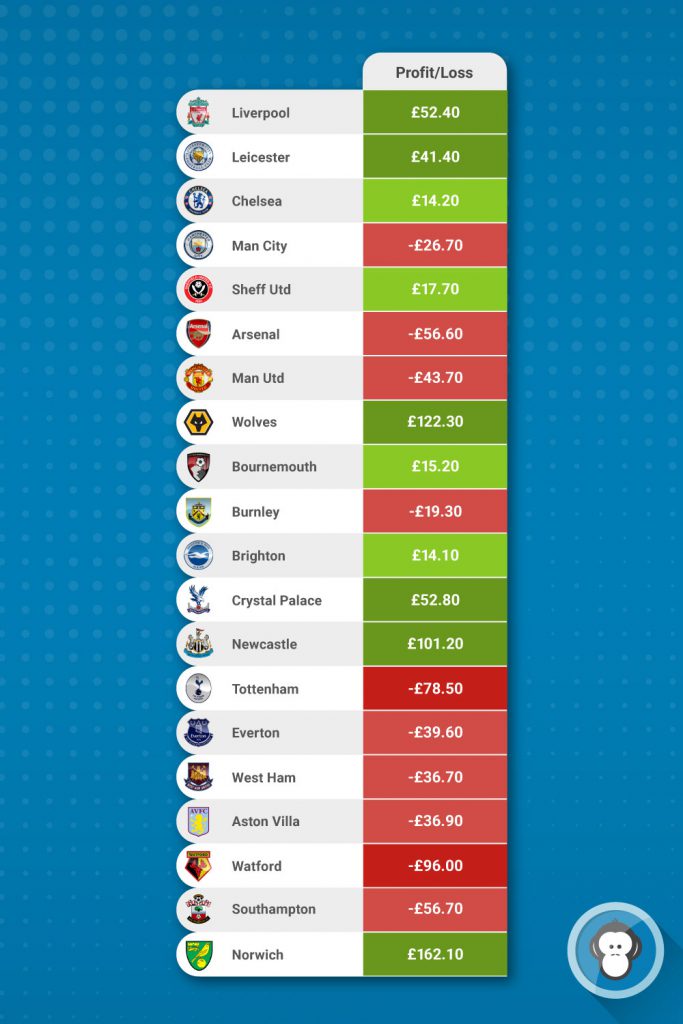 The best don't Pay well despite winning most games
Other teams to do well are Newcastle with £101.20 profit and Wolves with £122.30. Despite only winning 4 and 3 games respectively this season both teams have picked up points against the top sides.
Despite only losing 3 games so far this season Manchester City fans would be facing a loss of £26.70 if they had bet on their team each week. With them being expected to win every game they play the bookies do not give them generous odds so when they do win there isn't much profit to be had.
Teams in mid-table seem to be the safest bet with Wolves, Bournemouth, Brighton, Crystal Palace and Newcastle all showing a nice profit for their fans.
In fact, if you backed the 5 teams in positions 9th – 13th since the start of the season you would have £764 from betting £600 , that's a profit of £164 which is a 27% profit! Who is the least profitable top team from 2018/2019?
The top 6 last season consisted of Manchester City, Liverpool, Chelsea, Tottenham, Arsenal and Manchester United but so far 4 of those 6 teams are showing a loss. Tottenham fans who have suffered a torrid start to the season have had their woes compounded by being one of the worst value bets this season at -£78.50. The only team worse than Tottenham this year is Watford, with a £96 loss and with only 1 win to their name that is not surprising.
Interestingly if you had bet on all teams to win and ignored the possibility of a draw you would be £102.70 in profit. It is all still a gamble!
Games like Norwich beating Manchester City show that it is almost impossible to predict the outcome of any Premier League and long term the bookies will come out on top. That's why we love matched betting so much as the outcome of the game is irrelevant to our profits. You can learn more about matched betting with OddsMonkey here.
The post Norwich are the best value bet in the Premier League this season! appeared first on OddsMonkey Blog.