Who has got the most valuable World Cup squad? Will this mean World Cup glory? Let's take a closer look…
OddsMonkey has put together research on who has the most valuable squad going into the World Cup finals, and from that we have worked out who is offering the best value based on this and their odds, and you won't believe who comes out on top…
Say it quietly but England, yes England – are offering the best value according to our research.
OddsMonkey spokesman Peter Watton commented: "The value of the teams and players at the World Cup is always fascinating, and 2018 is no different and we have come across a few shocks – none more so then England, who actually have one of the highest value squads at the finals.
"We also looked at the odds to see what value, if any, and you can see again that England are the ones who stand out, as according to our calculations, they offer the best value just ahead of Portugal."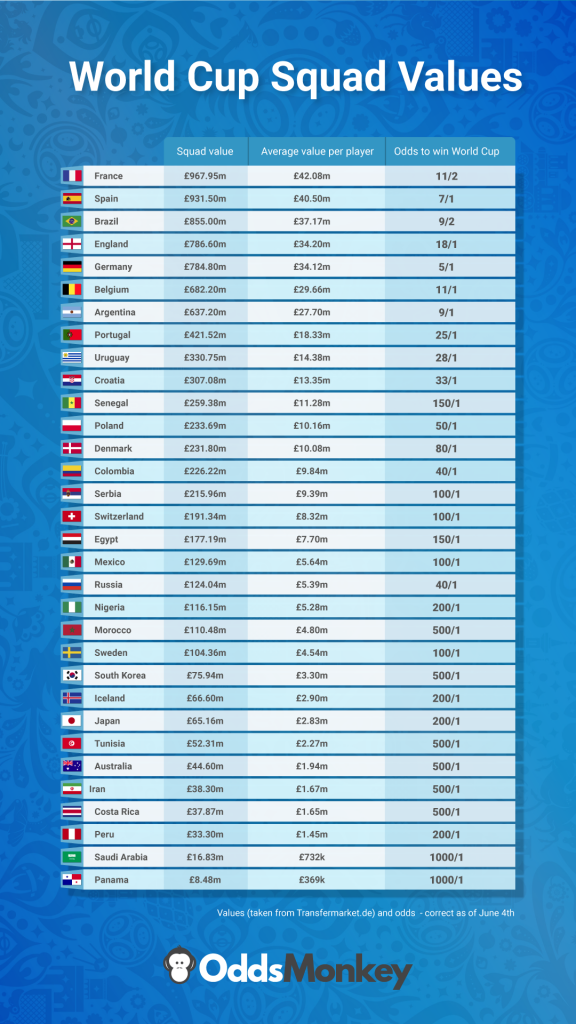 With all the 23-man squads confirmed, that means we can now see who is taking the most valuable squads to Russia.
France have the most valuable squad going into the World Cup finals with a value of £967million just short of a £1billion – which is little surprise given their squad includes the likes of Kylian Mbappe, Antoine Griezmann and Paul Pogba, some of the most valuable players in the world.
Spain are in second just £30million short of France, whilst Brazil – the World Cup favourites – are valued at £855million with a big chunk of that being the world's most valuable player Neymar.
Surprisingly we then have England in fourth at £786million – whose squad value surpasses the likes of Germany and Argentina.
Away from the top dogs and World Cup new boys Panama go into the finals with the lowest value squad, at just £8.4million – only £959million behind France!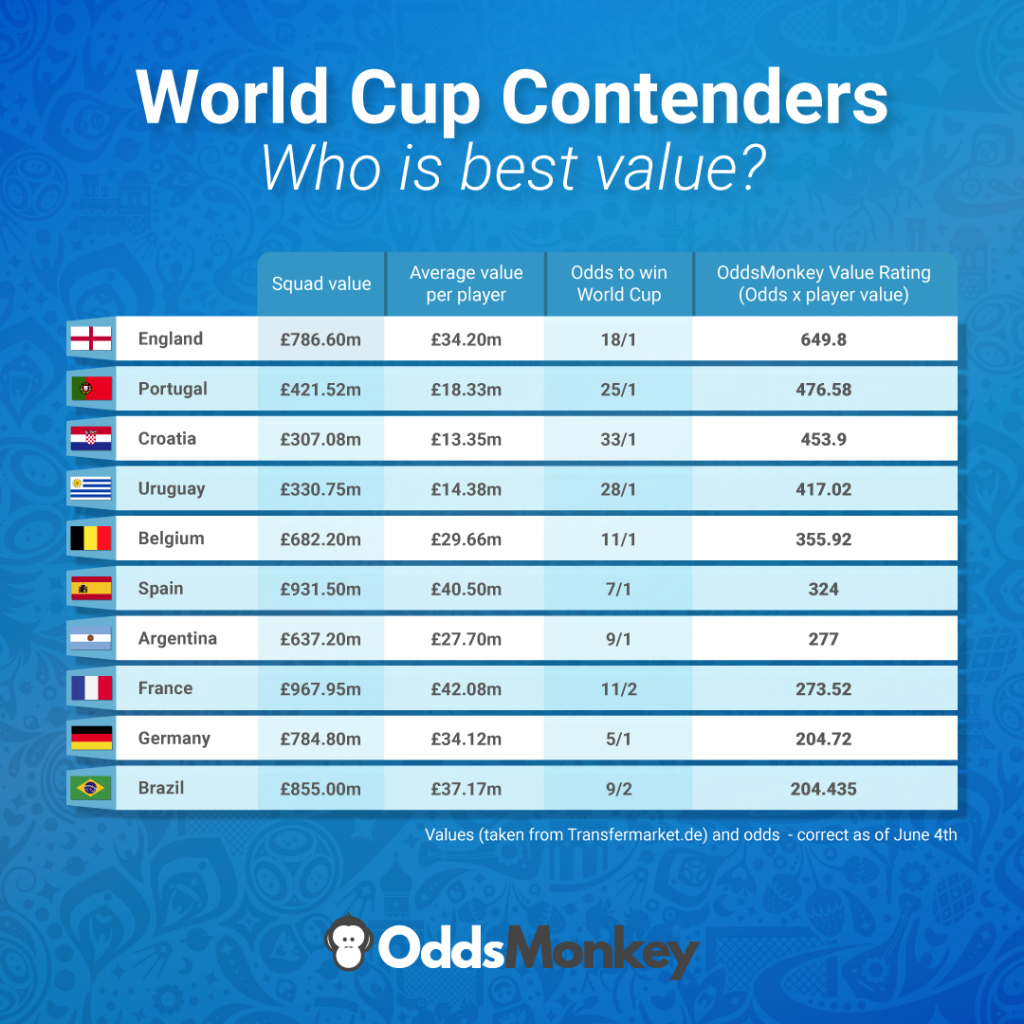 OddsMonkey also looked at the odds of the leading contenders for the World Cup, we have looked at the top ten in the betting, which takes us from favourites Brazil at 9/2 to Croatia who are as long as 33/1.
We used our own formula of dividing the average value of player from each squad and multiplying by the odds to try and see who might offer the best value in the betting market – and by some margin, it is England.
As England have one of the highest value squads, their odds should be amongst the top nations going to Russia, but they are not as they are around 18/1 to lift the trophy in Russia.
Our calculations also point to European champions Portugal as being very good value in betting terms, given their squad value and being ranked at 25/1 to clinch as second successive tournament win.
Tournament favourites Brazil, Germany and France – are not offering great value given their short prices, but Spain rank alongside Belgium and look the best value of the favourites.