Betfair have now announced that their new rewards program for their UK exchange customers.
The program is called 'My Betfair Rewards' and is available in the 'Promotions' section of the Betfair Exchange site.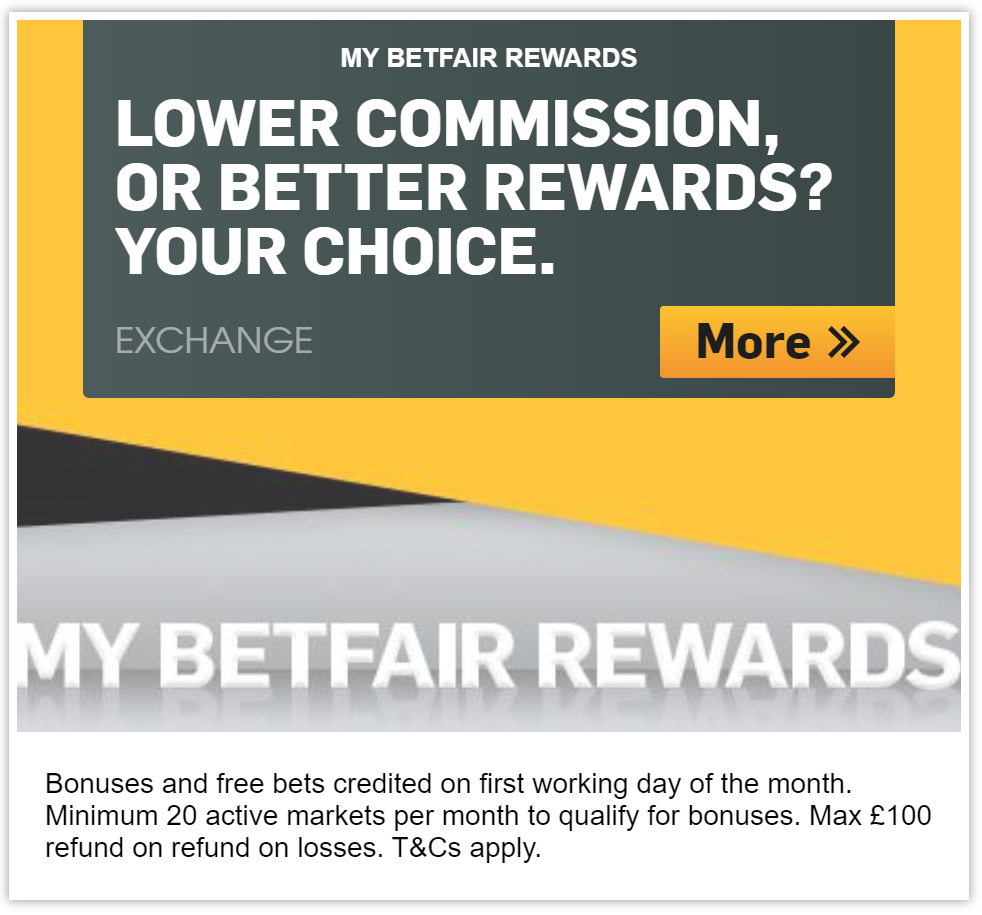 There are 3 different reward packages to choose from and only one can be selected, so you will need to select the one that you think provides you with the best value.
All the 3 options can be viewed here – https://myaccount.betfair.com/rewards/my-rewards/choose
The 3 packages are
As can be seen via the comparison above, one of the main benefits is to choose your commission rate, where you have the optin to pay only 2% commission on all your exchange bets but having to forfeit any other promotions you may have otherwise been entitled to such as the below evens horse racing offer (50 races a month) and any potential Bet and Get offers.
WHICH OPTION SHOULD I CHOOSE?
REWARDS+ (8% COMMISSION)
Not the greatest on the face of it with 8% commission on all Exchange bets so those who are only using Betfair it is probably best not to select this option BUT this option does offer 10% refund on losses (providing you place 20+ bets during each month to qualify) and the more experienced Matched Bettors will be able to see some possible value in this. Also this option provides full access to the Sportsbook promotions (providing you are not already gubbed) along with 25 free spins and a £10 acca free bet each month
REWARDS (5% COMMISSION)
The majority of Betfair users will be paying the standard 5% commission and if you are happy with this you may as well opt in so you can also be rewarded with 10 free spins and a £5 Acca free bet each month along with access to Sportsbook offers (again providing you are not already gubbed)
BASIC (2% COMMISSION)
If you wish to just use Betfair as your exchange and have no promotions, you may feel that the basic package is best for this, especially if you are not eligible for offers at Betfair Sportsbook. Betfair have great liquidity in their markets (far greater liquidity in-play than other exchanges), so the 2% commission may appeal if you require a lot of liquidity and in-play betting.
HOW TO OPT IN
1. Log into your Betfair EXCHANGE account
2. Click on Promotions tab

3. Click on the promotion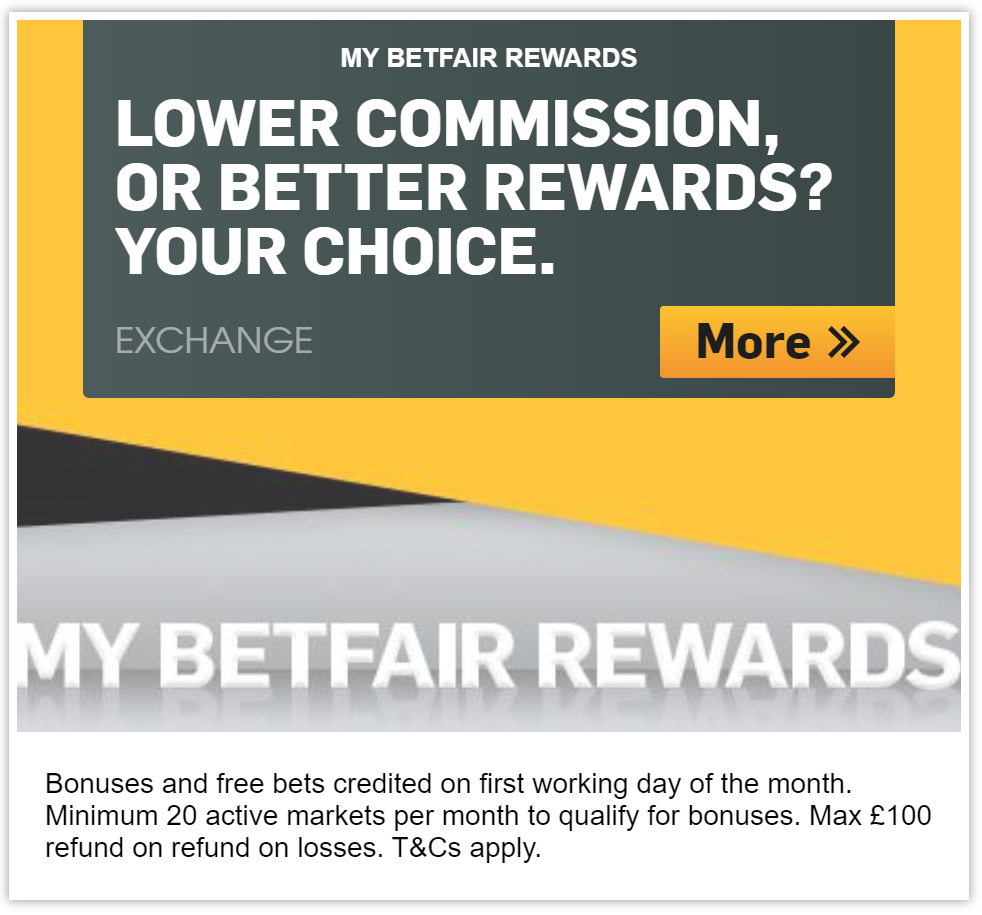 4. Select the rewards plan best suited for you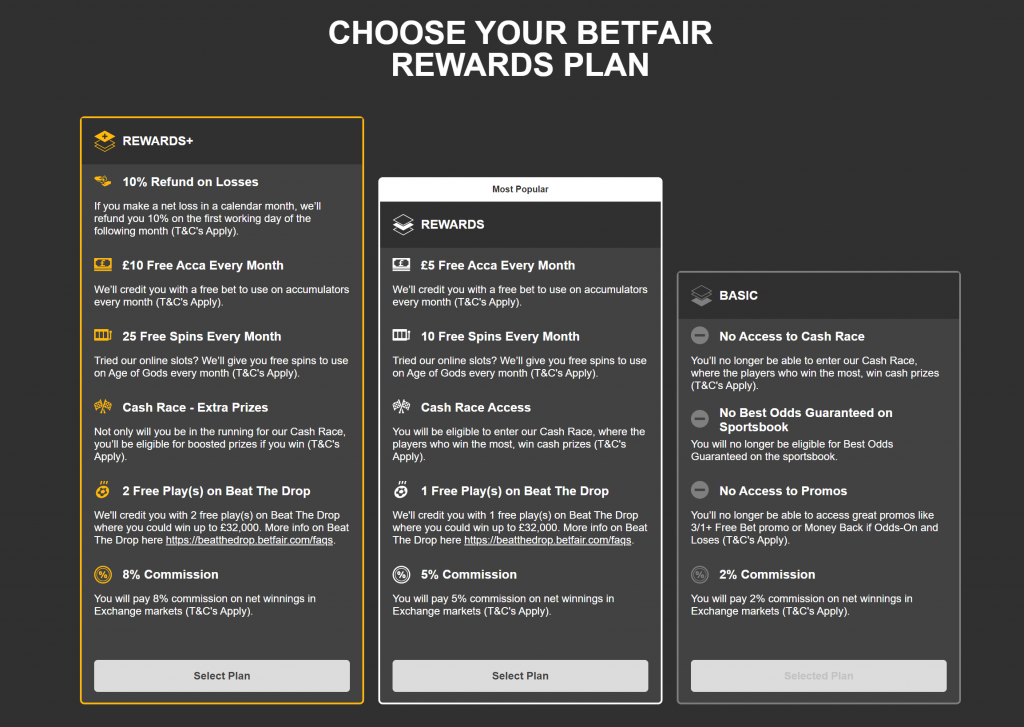 Choose wisely and if you need any help in selecting which plan is best suited for you please get in touch.