The internet can be fascinating, and opportunity seems to be everywhere. Having such a powerful tool at your fingertips can inspire people to think about the possibilities that lurk just a click away. Especially when it comes to learning how to make money online.
Because everyone would love to earn extra money, right? Earn an extra few hundred, or possibly even more per month from home in your spare time.
Opportunity does exist. The difficult thing is knowing where to find it.
Looking to make extra money as a student? Check out our infographic on the best paid part time jobs.
How to make money online
The internet is a bit like the wild west, though. Lots of shady marketing people trying to sell you their latest get-rich-quick scheme. So, knowing what, and who to trust becomes very difficult. It soon becomes easier to forget your dream of making extra money and just write all of the opportunities off as scams.
This is completely understandable, too. A lot of these opportunities are scams. Unscrupulous Internet marketers selling you a dream, but only have intentions of lining their own pockets.
This is nothing new, though. People have been falling for things like pyramid schemes long before the internet was even thought of.
With some research, though, it has never been easier to make money online. We are living in a day and age where it is more possible than ever.
So that is why we're going to show you of the legit ways you can make money online. Oh, and just so you know… we have saved our best until last! It also happens to be the only one in our list which is tax free!
See how you could make around £45 in less than an hour with matched betting
---
Some tips for making money online
Before we get to the good stuff, we'll start with some tips that will set you on the road to success:
Take It Seriously
Because it's an 'online venture', this is the hurdle that most people fall at. They aren't accountable to anyone but themselves and it is easy to just click the big X in the corner of their browser and forget that they ever started.
The ones who make money online are the people that approach their new venture in the same way they would their day job. In fact, it's even more important, because the competition is high – so the little edges make a difference.
---
Don't Give Up
The number of half finished websites and blogs on the Internet are in their billions. People expect to become overnight millionaires and become disheartened when their new ventures don't kick off overnight.
But anyone successful that operates online will have the same advice. At the beginning, it is hard! If there was an online cash machine where you could withdraw free cash, everyone would be doing it!
Saying that, one of our make money online ideas is practically an online cash machine, but you'll have to read on to find out which (just call it the first test of how serious you are about making money online!)
---
Stand Out From The Crowd
While it helps to follow the process that others have used, your actual product/service needs to be different.
As you explore these ideas in more depth, you will see hoards of people outright copying each other. They get wind that one idea has been successful, and they rip it off. Sure, you might make some money initially. But if you create something unique, you can make a lot more!
---
Online money-making ideas
So without further ado, here are the ideas we have hand picked for you. Good luck!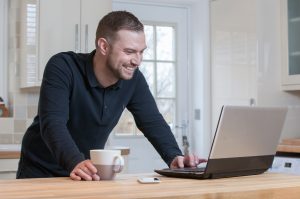 ---
Ebay
Ebay is one of the most obvious online money makers, and is now often overlooked by many because it has been around for so long. But you can still make money, if you have a good strategy.
One of the easiest ways to make money on Ebay is to go to car boot sales. Just look for something that looks like it could be a bargain. Then quickly search for it on Ebay via your mobile, and check how much it is selling for!
The start up costs don't have to be high, you can start with just a few pounds.
One of the most important things is to make your listing attractive. Check the competition and take better pictures than them. Make your headline more descriptive, and more specific. Perhaps even write a product description that will make people laugh and has a chance of going viral!
---
Rent Your Home On Airbnb
Millions of people around the world make money online by renting all, or part of their house, on AirBnB. If you live in a sought after destination, you could make thousands of pounds per month – and meet some cool people along the way!
To start, just have a look at other similar listings in your area. You will never go wrong by copying the approach of the most popular listings. Things like attractive pictures of the property, and a writing a listing in a happy, welcoming tone will soon help attract bookings.
This may be quite slow to start when you have few reviews, but they will soon build up. But, the obvious downside is that you must be willing to share your home with a stranger. So it may not be for everyone!
---
Sell products on Etsy
If you have a flair for arts and crafts then this may just be the option for you! Etsy is an online marketplace which promotes selling handcrafted products online. Etsy take a small fee to list your product, and process your transaction. But it's worth it because millions of people are browsing their website.
Again, the best approach is to check on the success of others. Check what is working for the most successful sellers with their listings. But, it pays to be unique with your product – try and create something that is different and your chances of success will increase!
---
Develop Educational Courses On Udemy
Udemy is a place where people create online courses and sell them to others. It is a great resource for learning new things. But also, for earning money by teaching people a thing or two!
The competition on Udemy is fierce, so it is important to find a niche that doesn't have too much competition. If you have experience that makes you an expert in a specific field, then people will jump at the chance.
It also helps to have a marketing plan to help sell your courses. Sign up to related Facebook groups, and help people by providing them with lots of up front value. They will become more interested when you tell them they can learn more if they buy your course!
---
Write and sell an eBook
Do you have a way with words? An active imagination? It has never been easier to make money online by publishing your own words.
Selling books online is very competitive. It involves a huge amount of effort in writing the book and marketing it before you can make money.
Amazon's Kindle program and Apple's iTunes Connect have changed the game and make the barriers to entry for aspiring authors extremely low. It doesn't cost a lot of money, just a lot of effort in writing and marketing.
---
Offer Services on Fiverr
Fiverr is one of the largest online marketplaces. They promote tasks and services, with gigs beginning as low as $5 per job.
It is primarily used by freelancers around the world who offer a range of services to customers. These range from graphic design and social media marketing to web development and video creation.
As with most online money makers, it is extremely crowded and takes some time to build up a reputation. But as with any other platform where you can make money online, it takes time and effort – there is no get rich quick here.
---
Build An Instagram Following
Instagram has become a place where you follow more than just your friends to see their holiday snaps.
Enjoy looking at football pictures? Or perhaps exotic landscapes? Maybe even inspirational quotes? Well, a lot of people do, and these accounts can become extremely popular.
But in general, people don't run these through the goodness of their own hearts. They build up these huge followings because it becomes a great marketing tool, and a fantastic money earner.
The greater your number of followers, the more money people will be willing to pay you to promote their product.
But building an account following can take a lot of time, and effort, so prepare to keep at it.
---
sell Professional Services on Upwork
Upwork has become the go to platform for skilled freelancers to sell their services to all types of businesses.
Businesses from around the globe will post the projects that they need help with. Freelancers then offer their services for these gigs.
It is a rather saturated marketplace, and takes time to build up a profile with a good rating. But, it is a solid way to make money online if you stick with it.
Among the sought after skills on Upwork are Sales, Accounting, Admin, Design, Writing and Translation.
---
Build a Blog
Building a blog is one of the most exhausting ways of making money online, and has been a path that many have tried, but most have failed.
The problem is that it takes time. Months can fly past without having more than a single reader (and that reader is probably your mum). It takes determination and perseverance, but the ones who are great, and make it successful, can make tens or hundreds of thousands per month.
To make money online with a blog, you need to be great at writing (obviously), have a unique story or insight to tell, and be willing to learn about marketing techniques.
---
Matched Betting
Now, we promised to save the best until last, and you won't be disappointed. Of all the ways to make money online, this one probably requires the least amount of effort and the least amount of skill.
Also, where the rest are all classed as taxable, matched betting is completely tax-free!
OddsMonkey Premium members report average earnings of around £500 to £700 each money. Others earn more or less than that. It is accessible to people from all walks of life.
So how does it work? Well, the online gambling industry is a billion pound industry, and thousands of gambling companies are all vying for your custom.
To win you as a customer, they offer various incentives, which is largely in the form of a free bet. But to stop you just taking the money and running, they have various stipulations attached.
Matched betting is the easiest way to make money online, because it allows you to sidestep these stipulations and do exactly what the bookmakers don't want you to do – take the money and run! But don't worry, matched betting is also completely legal.
When you sign up for a new account, you normally you have to risk your own money. But with a few simple steps you can offset this risk and bank the cash.
Download our free Introduction to matched betting to learn more. Want to get started with OddsMonkey? Then check out our latest promotions to grab yourself a discount.