OddsMonkey Premium members, George and Jo-Anne, have been matched betting for the last 4 years. In this post, George tells us how he got started and shares his top tips. It's time for another in our meet the members series of guest posts…
Meet the members: George
Matched betting profits and purchases
Jo-Anne, my wife, started matched betting in August 2018. She wanted enough for a new iPad. I thought it was a dreadful idea but soon I was convinced too. Fortunately, we both really enjoy it and it has become our main pastime. She soon got her new iPad and we have bought 2 more second-hand ones since. We hit £10k profit in March 2019 and £50k profit in April this year.
We now expect £100/wk profit and anything else is a bonus. It can be £300 if we hit a 2Up or a BOG. We make an allowance of our available time. The profit is the result of the time spent, not a target in its own right.
We haven't spent a lot of our profits. Apart from 3 iPads and a couple of second-hand iPhones which we use for matched betting, the only thing we have splashed out on is a diamond ring for Jo-Anne.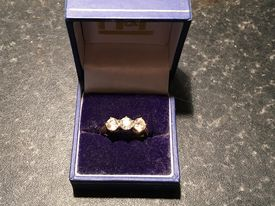 We are saving £200/month each into a savings account and one day, if covid and our age don't restrict us, we will go on another Nile cruise.
Getting started and bankroll
We started in August 2018 with £100 but soon realised that we needed to put more money in. Also having more exchanges helped too as we could place bets quickly. It was 18 months before we claimed back the £1700 we had put in over the first few months. We currently have about £12k in exchanges and £12k in bookies and casino sites.
Matched betting schedule
Some days we spend longer on offers than others. Mondays, with the bet clubs and also weekends, are our busiest times. The free casino and bingo offers can be fitted in around whatever else is going on. Because I am retired and Jo-Anne only works a few hours each week we have more free time than most people. Matched betting certainly helped our mental health during the months of lockdown as it gave us a focus.
We split our activity. I concentrate on football 2Ups, ACCAs and a little trading. Also, I do the in-play tennis offers. Keeping all our spreadsheets up to date also takes up my time. Jo-Anne does the horse offers, bet clubs and the daily free casino and bingo. Sharing the offers this way works well for us.
First thing in the morning we check the OddsMonkey reloads and Facebook group. In the evenings we watch TV with an iPad on our knees and a phone by our side. The OddsMonkey Community has always been a great help to us. If there is a problem with an offer, such as a free bet not being credited on time, one or two helpful members will always inform others on the site so we don't all despair and queue on live chat. The new Facebook group has made sharing current information even easier and is a great asset. Without the help of the OddsMonkey OddsMatcher, we would not be matched betting. It saves so much time comparing odds and we would miss seeing a lot of daily reload offers that are available.
We still have new bookie sign-ups to do as we did not open a new account for each of us at the start. Even after 3 years, we are still working with the first account for a few bookmakers including Bet365. Though with the low risk casino sites, such as Jackpot Joy, we do both have accounts.
Background and how you came across matched betting
We are both scientists and have always worked with calculations. We enjoy maths and used to subscribe to Killer Sudoku magazine every month. Whilst we no longer have time for Sudoku, we get a lot of enjoyment from matched betting instead. Forget daily brain training puzzles for over 70s, as working out the constantly changing odds on in-play football is far more challenging.
% breakdown of profits
This varies so much from week to week. Football 2Ups have been profitable for us but slow and steady rather than massively profitable. Last season we did 299 2Ups with 52 going 2Up. Our profit was £703 (an average of £2.35 per game). Weekly bet clubs, Sky boosts, and regular in-play offers have all added up each week.
Low-risk casino: We do a lot of free picks, spins and weekly guessing type offers such as Ladbrokes 1-2-Free each week and Grosvenor deposit for spins on Sunday. We are too risk-averse to do most of the offers on the OddsMonkey casino reloads page.
Tips and advice
For those new to matched betting, remember that tales of the "great deal I pulled off" should be balanced by "OMG what a mess I made of that one". But more importantly, most matched betting is simply a slow grind of small profits that build up over time.
Don't rush. More haste, less speed is very true. Leave yourself time to put your bets on. Mistakes can be costly.
Don't spend your profit as soon as you get it unless you really do need the money. Think of matched betting as a business. You need to invest time and money to make the best profit. We needed £4k for our liability for the Grand National and these big events can be very lucrative.
Having more than one screen or device has been extremely useful as you can more easily see the back and lay odds.
Record keeping is very important, so we keep track of where our money is and any bets and free bets that need to be placed. When we start doing a new type of offer, eg ACCA insurance, we keep a spreadsheet of our activity to check that it is profitable to us. There is no point in wasting time doing offers that don't make a profit. It is very easy to spend money on qualifying losses and not get a return in free bets or odds boosts.
We had a try at using automated software for no lay extra places on horse racing. We invested in a laptop to run this but after a year we had only just covered our costs and had been severely stake-restricted on our gubbed accounts. Now, we only look at extra places for major events.
If you mess up. Don't panic. There is usually a way to sort it. Always ask. We've all been there.
Thanks to George for taking part in our meet the members series. It's always fantastic hearing from OddsMonkey Premium members. If you'd like to try matched betting for yourself, start your OddsMonkey Free Trial today!