Today's guest post in our meet the members series is from an OddsMonkey Premium member we do talk about. Bruno shares his average weekly earnings, favourite offer types, and his tips for successful matched betting.
Meet the members: Bruno
What is your average weekly profit?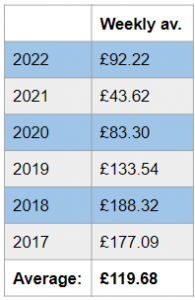 What do you do with your matched betting profits? Any exciting purchases or stories to share?
I have a couple of saving accounts that I put profits in to pay for holidays, but it's also covered things like a new TV, computer, hi-fi and other tech. It also helps pay for beer and nights out and does feel a bit like 'free money'. Or a great part-time job that I control.
What is your bankroll? How much did you start with?
Good question… I think at least £250.
How long have you been matched betting?
6 Years
How much time in an average week do you spend matched betting?
The first 2 or 3 years, I spent a lot of time as I had a lot of accounts. Nowadays maybe 20 mins a day. More on a Saturday or Sunday if there are 2Ups to go for.
What type of offers do you focus on and why?
Free bets, low-risk casino and 2UPs. It's good to balance the casino and 2Up highs and lows with the regular free bets. Though not as often as when I had lots of accounts.
Tell us more about your background and how you came across matched betting.
A friend from work introduced me to it. I learned the manual-matching way at first (which was a bit of a challenge to pick up) and then to OddsMonkey. I wish I'd signed up to OddsMonkey on day 1. Made life so much easier and would have spent countless hours of queries (and triple-checking of bets) with my mate!
Can you give us a breakdown in % of where your profits come from?
The big bumps are normally from 2UPs (I do them irregularly when there's a good match but with large stakes and mostly for full turnarounds). The most I've made off a single one is £980 (thanks Chelsea)! It would have been the full grand but I put a £20 bet on in injury time at really high odds for insurance of another late goal…for the wrong team!
Do you do low-risk casino? If so, tell us more about that.
Yes, I have a personal strategy rule I follow that I only do ones that give 10% of the value of the staking requirements, irrespective of the RTP %. Doing this means I don't feel guilty or like I've missed out if I skip an offer that I'm not sure about (but meets this criteria) as the big wins can come from no-where. I think the best was about £300 off a 10p free spin on Book of the Dead. I wish I'd started low- to medium-risk casino right at the beginning. The offers used to be a LOT more profitable. The key is as OddsMonkey say though: you need the quantity to realise the EV.
10. Do you have any advice or tips to offer to members?
Trust the EV. But remember you need to do a lot of offers to see it over time as you could be running hot or cold for a while!
TRIPLE check all your bets and lays, write the names of each horse out, time of race. Check the odds again. Is it the same horse? I learnt the hard way with laying the wrong horse for a loss of £650… nearly gave up . That was about a year or so in but told myself I'll see the returns if I keep going. I have done: I've hit over £30k profit since I started.
Don't punt your bets
Keep a record of your accounts, profits etc. Use OddsMonkey's Profit Tracker or spreadsheet template.
Never play an extra hand of poker or spin out of your own cash / after wagering (i.e. never chase your losses)
You'll have great days and bad days. Just make sure you have your own personal strategy and stick to it. That includes the time you spend checking OddsMonkey, emails, the OddsMatcher, etc.
Try matched betting for yourself with an OddsMonkey free trial!