The NHL Stanley Cup playoff is just around the corner. If you follow the NHL then brew yourself a cuppa and settle in because we're going to preview this exciting event later in the article.

And if your only exposure to Ice Hockey is the 1992 classic 'The Mighty Ducks' starring Emilio Estevez, then don't despair. Because we hope by the time you've read this article, that you'll be as excited for the NHL playoff as we are!
NHL in the UK
In the UK, we are blessed to have some of the strongest sports organisations in the world. We have the world's number 1 Football league, top class Cricket, Rugby, Darts, Snooker, Tennis, Athletics and Boxing. But, for us sport-loving brits, even that isn't enough.

Despite such a strong domestic sports scene, UK interest in American sports is growing at a furious rate.
Thanks to ever increasing TV rights deals, and (legal!) internet streaming, our access to sport from further afield is better than ever.
And with the internet, gone are the days when you had to subscribe to a specialist US sports magazine, and only find out the results a week after the event took place!
The NFL is the most popular. Last year, Sky Sports showed over 100 NFL games. The NFL was packed to capacity at Wembley when regular season games were played in our iconic stadium. And such is the interest in NFL in the UK, Premier League Club Tottenham Hotspur, have even designed their stadium to be able to host NFL games. The idea is that within the next 5 years, London may have it's very own NFL team.
Basketball has long held the interest of UK-based sports enthusiasts, too. Players like Michael Jordan were worldwide stars.
However, one North American sports league that was maybe slow to the party but is certainly gathering speed now, is the NHL. The NHL is now shown on UK TV, with lots of people beginning to appreciate the mix of exhilarating skilful play, and rough and tumble action that looks like it would be more at home in the UFC Octagon.
We are now at a point where we're facing the most exciting part of the NHL Season – The Stanley Cup playoff. So, honestly, if you're not a fan yet, there is no better time to get involved. We'll tell you how you can do so later in this article.
NHL playoff and regular season format
The National Hockey League is divided into two different phases. First, you have the regular season which starts in October and runs through until April. During this phase, competing teams are split into 4 divisions.
You have the Pacific Division and the Central Division in the Western Conference. And the Atlantic Division and Metropolitan Division in the Eastern Conference.
These teams play a whopping 82 games to determine their regular season standings, in each of their divisions.
Once this part of the season is concluded, the three highest-placed teams in each of the 4 divisions enter the Stanley Cup playoff rounds. Two wildcard teams both the Western Conference and the Eastern Conference are also added to the NHL playoffs.
So you're left with 16 teams in the Stanley Cup playoff. This is an elimination tournament that consists of three rounds in the best-of-seven playoff format, to decide which team from each conference meets in the Stanley Cup final. The NHL playoff final is also played in a best-of-seven format.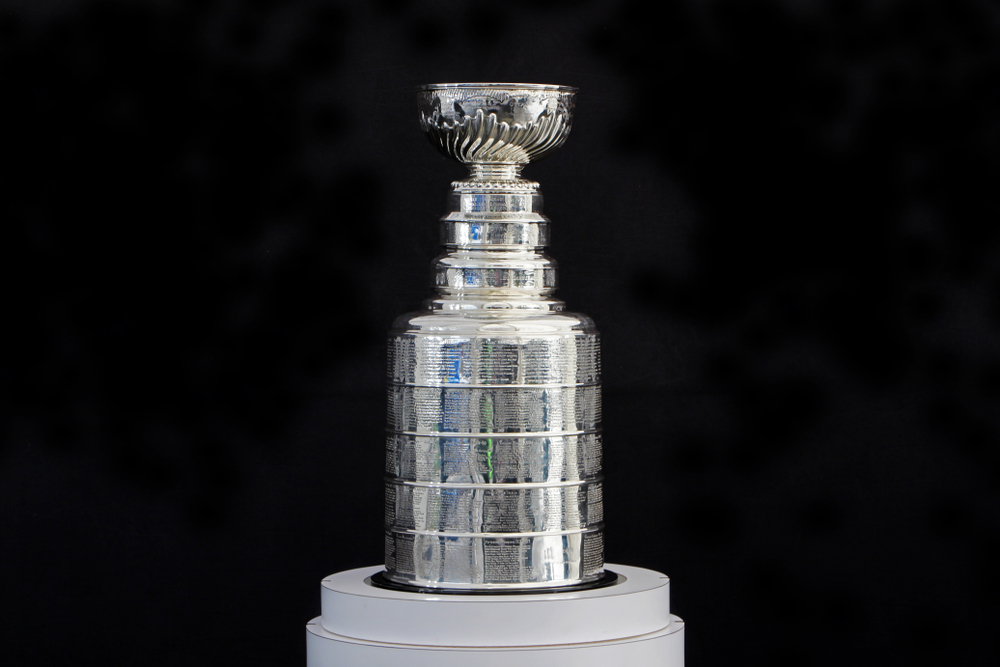 How does betting work in NHL
The betting for the NHL playoff and regular season matches are similar to other sports you may be more familiar with.
First, you have the basic type of in-game bets that are available in other North American sports you may be familiar with.
#1 Money line
This is just the American name for the 'Match Odds' market that you see in Football. You are betting on who you think will win the match
#2 Handicap Lines
This is offered to even out the odds when one team is a heavy favourite. The long shot will be given an imaginary head start.
#3 Total goals
Again, this is exactly the same market you'll find in sports like Football (or Soccer if you're now a true US sport aficionado). You are betting on whether the number of goals in the match are higher or lower than the stated number.
#4 Prop markets
These are just an American way of describing Specials bets. Here you will find markets such as 'Correct Score', 'Time of First Goal', and 'Double Chance'.
You can also bet in-play on these markets with bookmakers such as Bet365.
Aside from individual match bets, you can also bet on the Stanley Cup playoff outright markets. Many betting companies now offer NHL playoff odds, and you can compare these on a website such as Oddschecker.
The markets available are:
Stanley Cup Playoff – Winner
This is pretty self explanatory. You're betting on which team you think will win the NHL playoff
Stanley Cup Playoff – Winning Conference
This is where you pick which conference the winning team will come from. Here, you have just two options, Eastern or Western Conference.
Stanley Cup Playoffs – Winning Division
For this market, you pick the division that you think the winner of the NHL playoff will come from. You have four options: Atlantic, Central, Metropolitan and Pacific.
Stanley Cup Playoff – Winning Nation
Now you may be aware, but it's not just teams from USA that compete in the NHL playoff. To ramp the rivalries up, there are also some great Canadian teams that compete. In this market, you're choosing which country you think the winner of NHL playoff will come from.
Stanley Cup Play Off – Who To Bet On
So with the NHL Playoff set to start on April 11th 2018, which teams should you look out for? We're going to give you an overview of the best teams and all of the odds on Stanley Cup winner markets
Tampa Bay Lightning – 9/2 favourite
It's funny to think that the sunshine state of Florida is home to one of the best ice-hockey teams, but it's true. Favourites for the NHL playoff this year, the Bolts narrowly missed the playoffs in 2017, mainly due to picking up injuries to key players such as Steven Stamkos. Stamkos returned from injury in fine form, and has resumed a great partnership with NHL All-Star Nikita Kucherov. They're currently top of the Eastern conference standings and have scored more goals than anyone else.
Nashville Predators – 11/2 2nd favourite
The Predators made it to the playoffs in 2017, but finally fell in the final to Pittsburgh Penguins after 6 games. This season they're hoping to go one better, with Swede, Viktor Arvidsson and Captain Roman Josi leading the way. Again, they're top of their conference standings, and provide the western threat to Tampa. Their team is built on a strong defence, and they have conceded the fewest goals of any team in the entire NHL.
Boston Bruins – 13/2
The Bruins are one of the most historic franchises in the NHL, and were founded in 1924. They have a fine history of winning the Stanley Cup playoff, with six wins under their belt, the 4th most of all time. The Bruins are a tough team, and again, based on a good defence, conceding the fewest number of goals in the Atlantic division. With players like Brad Marchand scoring and assisting at the other end of the rink, Bruins fans will be quietly confident of their first Stanley Cup win since 2011.
Vegas Golden Knights – 17/2
The Vegas Golden Knights are the newest franchise to the NHL, and considering this is their debut season, what a start they've had! They play their matches in the world famous T-Mobile arena, and currently sit top of the Pacific Division, scoring goals for fun. They're the top scorers in the Western Conference, and offensive players like William Karlsson and David Perron will take some stopping.
How to keep track of the games
As we mentioned earlier, it's easier than ever to watch the NHL playoff in the UK. This year, the matches are being shown on Premier Sports which is available for £9.99 per month on Sky and Virgin.
If you don't have a satellite TV package, fear not because you do have another option.

You can grab a subscription to NHL.tv, which is $119 for a season, or $19.99 monthly. However, the only problem with this, is that they are not allowed to show the Premier Sports matches to UK customers for 24 hours. This is a problem when it comes to the NHL playoff, because Premier Sports show almost every Stanley Cup playoff match.
If you're not so concerned about watching the matches, the best resource for checking scores and reading match reports is the NHL website.
How OddsMonkey can help you place a bet on The Stanley Cup?
At OddsMonkey, we're passionate about flipping the odds in the favour of the player and taking the power away from the bookmaker.
During big tournaments such as The Stanley Cup playoff, some bookmakers try to encourage players to take part in these events. They do so by offering bonuses and free bets.
At OddsMonkey, we have great a range of tools to help you remove almost all risk and turn these free bets into withdraw-able cash.
We collate these offers in our members area and advise on how you can profit from them. We also have a vibrant community forum where sports enthusiasts discuss these topics and advise each other on best practices for these offers and how to take advantage of them.