One of the highlights of the television year will soon be with us, not just I'm A Celebrity…Get Me Out Of Here! But the legendary Bushtucker eating trials!
From Uri Geller eating the first ever Witchetty Grub in Series One back in 2002, to last year when Noel Edmonds and Harry Redknapp both tucked into Sheep Brains…
OddsMonkey has looked back through the top challengers, and picking out the best and worst Jungle treats that celebrities have eaten, and compiled a nice caloried menu! And for ease of use we have compared that to a Big Mac…
A McDonald's Big Mac comes in at 563 calories – but how does that compare to some of the great Jungle snacks we have seen – well you can see from our very own Jungle menu.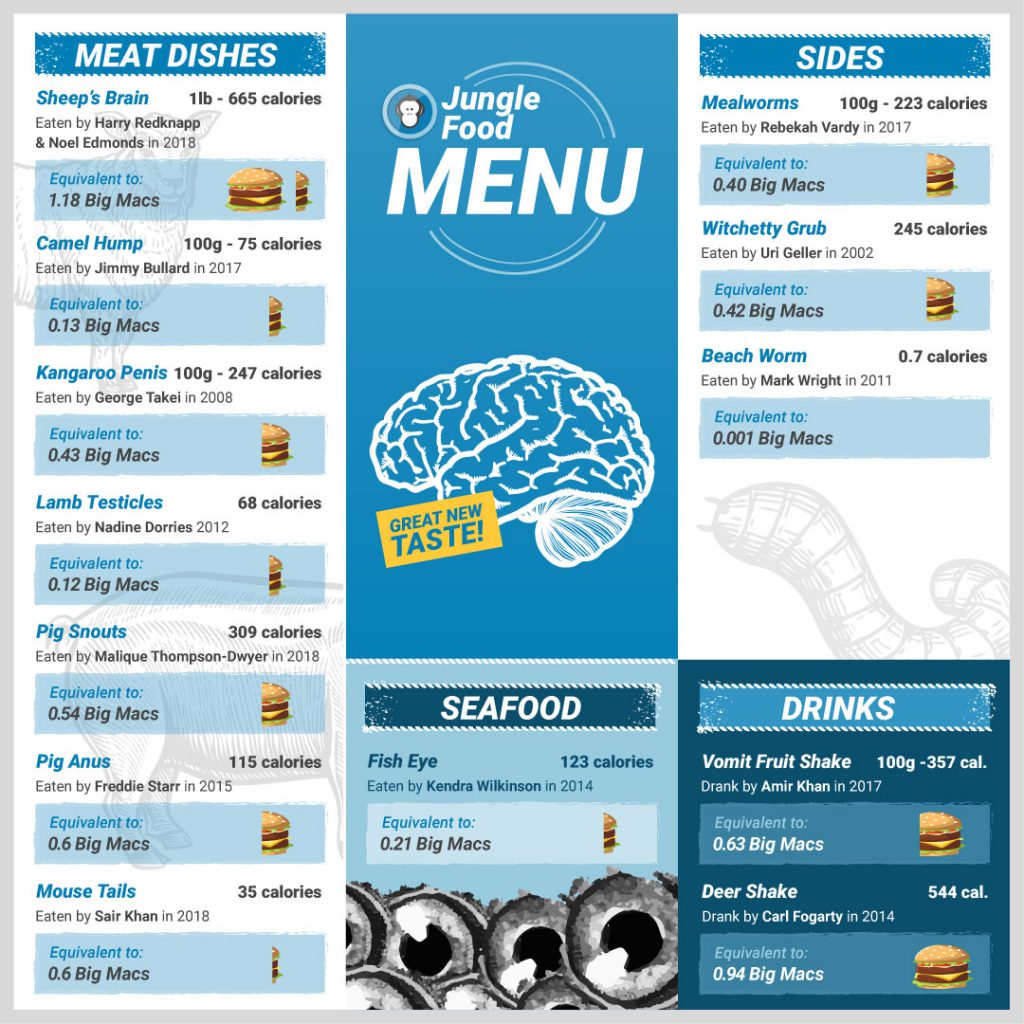 Let us look at who has eaten what over the years…
Sheep's brain (1lb) – 665 calories – eaten by Harry Redknapp and Noel Edmonds in 2018
Harry and Noel competed against each other and both had to eat the Sheep's Brain – but they might not of known just how many calories they were taking in, more than a Big Mac! And it is also more than Harry's beloved Jam Roly Poly which comes in at about 400 calories.
Fish eyes (one) – 123 calories – eaten by Kendra Wilkinson in 2014
Fish eyes are becoming a regular treat on the Jungle menu, but they are not the easiest of things to eat, and at 123 calories they make an impact.
Camel Hump (100 grams) – 75 calories – eaten by Jimmy Bullard in 2017
Camel Hump is regarded as a delicacy in some parts of the world, but that is not what Jimmy Bullard was thinking back in 2017 – although the fact it is low in fat and calories might have helped!
Kangaroo penis (100 grams) – 247 calories – eaten by George Takei in 2008
One of the most dreaded Jungle delicacies – the foreboding penis has been eaten by a number of celebrities. Star Trek legend George Takei took on the challenge one of the most memorable eating tasks, although it was not without it's calories almost worth half a Big Mac!
Mealworms (100 grams) – 223 calories – eaten by Rebekah Vardy in 2017
Mealworms are now even available around the UK as a snack, although not sure Rebekah Vardy will be rushing to find them again after successfully tucking into them back in 2017.
Vomit Fruit (100 grams) – 357 calories – eaten by Amir Khan in 2017
Vomit Fruit has a horrible stench and taste, but Boxer Amir Khan did well as he downed the fruit in a shake and he may well have been surprised to find out it contained a whopping 357 calories, getting towards the equivalent of a full Big Mac.
Lamb testicles (one) – 68 calories – eaten by Nadine Dorries 2012
Nadine Dorries is entering the General Election in the coming weeks, but she had to endure some tough task in the Jungle back in 2012, but few worse than when she took on a Lamb testicle – although at 68 calories it was far from being bad for her.
Pig snouts (one) – 309 calories – eaten by Malique Thompson-Dwyer in 2018
Malique Thompson-Dwyer had to endure one of the toughest challenges with Sair Khan, and one of this eats was a Pig snout – it looked and tasted disgusting and there is a good reason you don't see it on menus – apart from ours!
Pig anus (one) – 115 calories – eaten by Freddie Starr in 2015
Comedian Freddie Starr did not turn his nose up at anything during his stay in the Jungle, and his "Bacon Butty" was no problem for him.
Mouse Tails (One full mouse) – 35 calories – eaten by Sair Khan in 2018
Another horrible creation was mouse tails acting as spaghetti – but Sair Khan completed it well.
Deer Shake (kidneys, liver, blood) – 544 calories – Carl Fogarty in 2014
The 2014 winner Carl Fogarty endured a really bad drinking challenge with his Deer Shake, but he came through it with flying colours like he did on the track, and calories wise it was one of the richest we have ever seen – just about an equivalent to a full Big Mac.
Witchetty Grub – 245 calories – eaten by Uri Geller in 2002
The very first eating challenge in I'm A Celebrity history, despite being a vegetarian Uri Geller took on the challenge and ate the Witchetty Grub – which can be a staple of the Aboriginal diet in the outback!
The post I'm a Celeb Diet: Sheep's brain as Nutritious as a Big Mac appeared first on OddsMonkey Blog.