"There must be a catch, right? You don't get anything in this world for free." Or do you? When it comes to matched betting, there really is no catch and the 'free' you get is money from bookmakers' promotional free bets. So if it's not too good to be true, I guess the next question is: is matched betting legal?
Is matched betting legal?
In a word: yes. As long as you are over the age of 18 and are a UK resident, then you can matched bet legally.
Matched betting is legal and a spokesperson for William Hill has indicated that the betting industry does not have a problem with this use of free bets.
How does the betting industry see matched betting?
In reality, the feeling is that the betting industry isn't mad crazy about matched betting. In the majority of the terms and conditions you'll find on each bookmaker's site, you'll come across the phrase 'Bonus Abuse'. This is how the bookmakers really see matched betting. But it doesn't mean that it isn't legal. So what does it mean?
Bonus Abuse
The reason some bookmakers have a problem with matched betting is simply because they're not making any money off you. However, this is usually because matched bettors only bet when there is a free bet available. Regular punters, on the other hand, tend to bet with and without free bets. This is what bookies rely on in order to make their money. If you only take advantage of their offers, you're not losing anything because you're always covered.
A quick recap of how matched betting works
A bookmaker is offering a promotion: Bet £20, Get £10 Free Bet. So you bet £20 and then get and bet your free £10 bet. As a straight punter, if both of these bets lose, you don't get anything back and you lose £20 of your own money in the process.
However, with matched betting you're always guaranteed to win. Now, this win doesn't always come from the bookie because you also place lay bets at the betting exchange. But the bookmakers don't seem to like this. Even though the free bet was their gift to you – a marketing tactic to encourage you to bet with them – they don't like what you're doing with it. Which is why they claim you're abusing the bonus.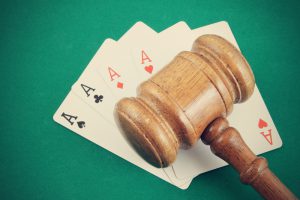 In reality, matched betting doesn't affect the bookmakers. They just hate the idea that you're getting something for nothing. Really, they still welcome the business.
Graham Sharpe, from William Hill, says the industry does not have a problem with matched betting. "There's no illegal element," he says. "It's a free bet and you can do what you like."
(from an article by: Murray-West, Rosie. "Is this a bet you can't lose?", The Telegraph. Dec 2010.)
Are there any repercussions?
With all that said, matched bettors sometimes find their betting accounts restricted or 'gubbed' as a supposed punishment. The truth is that no one really knows the reasons for account restrictions. Find out more about 'Gubbing' and some tips on how to avoid it in this post.
However, this isn't a 'legal/illegal' thing and doesn't mean that you're in trouble. It doesn't even mean that you're unable to matched bet anymore…at least not with OddsMonkey! There's always another bookmaker for you to move onto or one of our other tools which doesn't require free bets to generate guarantee profits.
Let us know if we haven't answered your question, "is matched betting legal?" in the comments section. Find out more about matched betting and how you could make a tax free second income from home with our free guide: