Matched betting and advanced techniques don't just take place online. There are ways to do it in-person. This guide to sharbing has been written by OddsMonkey Premium member, Christina.
What is sharbing?
Sharbing is where you do arbing in physical bookmaker shops rather than online. It is a portmanteau word, which is a mixture of the words 'shop' and 'arbing'. 'Arbing', or arbitrage betting, is the technique of making money when you can find back odds which are higher than the lay odds.
However, in this guide, I will consider all sorts of offers which you do in shops rather than online. And there are a lot of them! Bookies normally have special offers running all the time; although not all of them are layable or suitable for matched betting.
The first thing to remember when sharbing is that odds are NOT the same as online odds. That's one of the main reasons for sharbing. Shops are slower to update their odds than online sites. In fact, there are two sets of odds in bookie shops: the over-the-counter odds and the machine odds. Over-the-counter odds are generally better, but not always.
This article does NOT discuss slot machine shops, such as Cashino. Those shops can also be used for money-making purposes in similar ways to online casino offers. It does, however, include a very basic guide to slots, as shops occasionally do an offer where you get free spins if you make a qualifying bet.
There are five main bookies is on the high street:
William Hill (WH),
Paddy Power (PP),
Betfred (BF),
Coral (C)
and Ladbrokes (Lads).
There are also some Jennings and independent bookies to be found. As well as some bookies which are unique to the north of England. I have no access to these, but the advice here will still apply to them. Please go gentle on independents as it's a fragile market. Indies who are willing to match the best price out there, in particular, are very vulnerable to sharbers and should be treated with caution. There's no point in betting with people who are liable to go bankrupt!
Why use shops rather than online?
Odds in shops are slower to react than online odds are, and so it is possible to get arbs. Remember: these are bets where the back odds are higher than the lay odds, resulting in a profit.
Shops have their own offers, which are sometimes very generous. If you find a good offer, you can normally do it in more than one shop. In fact, in as many shops as you can find, unless the staff spot that you are an 'arber' and take proactive steps to warn each other.
No one knows who you are, so what you do in a shop will not normally affect what happens online. And vice versa. You can be totally gubbed online and still do relatively big bets in a shop. (Always use cash, for this very reason!)
If eventually, you are gubbed in a shop, it is temporary. Gubbings online are forever. Gubbings in a shop where you are anonymous last only until a change of shift / that person leaves / the shop forgets about you. This means that there is no real benefit to 'protecting your account'.
Yuck! Bookie shops!
Many of you may never have been through the doors of a bookie shop before. I have mystery shopped many of these shops, and can reassure you that one of the things that bookie staff are judged on is their ability to be friendly to, and to explain things to, new customers. So you should be assured of a warm welcome, and if there's anything you don't understand, remember the staff are there to help you. Although obviously, your aim is to come across as a normal punter. Or a mystery shopper. (More about this later).
Important point: you have to be 18+ to enter a bookie. If you look young for your age, take ID as staff check the age of anyone who looks under 25. You cannot take children in with you, so leave the kids at home! I would seriously advise you to dress to look over 25 since the whole point of bookies is anonymity. Avoid giving your real name or paying by anything except cash whenever you can. If you are under 25, try to act older. For example, if you have the choice of producing a driving licence, rather than a student ID, use the driving licence.
When placing a bet, allow enough time. It can be tempting to take an arb on a horse three minutes before the race is due to set off, only to find that Old Joe is putting a horse accumulator on at the till, and wants the price of every horse checked. Always make sure you have left enough time to put your bet on, sit down at one of the tables provided, and lay it. (Or go outside to lay it if you are really worried about being spotted, or if there is no signal inside).
Charming the staff
Although I have been rather rude about staff several times in this article, remember to be nice to staff. Most of the things they do wrong are simply due to them having not been trained by their employer. And they are being poorly paid for what can sometimes be a really horrible job. Your job is to stay under the radar as far as possible, but if you are remembered, make sure it's for being a pleasant, polite customer. If all else fails, pretend to be a mystery shopper.
Mystery shoppers are people who are paid to examine customer service in shops, and bookies know that they are judged on friendliness and helpfulness. If you ask to use the toilet in a bookie, examine the FOBTS (fixed odds betting terminal) carefully and look thoughtful. You will probably be suspected of mystery shopping and offered a cup of tea or coffee. Yes, bookies do offer free drinks to their customers. You might even get sweets and biscuits if there's a major event going on!
Yes, but bookies use fractional odds!
Sadly, they do. And you do need to know how to cope with these. So here's a quick revision session:
Fractional odds show the PROFIT to the customer if the bet wins. Decimal odds show the RETURN to the customer (the profit plus the initial stake). To change fractional odds to decimal, work out the fraction and add 1.
Quite frankly, you will learn the translation in time, but here are some hints:
Any whole number, just add one. The odds for horses, for example, are just shown as (e.g.) 10. This means 10/1 = 11.0 in decimal. It's why I try to be careful to express decimal odds with a decimal point so that I describe odds as being 26.0 rather than 26 when I am talking about decimal odds.
Quarters, eighths and halves (fractions where the bottom number is 4, 8 or 2) are easy to work out.
The two which it is useful and helpful to remember is that 1/9 = 0.11 and 1/11 = 0.09.
The three which I find difficult to remember, and are not so easy to work out on the spot, are 8/15 (1.53), 8/13 (1.615) and 4/7 (1.57).
OK, so how do I find offers?
Most of the offers in this guide will be advertised in shop windows, or inside the shop on TV screens or on coupons. Basically, the rule is: never walk past a bookie shop. If you have time, always go in and see what's going on inside.
Loyalty cards
Many shops have a loyalty card system. These are worth signing up to and don't always have to be linked to an online account. Although you will usually need to link them to a mobile phone number where you can receive texts. (Not always, though. I have a William Hill Plus card which is not linked to a mobile phone, and although I obviously don't receive notifications of offers, I can still take the boosted prices offered to cardholders on the betting machines in shops. If I linked this card to an online account, I would get £30 of free bets, but as the online account is seriously limited, I have opted not to do this).
If you use your loyalty card to log into the SBT in some shops, it will show you special offers for cardholders. In other shops, specifically Ladbrokes, you have to present your card for scanning to do certain offers.
At this point, I am simply going to state that I will not discuss multi-accounting in this article. However, I do not consider running from one shop to another to do the same offer multi-accounting. If you find a good offer in a bookie shop and you live in a major conurbation, you might consider checking whether there are any other branches of that shop accessible to you. Where do you live? Where do you work? Which shops do you pass on your way to work? Most bookie shops have a shop locator function online….
Important note:
Do not use your loyalty card unless it is necessary for an offer. Remember that one of the big bonuses of shops is that you are anonymous. Use cash, and keep your identity a secret!
Different shops
Different shops specialise in different offers. Because these offers have been similar for many years, it is worth discussing them briefly here. Of course, they may change in the future, and this is why it's always worth checking in-shop. You are unlikely to be challenged if you sit down with your phone at a quiet table and check the lay prices. And work out the lay stake. But don't lay until you have placed the bet, obviously. Your aim is always to be aware of the (approximate) lay price before placing your bet.
Changing odds
Very annoyingly, bookie shops publish coupons and then change the odds if they feel like it. (OK, sometimes for a good reason, but it is still annoying). When you place a bet using a coupon, they should tell you if the odds have changed and what the new odds are, so you can decide whether or not to accept the odds. Remember you can always refuse the bet, go away and think about the new odds. You may need to do this if you are not fluent in fractional to decimal conversion. Then you can always come back and put the bet on.
To avoid this situation, it is possible to check current odds in advance in most WH shops and to check horse odds in advance in PP and possibly Ladbrokes/Coral. How to do this is detailed under the bookie shops listed below.
It is important to CHECK YOUR BETSLIP. If you find that the odds have changed from the published odds, you are entitled to refuse the bet. I normally tell the staff member off for not having mentioned this rather vital fact. I explain to them that if you go to a sweetshop to buy 100g of sweets, the sweetshop is not entitled to sell you 80g of sweets instead at the same price without warning you that the price has changed. This is what they are doing by reducing the odds on a bet.
Be aware
Be aware that some staff members don't understand fractional odds at all, and although they will be able to tell that a price has changed, they will have no idea whether it has gone down or up! Another reason to get your head around decimal conversions! You can ask them to check the price before they hit confirm, but I have found many times that this makes no difference at all since they don't understand what they are looking at when they see a bet slip. Sigh.
If the shop is giving you a free bet, make sure they give you the correct one. Check any paperwork they give you for expiry dates, etc. Read the T&Cs of offers you are doing on the posters, and be prepared to quote these. I have had a few free bet vouchers this week with a one-day validity, despite the fact that posters say that the bets will be valid for at least 3 days. (I didn't care, since my objective is always to turn free bet vouchers into proper bet slips ASAP, but you might care, if you were short of time to research the best free bet). I've also received:
vouchers that have already expired (check the dates),
vouchers that don't work,
and incorrect vouchers for the offers (a couple of times to my advantage!)
All these drawbacks may sound discouraging, but remember I have done literally thousands of shop bets. Most work smoothly with the single exception that it can take shop staff several minutes to find the correct free bet voucher to give you. You can suggest that you sit down and check your emails (by which I mean check lay prices and check other shop offers) while they look!
Betting on horses and other boosts
Horses and boosts are there to be arbed! You will normally bet on horses only if you see a good price when the horse is boosted. So, researching the prices is much easier. If there is an offer on a race, horse odds are easier to find than football odds, generally.
The only caveat on horses generally is to learn and remember how long it can take to put a physical bet on in a shop. Ordinary punters will often push past you when a race is about to set off, to put their bet on quickly. This is generally regarded as acceptable in shops! Staff will not interrupt old Joe who is in the middle of getting a long stream of individual prices for his acca (accumulator), so be aware of timescales!
FOBTs
FOBT stands for 'fixed-odds betting terminal', which actually has nothing to do with betting and everything to do with gambling. They are the machines which actually make money for the shop: the electronic slot machines. It is well worth doing offers where if you bet £x on a normal bet you get a free voucher for a slot machine. Staff will show you how to redeem this. The vouchers are often for a specific game, but if you have to choose, you want the game with the lowest stake (for maximum lines). Just do the number of spins needed to use up the amount of your free voucher and walk away with any profit. Good luck!
Individual bookies and their strengths
William Hill
William Hill generally have the best offers, with the single exception of Betfred boosts, and they regularly have offers on their football coupons. Offers such as 'bet £10 on this race and we will give you a £5 free bet'. In some shops, if you are lucky, it could be a £10 free bet. If you have an offer like this, the coupon can be overwhelming but bear in mind that your bet to get the free bet is a qualifying bet with no minimum odds. The qualifying loss is likely to be lowest on low odds. So look at match odds when there is a very short-priced favourite, over and under goals (normally 2.5 but sometimes 3.5 on the coupon) and BTTS.
Incidentally, and especially if you pay commission at your exchanges, it has been suggested that if you bet on the same match at different bookies, you could consider dutching BTTS or unders and overs at different shops. (Topping up your bets at the exchange if necessary).
The good news is that at WH you can check coupon odds before you place your bets.
Their loyalty card is the Plus card and offers for joining this vary from week to week. At the moment I think it is:
a £5 free bet online and on your card for joining (plus £30 free bets if you link the card to your online account).
A £5 free bet if you bet £25 on the card (on betting machines, not slot machines) every week.
Various daily offers. They may email/text about these, but since I am not linked, I don't know! You can find them by logging on to a shop betting terminal with your card any day.
They also have regular other offers. Most of their horse offers are unlayable (the horse to win by a specified number of lengths), although they have 'flash odds' which are usually on the screen for 15 minutes, at random times. (Always check the screens!). During big festivals such as Cheltenham (held in March) and Ascot (held in June) they sometimes have flash odds between 12 noon and 1 pm. A different horse every 15 minutes.
WH is the shop where you can normally check your odds on a machine. There are two different sorts of odds-checking machines in the shops. The good news is that the old-fashioned ones (not much use for football matches) are increasingly being replaced by the newer model.
This is what the old-fashioned machine looks like: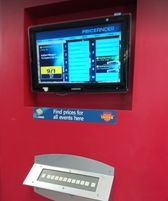 My experience of these machines is that they don't reliably display the same range of information every day, which can be very frustrating. In theory, you should be able to get match odds for football matches today by pressing button 8. For big matches, there may also be other information, but this is not reliable. They can be useful for looking up current in-shop offers. You will see that there is one (probably unlayable, but worth seeing if Matchbook has a special market) on display on this screen.
The newer odds machines, with touchscreens, are an invaluable asset. (Apologies for the screen reflections as taking photos in shops is generally frowned upon, so this had to be done at speed).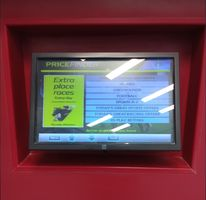 These machines are intuitive and easy to use. Just be aware that BTTS is under football > goals > BTTS. (Unders and overs are of course also under football > goals). The newer machines should definitely display the current odds, even if they have been updated.
In-shop free bet types
WH currently have two sorts of free bets: one to be used over the counter and the other on an in-shop betting machine.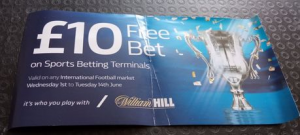 As you can see from this bet, it can only be used over the counter. Which is a pain because it means using over-the-counter odds. It can be difficult to find out what the odds for correct scores (usually the best market to use free bets on) are over the counter. You can ask the staff member nicely if they will show you the odds for a forthcoming match. I would recommend using a match which happens the day you place the bet so that the exchange market is well-formed.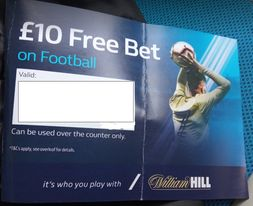 This sort of bet is used on an SBT – the betting machines in the shop. It has a barcode on the back which must be scanned and will give you (SNR / stake not returned) credit on the machine. These are a lot easier to use as normally no one cares how long you spend on the machine researching your odds!
Obviously, the design of these free bets will change regularly, but the important things to note are:
the validity dates (which I have obscured on the over-the-counter bet),
whether they are an over-the-counter or on an SBT,
and any other restrictions. One of the illustrated bets has to be used on international football whilst the other can be used on any football. Other free bets might be restricted to other sports or in other ways.
Betfred
Betfred is the most reliable bookie for finding arbs, and together with PP, has the best over-the-counter odds on most events. Fred Done, who owns BF, boasts that he gives the best value for money, and every Saturday morning and lunchtime he publishes special boosts, normally on horses, from 9.30-11 am. These boosts are also announced on his website, on Twitter and in the shops as he publishes them. Do check before piling in, as the boosts are not always profitable.
He also publishes boosts on the mornings of big horse events such as Cheltenham and Royal Ascot. There are also sometimes horse previews for big events. These are sometimes held in the shops, especially just before Cheltenham, and sometimes online, as in the following Twitter advertisement: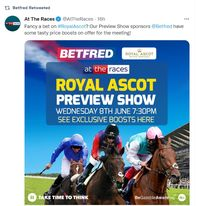 You will see it's well worth having a dedicated Twitter account for sharbing. In fact, it's a good idea for matched betting in general!
Write pushes down as soon as they are announced. Ideally, you want to check the lay odds and get your bet on as soon as possible. After a few minutes, the boost will appear on screens in the shop and will look something like this: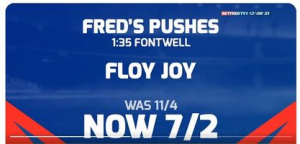 Important point:
When you write your bet slip, include the words 'FRED'S PUSH' or something similar, and the price. If you do not include either of these details, you are like to be paid at SP (Starting Price), which will most likely be lower.
Sadly, Fred's Pushes do not normally include BOG (Best Odds Guaranteed), except on special occasions. They are also available online if you have a functioning account. If you do have a viable Betfred account, it's worth checking Twitter at random times to see what offers are around.
The normal times for Fred's Pushes are 9.30-11 on Saturdays, and 12-1. I suspect there may be pushes at 12-1 almost every day, but have not researched this in detail. The horse boosts disappear promptly at 11 am, or earlier if they are oversubscribed. The person broadcasting will normally announce if a price is cut early). Football boosts may survive all day.
If you drop into a Betfred shop at a random time, look at the main TV screen. It often has a yellow banner which announces current boosts: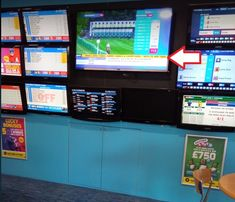 This will scroll across. Make a note of what it says and once it has rolled around once, research your lay odds. The yellow banner may also disappear without warning if a race starts, but will come back after a few minutes, once the event is over.
If you are betting close to 11 am, or the price has been announced as being about to be cut, take a surreptitious photo of the screen advertising the offer immediately after placing the bet. In the event of your bet winning, and BF staff saying the price had already been cut, these photos can be useful!
Ladbrokes and Coral
These two firms are owned by the same company. This means that odds are generally the same. (If you find a good arb in one shop, run to the other as the odds are likely to be identical!) There are no good current offers and offers by this group have been sparse of late. One offer that Ladbrokes does have regularly (that Coral doesn't) is 'refund if your horse comes second'. This is normally on one race a day, although on big events it may be on every race.
In the past they have had regular football offers on coupons where you can bet on selected markets and get a refund on losing bets if the result is a draw. It is normally possible to get a small profit on these. You normally have to bet on correct score or first goalscorer, although sometimes it is possible to bet on a team to win (NOT on the draw, which would not be a losing bet) using your Grid card. If you have already used your Grid card, you need to bet on a CS which is not a draw, in order to maximise these bets. This is since it is possible for anyone to score but the game still to end in a draw.
Otherwise, there are various offers available to Grid card holders (Ladbrokes loyalty card), and to Connect card holders (Coral's loyalty card). These change regularly, and as with other loyalty cards DO NOT use your card unless it is necessary for an offer. The cards are just a cheap way of the companies getting your data and knowing it is you making the bets! Stay anonymous = stay ungubbed (hopefully). A quick illustration of one of Ladbrokes' offers, which I have no interest in doing since it involves being in the shop at a specific in-play time and dealing with volatile odds (OMG I see it's an in-play TREBLE, as well!):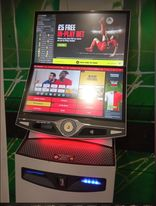 Paddy Power
PP has some excellent and constantly changing offers, plus a good loyalty card. As the offers change so regularly I will simply illustrate them, rather than discussing them in detail.
During the football season, they often give refunds on losing bets if the game ends in a draw. You normally have to bet on Correct Score or First Goalscorer. To maximise these bets, you need to bet on a Correct Score which is not a draw, since it is possible for anyone to score but the game still to end in a draw.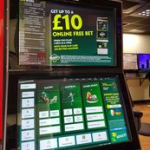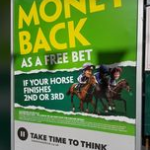 Legal matters
Whatever the staff tell you (and they do try it on sometimes) your coupon is evidence of a legally enforceable contract between you and the bookie. Ideally it's good to get the bookie to check the odds or write them on for you if you are not betting on a coupon. The bookie should circle the odds to verify they have checked them. You can ask them to do this. I have had PLENTY of examples where bookies have denied that odds, which they themselves have provided and have written on the slip, ever existed. If you get into a fight like this, think what will be useful.
Betfred is famous for advertising boosts on screens in the shops which they then sometimes say have been cut already. A photo of the screen after you have placed the bet destroys this argument very effectively, I find!
Overall rules and advice
Never walk past a bookie shop if you have the time to go in and investigate current offers!
Learn your fractional odds, or have an easily accessible conversion table with you.
Pay by cash whenever you can.
Once you find a good offer, know where the other branches of that bookie are and how to get there.
Be nice to the staff.
Don't use your loyalty card unless you have to as part of an offer. Remember: you are trying to stay anonymous. Try to keep your loyalty card to one specific shop if you can.
Remember: it is very likely that you know what you are doing better than the shop staff do.
It's a good idea to take photos of all your bet slips. It might be possible to replace one if you lose it and the finder hasn't already cashed it in, for example.
Since you don't want to stand out, it's a good idea to cash in big winnings at a shop you seldom visit. Ideal if you are on holiday or on a business trip, for example!
If you've got any questions about sharbing in general, or any of the points discussed in this guide, leave us a comment below. Or for more tips on how to make money with matched betting, start your OddsMonkey Free Trial today.