In 2011, Paul decided to give matched betting a go. He made a bit of money but found the process of manually finding offers and odds slow. Being a software developer, he knew that he could automate this, making it quicker, easier and more efficient. OddsMonkey was born. Since then, it's become the home of matched betting software, with a range of tools and calculators for everyone from newbies to experienced.
Read our interview with Paul here.
OddsMonkey's matched betting software for beginners
The OddsMatcher
OddsMonkey's core product finds, sorts and compares odds from both bookmakers and betting exchanges. In other words, it's the ultimate piece of matched betting software. OddsMatcher does all the hard work. It find the best matched betting opportunities available, saving you valuable time and effort.
We currently offer two versions of OddsMatcher: Free and Premium. The Free version of this odds matching software shows the odds for the two bookmaker offers available as part of our free trial.
Our Premium OddsMatcher has the odds for 90+ bookmakers and 4 betting exchanges which means that there are plenty of matched betting opportunities available! It's included in the OddsMonkey Premium membership.
OddsMatcher contains a built-in calculator which works how much you need to bet (back and lay) and how much money you'll make. It also gives you all the event information so you know when and where it's happening.
Find out more about OddsMatcher.
---
Profit Tracker
Fully-integrated with all of OddsMonkey's tools, Profit Tracker is available to both Free and Premium members. Track your daily, monthly and all-time profits, add new entries with the click of a button and get essential statistics so you know where you're making the most money.
Discover more about Profit Tracker here.
---
Daily Offer Calendar
Although not strictly a piece of matched betting software, our Daily Offer Calendar is a great addition to your matched betting package.
Welcome and sign up free bet offers are just the tip of the iceberg when it comes to making money through matched betting. Next come the daily offers for existing customers. Finding these can be time-consuming, which is why OddsMonkey does this for you.
Our teams finds all the latest matched betting reload offers and displays them in an easy-to-use calendar format. Offers are rated by their difficulty level (Easy, Average, Hard) which means that you can quickly find the ones for you, based on your matched betting experience. There really is something for everyone when it comes to matched betting reload offers.
Visit the Daily Offer Calendar page for more information.
---
OddsMonkey Community
This is an invaluable resource for matched bettors. The Community is an online forum where the OddsMonkey team and Premium members come together to ask questions and get advice on all things matched betting-related.
Our customer support team are available in the Community every day between 9am and 9pm. Tag them in your post to get fast and direct support or use the Community to discuss odds, offers and more.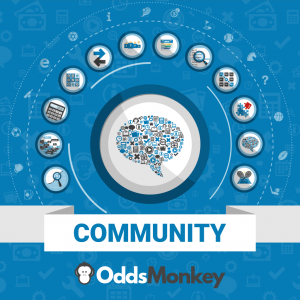 Find out more about how this matched betting software could actually help you boost your profits.
---
Sport-specific matched betting software
Racing Matcher
Horse racing is a year-round sport, unlike football, which makes it big business and perfect for matched betting. As well as the big events like Ascot and the Grand National, there are smaller races taking place every single day. And they can be found on Racing Matcher.
Racing Matcher is similar to OddsMatcher but only shows matched betting opportunities which have bookie free bets or refund offers attached to them. This means that the odds are pre-filtered, which saves you valuable matched betting time!
Get more info on Racing Matcher.
---
Tennis Matcher
Just like Racing Matcher, Tennis Matcher focuses on just one sport. 10 points if you can guess which one…
Because tennis betting isn't as popular as football or horse racing, this tool maybe isn't one for beginners. But it is a great piece of matched betting software to have in your arsenal and can be an exciting way to make money.
---
Advanced matched betting software
Acca Matcher
If you're into accumulator bets, we've got the tool for you. Actually, we've got two: Acca Finder and Acca Builder. As the names suggest, one lets you find accumulators and the other lets you build your own. Let's take a quick look at them both:
Acca Finder
This tool generates and analyses 100,000+ accas, showing you the top 2000 accumulators currently available.
Acca Builder
Choose your favourite acca method: 'No Lay', 'Lay at the Start', 'Lay Sequential' or 'Lay Sequential Lock In'. Depending on the method, you'll earn a guaranteed profit or you'll need to trust the expected value over a period of time.
Find out more about these tools and accumulator betting here.
---
Dutch Matcher
The Dutch Matcher is an advanced tool which identifies opportunities not highlighted by regular odds matching. That makes it the perfect piece of matched betting software to add to your strategy.
There are a number of benefits to using Dutch Matcher. These include saving money by not having to pay exchange commission and helping you to reduce your qualifying losses.
The built-in calculator works out and shows you the overall stake needed and how that should be divided between the separate bets.
---
Each Way Matcher
Another of OddsMonkey's advanced tools, Each Way Matcher makes matching when betting each way quicker and easier by finding and analysing the best each way odds.
Available as part of our Premium membership, Each Way Matcher lets you combine bookmaker offers to extract even more value. Which is useful if you have more than one offer that you want (or need) to use. Use it on 'gubbed' accounts too.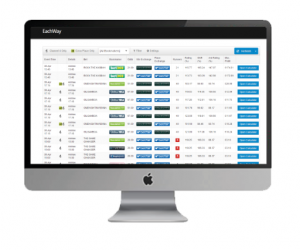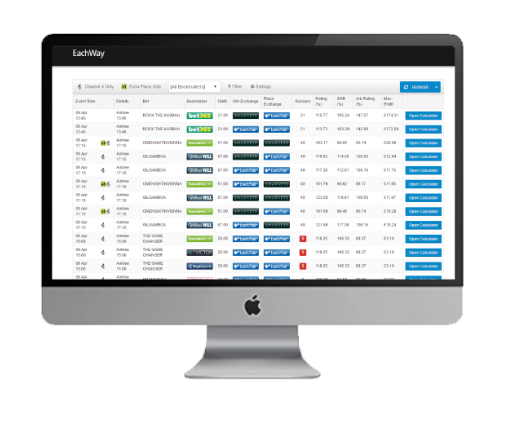 The built-in calculator is an invaluable feature of this matched betting software. There are quite a few moving parts to an each way matched bet, so you're not on your own when it comes to working everything out. It will work out the stake amounts for each of the 3 bets you'll need to place.
---
Extra Place Matcher
This tool helps you take making money from each way betting to the next level.
Quickly and easily see which bookmakers are offering extra places and jump on the odds. If there's a plus sign next to the horse on the Extra Place Matcher, that means there are other (lower value) matches available.
A handy feature of the Extra Place Matcher is that you can save your bets. This means you can see which horse/bookmaker combinations you've already matched and then quickly check back after the race to see if any of them finished in the extra place.
For more information on our membership packages, hit the button below.