There's always the potential of a dead heat in some sporting events. But what do they mean for your back and lay bets when matched betting? This post will answer the question: what does dead heat mean? Especially when it comes to matched betting and your potential profits.
What does dead heat mean?
A dead heat is a tie situation. Dead heats happen when two or more competitors finish in exactly the same position or at the same time. They occur mostly in golf tournaments or horse racing.
And what does dead heat mean in betting?
More specifically, we're going to look at what a dead heat is in matched betting.
Normally when a dead heat occurs, your back stake is divided amongst the number of tied places. The same thing happens at the betting exchange as well; your liability and lay stake are split amongst the tied places. Check the dead heat rules for individual bookmakers and exchanges to make sure this is how they are operating.
But how can you work out what that means in monetary terms? Let's take a look at the example below.
This was the final leaderboard for the US Masters 2019: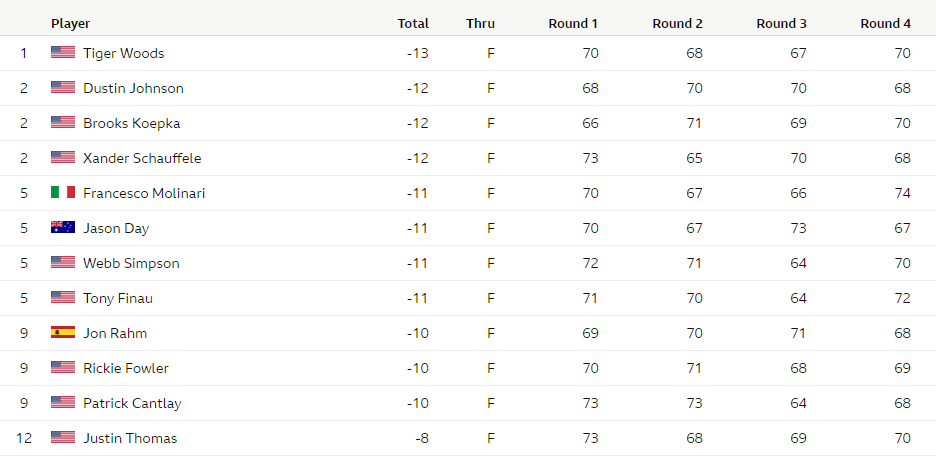 As you can see, there is more than one dead heat situation in this tournament. Four players are tied in 5th position and three players are tied for 9th.
Jason Day is one of the competitors who finished in the four-way tie at 5th position. Now, if you had used the Extra Place Matcher and had Jason Day paying out if he finished 6th, would you have won anything? Did anyone actually finish in 6th position?
Dead heat rules
Divide your stake between each of the tied places and then pay out depending on if that part bet won or lost.
For Jason Day you would have 1/4 of your bet treated as finishing:
5th (Win at the bookmaker but Lose at the exchange).
6th (Win at the bookmaker and also Win at the exchange).
7th (Lose at the bookmaker but Win at the exchange).
8th (Lose at the bookmaker but Win at the exchange).
Roughly you'll have only made 1/4 of the expected profit. However, if you also had Molinari, Simpson and Finau you'd also get something for each of them. If your bookmaker was paying out more places, you'd have more winning parts.
Trying to calculate the actual profit can be tricky. Luckily for OddsMonkey members, we have a Dead Heat Calculator. Just enter all the bet details, stakes and odds and then state where your player finished and how many people were tied.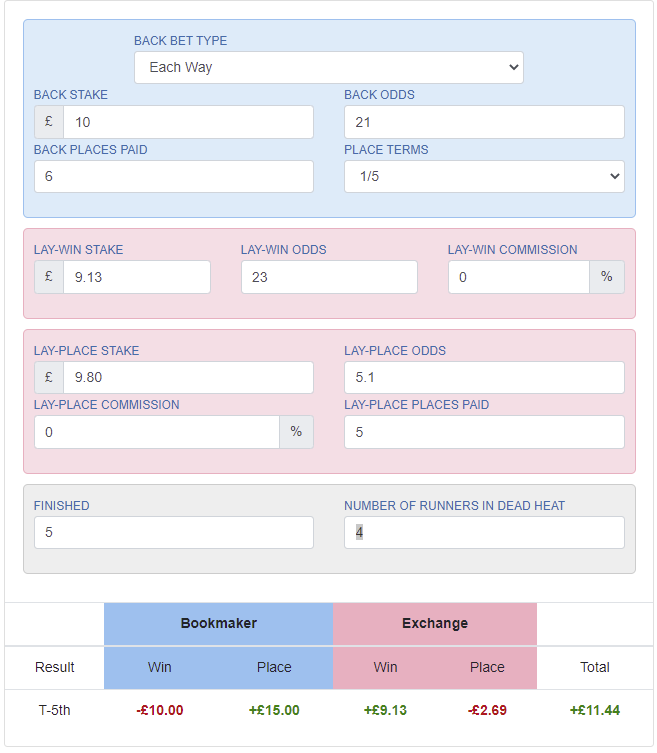 If you have any questions about dead heats, come and join us on Facebook for fantastic answers and advice.
Start your Free Trial with OddsMonkey today and try matched betting for yourself.