Despite his struggles since becoming Prime Minister – Boris Johnson's popularity is on the increase.
As PM Mr Johnson has lost all major votes he has brought to parliament, as he the ability to use a 'no deal' Brexit was taken off the table by MPs.
Johnson remains determined to leave the European Union on October 31, and he is determined not to ask for an extension – even though legally he is now required to do so.
However, despite his struggles with the House of Commons, he is looking more popular within the country itself.
The latest polls reveal a big upturn in the Conservatives popularity since Johnson took charge.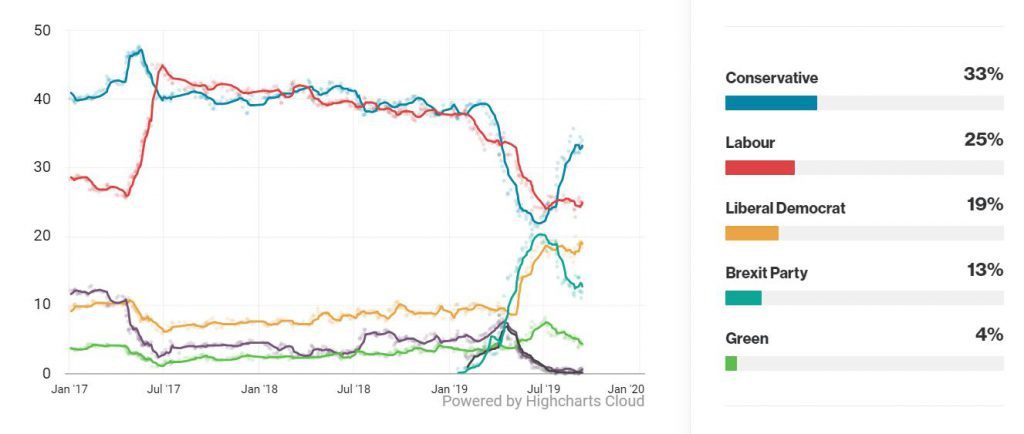 The other party on the rise in recent weeks is the Liberal Democrats – the staunch remain party, having seemingly moved back into a strong third place.
Indeed, this poll puts Labour closer to the Libs Dems, with the Conservatives stretching out to 33% of the electorate, some 8% ahead of Labour.
And Bookmakers are agreeing with the Polls, with the Conservatives firm favourites to win the next election – which is still expected to happen this year with the odds currently at 1/2.
In terms of Brexit and it is odds on that no deal is done this year and that the UK won't have left by Johnson's own Halloween deadline.
OddsMonkey spokesman Peter Watton commented: "Politics is seeing more action in the betting markets than most sports at the moment, it just keeps giving.
"But Bookmakers are firmly entrenched in their opinion that Boris Johnson wins the next election, there is little doubt he wins with the Conservatives being 1/2, indeed the same price for us to see a General Election in 2019.
"And as for Brexit, well – it is odds on that there will be no departure come October 31st – even if that is what Boris wants."
Selected odds:
No Deal Brexit Before End Of 2019?
No – 1/5
Yes – 16/5
UK To Leave European Union on October 31st?
No – 2/5
Yes – 7/4
Year Of Next General Election:
2019 – 1/2
2020 – 7/4
2021 – 20/1
2022 – 20/1
Most Seats at Next General Election:
Conservatives – 1/2
Labour – 11/4
Liberal Democrats – 16/1
The Brexit Party – 22/1
Government after Next Election: 
Conservatives Majority – 13/8
Conservatives Minority – 5/2
Labour Minority – 7/2
Labour Majority – 9/1
Cons/Brexit Coalition – 12/1
Lab/SNP Coalition – 16/1
Lab/LD Coalition – 16/1
Lab/LD/SNP Coalition – 20/1
Cons/LD Coalition – 33/1
Cons/Lab coalition – 40/1
LD/SNP Coalition – 50/1
Brexit Party Majority – 50/1
*Odds correct at time of writing
Spokesman Peter Watton is available for further comment or one-on-one interviews on this subject or anything connected with a betting market – for more information please contact [email protected] 
You can also check out all our latest Press Releases  – which you are free to use