Your personal matched betting assistant
It's often said that a workman's only as good as his tools, which is why here at OddsMonkey, we're constantly looking at how to make sure you have the best matched betting software, tools and advice available. Voted the best matched betting software and service by a number of review sites, including Lay, Back and Get Rich in 2017 and 2018.
OddsMatcher
(Suitable for Newbie, Intermediate and Seasoned matched bettors)
OddsMonkey's core product and the first automated matched betting software created. This tool finds, sorts and compares odds from both bookmakers and betting exchanges. In other words, it's the ultimate piece of bet matching software, doing all the hard work for you and saving you valuable time and effort.
We have two versions of OddsMatcher here at OddsMonkey: Free and Premium.
Free version
Our free matched betting software displays the odds for the two bookmaker offers available as part of our free trial. It's a great way to get started and see what OddsMonkey's matched betting service is all about.
However, as far as we can tell, no free matched betting software currently available on the market can do what our Premium products can do…
Premium version
This seems like a pretty good place to tell you a little bit about our Premium OddsMatcher, so you can see the difference between the two versions for yourself. Where the Free version shows odds from two bookmakers, the Premium tool finds and sorts odds from over 90 bookmakers and the 4 main betting exchanges. With events such as horse racing, football, golf (and more!) covered, you can just imagine how many matched betting opportunities there are to make money from.
Within OddsMatcher, you'll find a calculator which works out how much you need to bet (back and lay) and then shows you how much money you'll make. It also gives you all the information about the event you're betting on, so you know when and where it's happening.
Profit Tracker
(Suitable for Newbie, Intermediate and Seasoned matched bettors)
Fully integrated with all of OddsMonkey's tools, Profit Tracker is available on our free trial as well as to Premium members. Track your daily, monthly and all-time profits, add new entries with the click of a button and get essential statistics so you can quickly see where your profits are coming from.

Discover more about Profit Tracker here.
In terms of free matched betting software, the two-bookmaker OddsMatcher and Profit Tracker are available on a trial basis, but it's our full matched betting service that we're really proud of. Keep reading to see exactly what you get when you become an OddsMonkey Premium member.
Daily Offer Calendar
(Suitable for Newbie, Intermediate and Seasoned matched bettors)
'Welcome' and 'sign up' bookmaker offers are just the tip of the iceberg when it comes to making money through matched betting. Once you've completed them, it's time to move onto the daily offers for existing customers. But where can you find offers that can change day-to-day from all of the major bookmakers? That's where OddsMonkey, your handy matched betting assistant, comes in with the Daily Offer Calendar.
Displayed in an easy-to-read calendar format, offers can be filtered in a number of ways to include or hide specific bookmakers, sports or offer type (such as casino). Mark offers as complete once you've done them, hide those you're not interested in doing or bookmark others and go back to them later on. Offers are rated by their difficulty level, which means that you can quickly find the ones for you, based on your experience. There really is something for everyone when it comes to matched betting and our software's there to help you every step of the way.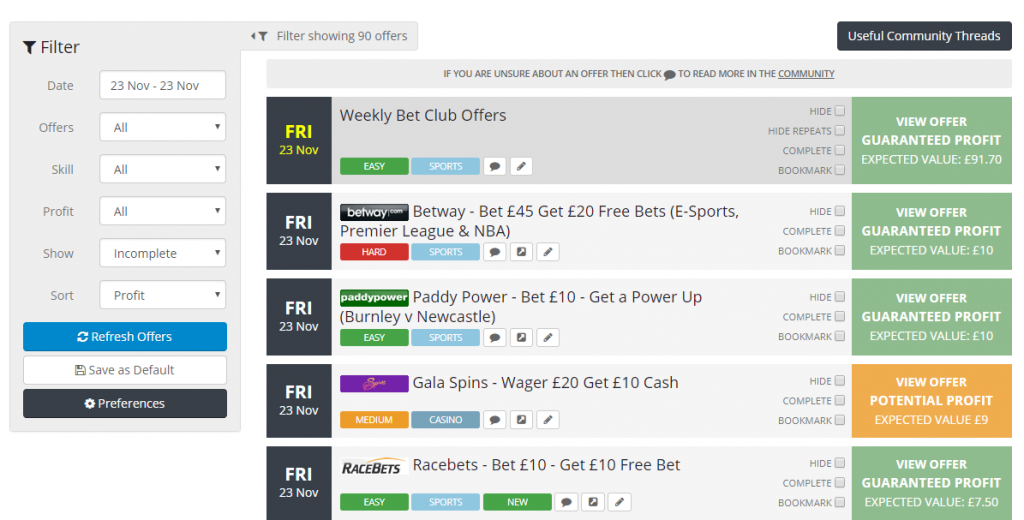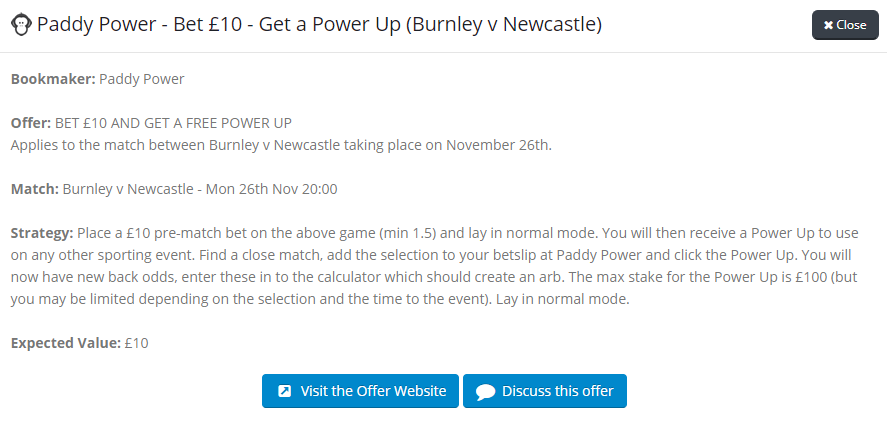 Community
(Suitable for Newbie, Intermediate and Seasoned matched bettors)
Our Community is an online forum where the OddsMonkey team and Premium members come together to ask questions and get assistance on all things matched betting.
It's one of the most valuable matched betting tools in your bag, as it's full of advice, tips and feedback on offers from some super-seasoned matched bettors. For a bit of extra support, you'll find our customer support team every day between 9am and 9pm. Tag them in your post to get fast and direct support or use the Community to discuss odds, offers and more.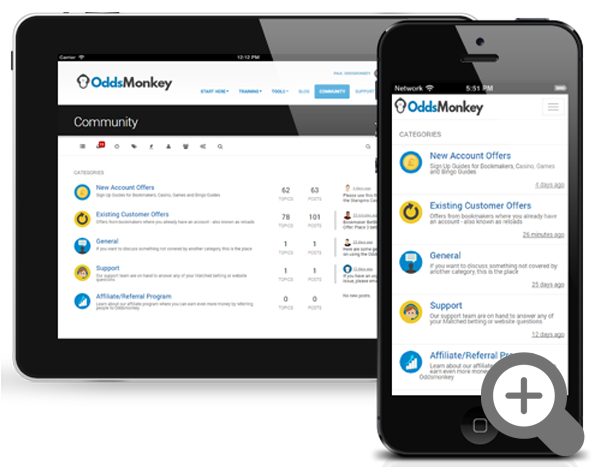 Integration
(Suitable for Newbie, Intermediate and Seasoned matched bettors)
OddsMonkey's teamed up with some of the major betting exchanges to make matched betting slicker and quicker than ever. We've developed the first matched betting tool that means bets can be placed directly at the exchange, without needing to leave OddsMonkey or even log into the exchange.
This means you will never miss a lay bet again. Simply place your lay bets with 1 click directly from the OddsMatcher.

Racing Matcher
(Suitable for Intermediate and Seasoned matched bettors)
Unlike football, horse racing is a year-round sport, which means it's perfect for matched betting. As well as the big events like Ascot, Cheltenham and the Grand National, there are smaller races taking place every single day. And they can all be found on Racing Matcher.
Similar to OddsMatcher in its look and functionality, Racing Matcher only shows matched betting opportunities for horse races which have bookie free bets or refund offers attached to them. This means that the odds are pre-filtered, which saves you valuable matched betting time!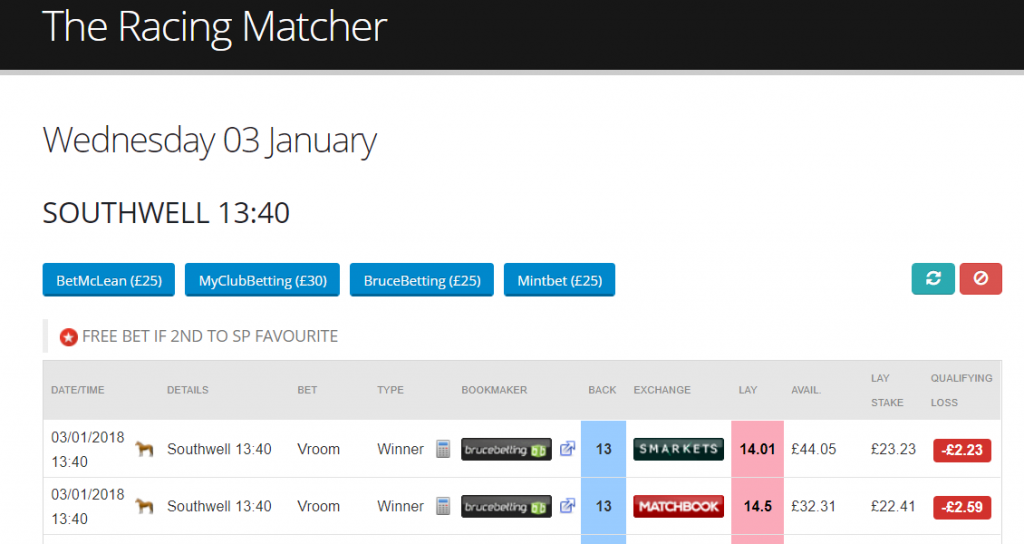 Tennis Matcher 
(Suitable for Intermediate and Seasoned matched bettors)
Just like Racing Matcher, Tennis Matcher focuses on just one sport. Game, set and match if you can guess which one…
Betting on tennis isn't as popular as on football or horse racing, which is down to a few factors. There aren't as many opportunities as the season runs differently and rule differences between bookmakers, meaning that matching bets can be a little confusing. As you build up your matched betting experience, Tennis Matcher can be used to boost your earnings.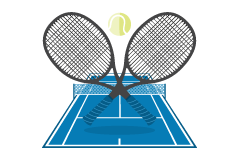 Advanced matched betting software
Accumulators
Acca Matcher
(Suitable for Seasoned matched bettors)
If you're into accumulator bets, we've got the tool for you. Actually, we've got two: Acca Finder and Acca Builder. As the names suggest, one lets you find accumulators and the other lets you build your own. Let's take a quick look at them both: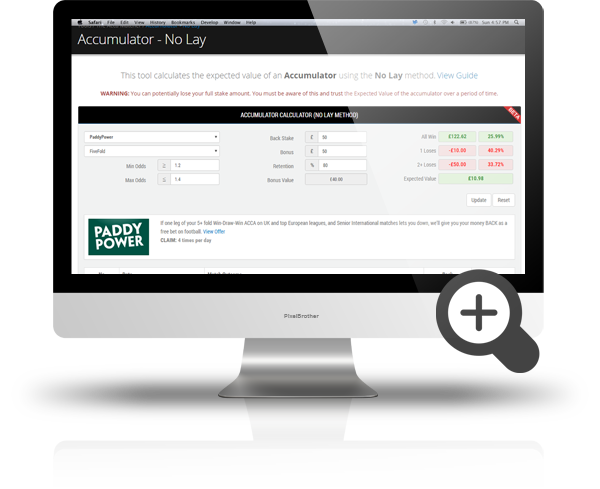 Acca Finder
This tool generates and analyses 100,000+ accas, showing you the top 2000 accumulators available at the time of your search.
Acca Builder
Choose your favourite acca method: 'No Lay', 'Lay at the Start', 'Lay Sequential' or 'Lay Sequential Lock In'. Depending on the method, you'll either earn a guaranteed profit or will need to trust the expected value over a period of time.
Find out more about these tools and accumulator betting here.
Dutch Matcher
(Suitable for Seasoned matched bettors)
Dutch Matcher is an advanced tool which identifies opportunities not highlighted by regular odds or bet matching software. That makes it the perfect piece of matched betting software to add to your strategy.
There are a number of benefits to using Dutch Matcher. Save money by not having to pay exchange commission and reduce your qualifying losses by combining offers.
The built-in calculator works out and shows you the overall stake needed and how that should be divided between the separate bets.
Each Way Matcher
(Suitable for Seasoned matched bettors)
Each Way Matcher makes bet matching each way quicker and easier by finding and analysing the best each way odds.
This tool lets you combine bookmaker offers to extract even more value. Which is useful if you have more than one offer that you want (or need) to use. Use it on 'gubbed' accounts too.
The built-in calculator is an invaluable feature of this matched betting software. There are quite a few moving parts to an each way matched bet, so you're not on your own when it comes to working everything out. It will work out the stake amounts for each of the 3 bets you'll need to place.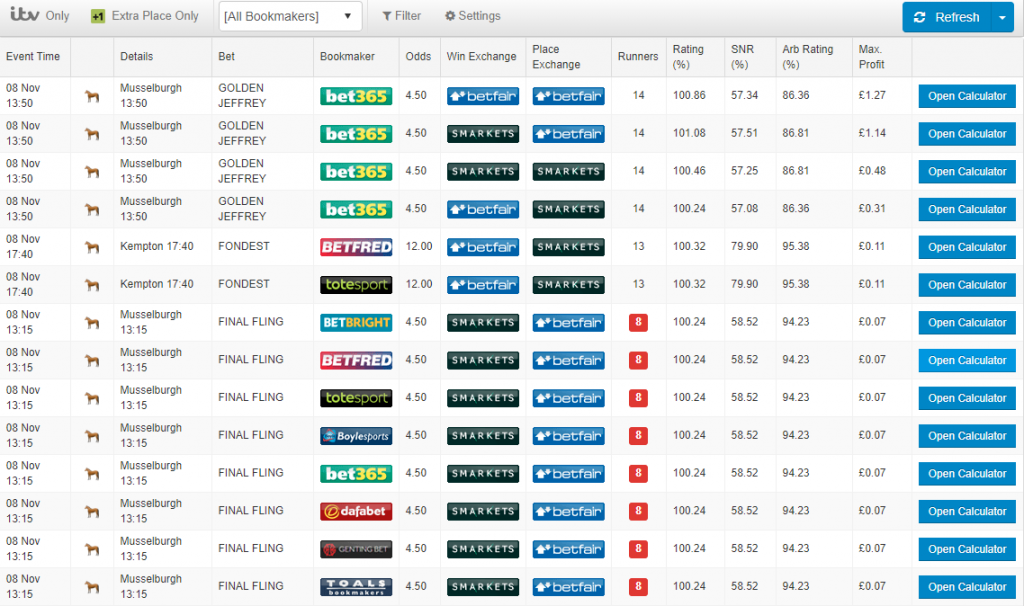 Extra Place Matcher
(Suitable for Seasoned matched bettors)
One of our most advanced matched betting tools makes betting on extra place races easier than ever. Take making money from each way betting to the next level with Extra Place Matcher. See which bookmakers are offering extra places and quickly jump on the odds or find other available, lower value, matches.
A handy feature of the Extra Place Matcher is that you can save your bets. This means you can see which horse/bookmaker combinations you've already matched and then quickly check back after the race to see if any of them finished in the extra place.