Daily Offer Calendar
Welcome and sign up free bet offers are just the tip of the iceberg when it comes to matched betting. Once you've opened new accounts with the bookmakers listed in OddsMonkey's training section, you'll be able to get started on daily offers.
Existing customers sometimes receive exclusive offers straight to their email inbox. Others are there for any customer to do. But finding these offers can take aaages! And time is money when you're matched betting. That's where OddsMonkey's Daily Offer Calendar comes in.
Our teams scours the Internet, finding all the latest matched betting reload offers and then displays them in an easy-to-use calendar format. Offers are rated by their difficulty level (Easy, Average, Hard) which means that you can quickly find the ones for you, based on your matched betting experience. There really is something for everyone when it comes to matched betting reload offers.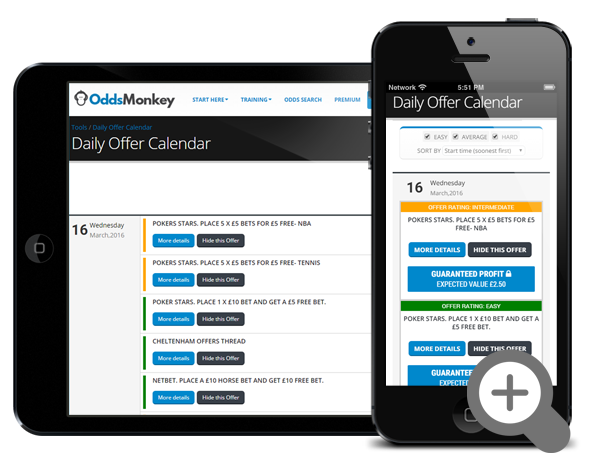 Offers can be sorted by things like 'bookmaker name' and 'start time' and you can also tick them off once you're done so you know where you're up to.
Maximise your profit in the minimum time with the Daily Offer Calendar. Just one of the tools available in our Premium package. Click on the menu to the left to see what else is on offer.