According to research, the average value of unworn clothing hanging in the wardrobes of UK adults is £32,951. Across a lifetime, women will own clothing worth an average of £22,140 and men £11,811. That they'll never wear. It's time to line your wallet instead of your wardrobe. Have a sort out and get cash for clothes by selling them.
Instead of throwing old, used, or unwanted clothes away, you can sell them online. The market for good-quality clothing is big. In fact, 42% of people questioned in a 2019 survey looking at the proportion of wardrobe acquired second-hand in the UK, said that over half of their wardrobe is made up of second-hand items.
If you've already raided your wardrobe, you can still sell clothes for cash. The London Waste and Recycling Board found that 53% of second hand clothes are purchased from charity shops.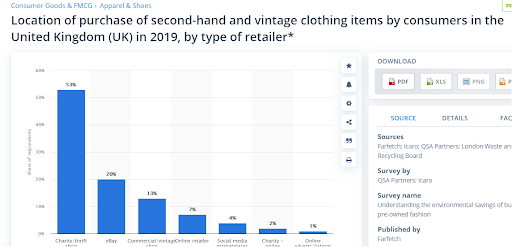 Why sell second hand clothes?
There are a couple of reasons why people sell second hand clothes online. And they're pretty obvious ones…
They want to get rid of clothes they no longer wear but don't want to just throw them in the bin. Research published by the Ellen MacArthur Foundation found that 73% of the materials used to produce clothing are sent to landfill or incinerated. In 2018, the Foundation launched the #WearNext campaign in New York in an attempt to tackle waste and pollution in the fashion industry. They found that every year, New York City sends the equivalent of over 440 Statues of Liberty to landfill. That's 200 million pounds of clothing.
In the UK, 350,000 tonnes of used but still-wearable clothing goes to landfill in the UK every year. That's around £140 million worth. Now imagine the effect of throwing clothes away on a worldwide scale. We'll look at some of the environmental issues associated with the fashion industry later on in this article. As well as how sustainable fashion and giving old clothes a second life is changing things.
Another reason people sell old clothes is to make money. According to the Ellen MacArthur Foundation, people around the world "miss out on $460 billion of value each year by throwing away clothes that they could continue to wear." Obviously your old summer dress isn't going to bring in a fortune, but you can make selling second hand clothes a nice side hustle.
How to sell clothes online
It's time to take things KonMari. First, you'll need to sort through your clothes and decide which ones "spark joy". Once you know what's staying and what's going, it's time to do some checks on the clothes in your 'Discard' pile:
Quality check. What condition are the clothes in? Check for holes, stains, broken zips, etc. Decide if you can carry out small repairs.
Label check. Do you have any items from well known designers or stores? These items can fetch higher prices, earning you more cash for clothes when you sell.
Charity check. Are you sure you want to sell these clothes yourself? Or would you like a charity to benefit from your donation?
Once you have your old clothes ready to sell, it's time to put together a great listing. The quality of your listing should be high wherever you sell your clothes online; whether it's via an app or your own site. Here are some top tips for listing second hand clothes online:
Include as much information as possible
Describe the garments in as much detail as you can. And be as honest as possible. Buying clothes online isn't the same as in person. You can't pick up or try on the clothes. Your listing needs to tell potential buyers exactly what the garment is like.
As well as the size on the label, include measurements. Some stores have different sizing categories, so this should help to describe the size more accurately. For example, if the label says it's a size 12 but you think it could fit a 14, say that. The more detail you can give, the better chance you have of making a sale.
The condition of the clothes is another important point to include. Just think how disappointed you'd be if you thought you were buying something pristine only for it to arrive with a fault. Be accurate, honest, and descriptive.
Take clear photos
You don't have to hold Rankin-level fashion shoots but your photos do need to be clear. Grab your phone camera (or real camera) and find an uncluttered background. Whether you use a white wall, sheet, or poster board as your backdrop, make sure it's in natural light. Natural light is the best way of showing off the true colours of your items. That's why it's also a good idea to avoid using a flash or adding filters.
Here are a few more tips to help you take good quality photos to help sell old clothes:
If you can, wear the clothes or get someone to model them for you. You don't have to be the next top model, but it's easier for potential buyers to visualise themselves wearing the garment if they can see it on someone else. Rather than just laid out or on a hanger. However you display items, get rid of any creases and wrinkles.
Photography 101 time: make sure the photos are in focus and the entire garment is in the frame. It sounds basic because it is. If your photos are blurry and only show half a dress, what's the point?!
Finally, don't take just one photo of each item. Try to get a range of images, especially if there are fancy buttons or decoration details. Depending on the selling platform you use, you might be charged for additional images, so make them do their job. Aim to include a shot of the front, back, tag or label, and any motifs or details.
Think about when you list
Window shopping tends to be something that happens more on the highstreet than on the internet. When people shop for secondhand clothes online, it's usually for a purpose. Maybe they've got an event coming up or they need to update their wardrobe as the weather turns. With that in mind, it makes sense to think about when you list things, in order to give them the best chance of selling. For example, think seasonally and save selling your old coat until autumn or winter. People are unlikely to be looking for a faux fur-trimmed jacket in June.
Build your brand
This isn't as important as some of the points above but the look of your 'online shop' can be a powerful selling tool. Whatever platform you choose to sell second hand clothes on, bring your own style. If you have a particular style, you can add a theme to your page or shop. This can help to attract an audience of potential buyers who are interested in your style or niche. Hardy's 22 on Depop keeps a consistent look to their listings and even shows individual items as part of an outfit, just so you can get an idea of styling.
Also, if you post a lot of vintage clothing, target interested parties by adding tags and categories to your listings. Help potential buyers find you and your old clothes more easily.
How to price clothes to sell online
It can be difficult to know how to price clothes to sell online. Where do you start when it comes to asking for cash for clothes? One place is to check out the competition. Look for similar items in the secondhand market and set yourself a ballpark figure. The most important thing is to be realistic. You probably won't get what you paid for the clothing when it was new, even if it's in immaculate condition. In fact, some BNWT (brand new with tag) items are advertised for less than was paid, even though they've never been worn.
And remember to take postage costs into consideration. Don't lose money on the postage. Make sure you check prices before listing and add that on top of your advertised selling price.
Best place to sell old clothes online
There are so many places to sell old clothes online. Here are some of the most popular apps and sites for selling second hand clothing:
Depop is an app which makes selling your old clothes online as simple as possible. Once you've opened an account, you can start listing your items. Post up to four photos per listing, write a detailed caption with all the details, and set your price. With 20 million users across 147 countries, you have an international audience, potentially ready to give you money!
Fees: 10% of each sale (plus PayPal fees).
You get: Set your own prices.
Similar to Depop, Vinted is a huge online marketplace for selling clothes. Again, you are responsible for listing, selling, and shipping your items. According to their site, the platform boasts 45 million members and thousands of brands. After making a sale, you can withdraw funds from your Vinted Balance and they should appear in your bank account in 5 working days. 
Fees: Zero selling fees.
You get: Set your own prices.
Unlike Depop and Vinted, eBay is a marketplace for anything and everything. Which means that there's no guarantee people will log on to buy clothes. However, if you create listings that target key search terms, you'll be more likely to find the right buyer. You can either set items to sell in an auction style or "Buy it Now". With the auction,, you can set a starting bid which means that the item can't sell for less than that. However, it could also sell for much, much more. The buy it now option is more traditional in that you attach a set price to an item.
Fees: 12.8% of the total amount of the sale (which includes the item price, postage, taxes and any other applicable fees), plus a fixed charge of 30p per order. 
You get: The rest!
Thrift+ is a little different to the apps we've just looked at and has its roots in charity shops. According to the site, its aim is "to make the charity shopping experience as good as the best online clothes retailers". They have a dedicated area for designer clothes: Thrift+Boutique.
Fees: 33% commission with a minimum fee of £5 per item sold.
You get: Thrift+ credits when your items sell. You can either donate the credits to a charity of your choice or spend them on the Thrift+ site.
Other places to sell old clothes include online marketplaces like Etsy, Facebook Marketplace, Shpock, or sites like Quick Cash for Clothes. The marketplaces are useful for selling to people in your local area which means that you can avoid postage fees. There are other ways to sell second hand clothes online which we'll look at now. However, the following aren't all available in the UK or to individual sellers.
thredUP is currently only available to sellers in the US and Canada. However, we may see something similar here in the not-too-distant future. You request a free kit bag and then sort clothes into it. Then you send the bag to thredUP who checks items for eligibility and then sells on your behalf. 
You get: A percentage of thredUP's selling price.
$5.00-$19.99 3%-15%
$20.00-$49.99 15%-30%
$50.00-$99.99 30%-60%
$100.00-$199.99 60%-80%
$200 or more 80%
Poshmark is a marketplace for secondhand clothing and boasts "one sale every second in the US". It's not currently available to UK sellers and buyers, which is why it's so far down this list. But again, keep an eye on things because with over 80 million registered users, it's growing fast.
Fees: A flat commission of $2.95 on all sales under $15 and 20% on sales of $15 or more.
You get: The rest (on sales under $15) and 80% (on sales over $15).
Unfortunately, ASOS Marketplace doesn't really fit this list because it's for people who already have their own clothing business or want to set one up. However, if you want to turn this side hustle into a full time business, ASOS Marketplace could be something to write down for later.
Fees: £20 a month plus 20% commission.
You get: Set your own prices.
There are also some high street stores which give out store credit in exchange for old clothes. For example, if you take a bag of your old clothes into H&M you'll receive 'Conscious points', as well as a digital voucher. Conscious points transform into vouchers and can be spent in-store or online. If you have a favourite brand, this can be a great way to refresh your wardrobe whilst doing your bit for sustainability.
Sustainability in fashion
Sustainability in fashion has become more than a buzzword over the last few years. In an effort to combat "fast fashion" culture, awareness is being raised around the benefits of sustainable and circular fashion. 
What is sustainable fashion?
"Sustainable fashion" refers to clothing that is produced and/or recycled in a way that is environmentally, ecologically, and socially responsible. Sustainability is about so much more than "just" saving the planet; although that's a huge part of it. As well as working to reduce pollution, waste, and CO2 emissions, sustainable fashion also aims to provide fair wages and safer working conditions. 
At the root of this issue sit the designers and fashion houses. If fashion is manufactured to last, then it has more chance of being reworn, recycled, or resold. However, if clothes are made to last only a few wears, they'll quickly find their way into the landfill. This highlights the importance of circularity in fashion. A 2020 report into circular fashion found that the digitised circular fashion industry could be worth $5 trillion in the near future.
Is reselling clothing "sustainable"?
If we look at the levels of overproduction and waste in throwaway or fast fashion, we can see how important selling second hand clothes can be. By giving your old clothes a second chance at life, you're contributing to sustainability in fashion. And saving the planet, livelihoods, and landfill sites.
According to an article in Vogue Business, reselling is an important part of sustainability in fashion because "it has a lower footprint than new clothes". In fact, data from Green Story Inc found that "buying one used item reduces its carbon, waste, and water footprints by 82%."
The Ellen MacArthur Foundation found that 95% of the clothing sent to landfill or incinerated could be reused or recycled. That's a staggering statistic. This explains why many, including The Sustainable Jungle, celebrate the selling of second hand clothes as "a win-win-win for over-cluttered homes, uncluttered wallets, and the rapidly-cluttering planet."
Other ways to make money online
Visit our Hub for more ideas on how to make money online. If you're a Creator or performer, you could open a Patreon account and offer your online audience exclusive content in exchange for donations. Matched betting is another way to make money online. Find out how to use this clever technique to turn free promotional bets offered by bookmakers into real profit. Because you bet on and cover all potential outcomes, the only way you can lose money is if you make a mistake. Check out our 'What is matched betting?' guide to get started.