You can make money doing online surveys, but how much you could earn — and how quickly — will depend on the type of surveys you decide to fill out, and the techniques you use to do so. Different sites all offer different rates and rewards for each survey, so there's no set amount you could make. And, it can be quite time-consuming, so it's certainly not a get a rich scheme, as I discovered when I tried filling out a few surveys on some of the top sites myself. Keep reading to learn how to make money from surveys, and the best online survey sites to use.
What are online surveys?
Can you really make money from online surveys?
How much money can you make from online surveys?
How to make money doing online surveys
The best online survey sites
Are surveys a good way to make money? My paid online survey experience
Are surveys worth doing? The advantages and disadvantages of online surveys
What are online surveys?
Online surveys are questionnaires that can be answered or completed on the Internet. Surveys are created to collect feedback and data which is then used to improve a product or service or provide statistical analysis. Some form of reward may be given out in exchange for you completing the survey.
Ever wondered where those stats you see in newspapers come from? There are surveys being put out and analysed every single day. While journalists love them because they can make a story out of just about anything, statistics don't just make for an eye-catching headline. The hope is that the company who commissioned the survey will be mentioned in the article and experience a rise in both brand awareness and sales.
That's where you come in. Companies need you. They want to know what makes their customers tick, what they like and dislike. And in some cases, they're willing to pay to find out.
Can you really make money from online surveys?
This is where things get interesting. You can make money from completing online surveys. Just search 'paid online surveys' and you'll find loads of sites which bring you surveys to complete in exchange for money. There's a little small print involved here, so let's take a closer look…
Rewards can differ depending on which site you choose to use. Some will give you money straight away, while others work on a points system, and others offer vouchers or something similar. For example, if you sign up to Swagbucks, you earn points which you can then swap for rewards such as Paypal credit or vouchers for highstreet or online stores. There'll usually be a minimum amount you'll have to hit before you'll be able to claim your chosen reward. Again, this depends on the survey site you use to find surveys.
How much money can you make from online surveys?
As long as the proverbial piece of string that everyone keeps asking about. Although let's not get carried away…it's probably not the thing to quit your day job for, but you can make money from online surveys.
Exactly how much you can make depends on things like:
Number of surveys completed
Number of hours spent doing surveys
Reward value of surveys completed
Type of rewards given
How to make money doing online surveys
[X steps – bullet points]
Sign up to an online survey site
Earn enough points to hit minimum payout amount (that will depend on individual site)
Choose your reward or payment amount
[graphic]
The best online survey sites
You can sign up to as few or as many paid survey sites as you want. Here are some of the best online survey sites:
Swagbucks is one of the biggest rewards-based sites around. For each survey you complete, you receive points (SB) which can then be exchanged for money or prizes. There are other ways to earn points on Swagbucks, aside from answering surveys: Set Swagbucks as your default search engine, watch videos, shop, complete tasks (such as transcribing audio or inputting data), play games, or test new products.
This is an app that lets you complete a range of survey types: from quick polls to longer questionnaires and even opinion activities like secret shopper surveys. The amount a survey is worth depends on its length, difficulty, and subject but 50p per survey is pretty standard.
YouGov collects opinions from around the world on things like politics, brands, and current affairs. In fact, with so many topics available, there's bound to be something you're the perfect person to complete a survey on. One thing to keep in mind is that there's quite a high payout threshold of 5,000 points. However, once you hit this, you can cash out £50 straight to your bank.
Similar to Swagbucks, you receive incentives for participating in surveys on WRM Surveys. Interestingly, you can update your profile so that you're specifically sent surveys that are tailored to you and your interests, which means that you're more likely to qualify for them without having to answer the same questions over and over. Minimum payout via Paypal is £8.
This is a handy app to have on your phone. There is nowhere near the volume of surveys available on some of the other sites mentioned above, but they're quick to complete and you can earn up to 50 per survey. The minimum payout amount is £2.
Are surveys a good way to make money? My paid online survey experience
I wanted to see just how lucrative paid surveys can be, so I set myself a challenge: to see how much money I could make from online surveys in 4 hours.
First of all, I opened a new email account so I could keep survey notifications separate to my personal emails. For some reason, I thought I'd be receiving a lot of emails and didn't want to be wading through my inbox. As it turns out, you're not bombarded with emails and you can always mute them anyway. I don't think it's essential to open a new email account.
Next it was time to pick an online survey site to sign up to. There are loads to choose from. I've heard of Swagbucks before and knew that they paid out in money (if you reached a certain number of points), rather than just vouchers. The points you earn are known as 'swag bucks' and each survey has a value attached to it: e.g. 25SB.
The Swagbucks sign up process is straightforward and quick. Once I'd set up my account and verified my email address, I was ready to get started.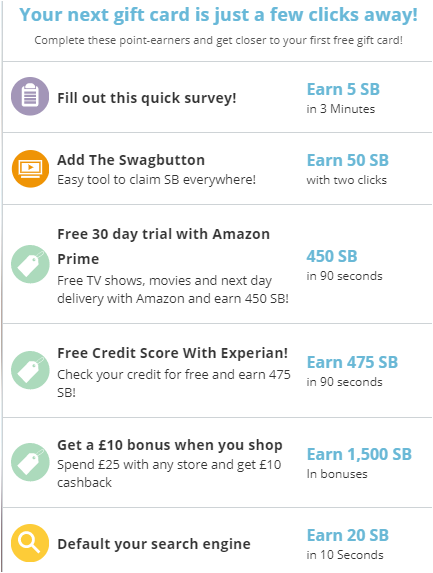 I did the top survey which made me 5 swag bucks in just 5 minutes. Off to an easy start! That led me to a list of surveys: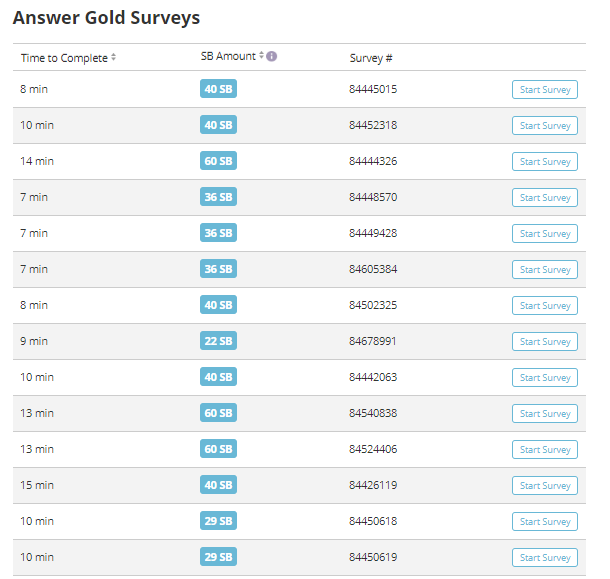 I started working my way down the list. As you can see, the amount of time a survey will take to complete doesn't necessarily correlate with the amount of SB you'll earn. It's worth having a quick scan and seeing if you can pick a shorter survey with a higher reward. For example, in the list above, you can see there are two surveys available: 13 minutes and 15 minutes with the shorter survey being worth more.
I didn't qualify for the first few surveys I clicked into, but still earnt 1SB each for my troubles. While it's annoying to bounce back out of a survey, at least you're getting something. Eight or nine clicks in, I hit a survey about baby formula, which I fit the target demographic for as I'm currently pregnant. The survey took less than 10 minutes to complete and was worth 60SB. All I had to do was choose which type of formula I would be more likely to use, based on certain qualities.
Swagbucks isn't just a survey site. It also offers small rewards in exchange for completing tasks such as adding a 'SwagButton' extension to chrome (still not sure what this actually is(!) but it was worth 50SB) or setting Swagbucks as your default search engine.
After about 15 minutes, I realised that I hadn't actually looked at the rewards Swagbucks has to offer. How much are swag bucks worth and how many am I aiming to collect before I can claim a reward?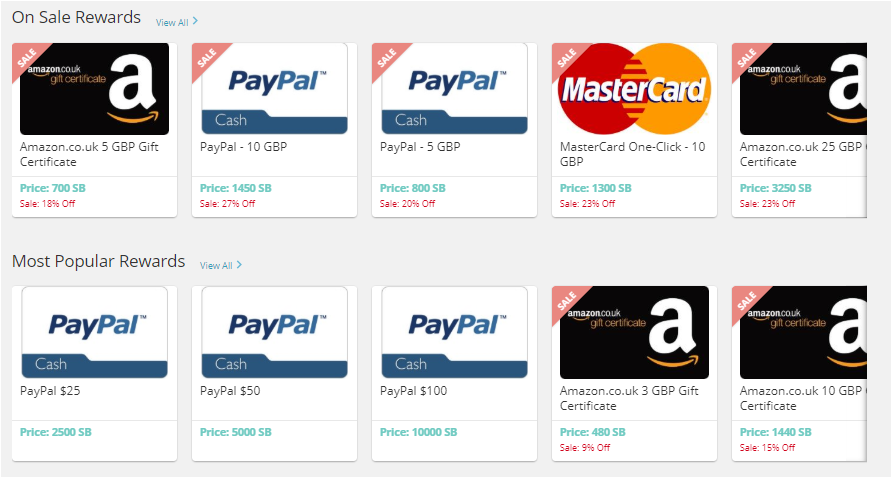 Can I earn enough for £5 or £10 Amazon or Paypal in a couple of hours? Let's see…
With my goal in mind, I went back to the survey list and immediately bounced out of the next 13 surveys I clicked. Because the surveys are anonymous when you see them on Swagbucks, you have no way of knowing what you'll be answering questions on. I somehow landed on the baby formula survey again and was able to complete it again, earning myself another 60SB.
An hour into my online survey 'job', and I've earnt 277SB. Basing my calculations on the fact that you can get £5 Paypal payment in exchange for 800SB, I'd made less than £1.50. Not exactly a get-rich-quick scheme, but an easy way to make a bit of pocket money.
I'll keep a tally chart of successful/non-successful surveys for the next hour: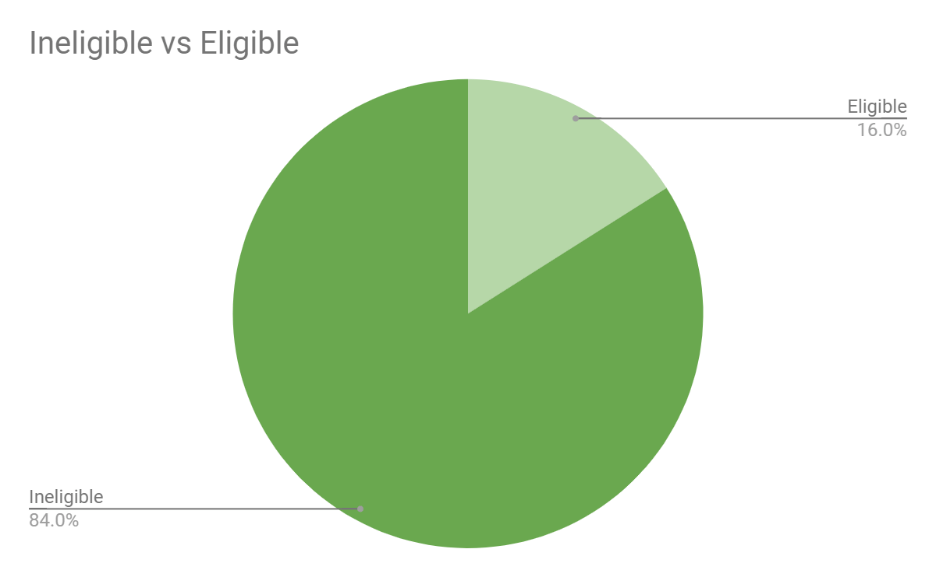 In the hour, I earnt 210 Swagbucks from 4 surveys:
Instagram worth 50sb
Nappies worth 50SB but took aaaaaages
Coffee worth 70SB was quick
Diet brand worth 40SB
However, as you can see, I spent most of that hour bouncing out of surveys. Being kicked out surveys can be frustrating, especially when it happens a few times in a row. Worse than that though is when you've spent 5 minutes answering (the same!) generic demographic questions that you've already answered multiple times to then be kicked out! The only saving grace on this occasion was that I got 3SB instead of 1SB. I decided to take the mindset that it all adds up, so every swag buck counts!
I kept going for a little longer, picking up points here and there. One survey required me to watch the pilot episode of a new Amazon Prime show and then answer some questions based on what I thought about the characters and storyline.
At the end of the 4 hours, I'd 'earnt' 690SB and seemingly worked my way through all of the available surveys.
690SB in 4 hours x 8 x 5 (to represent a 40 hour working week).
Around £47.58 a week. That's roughly £1.18 an hour which is far below the current UK minimum wage of £8.21 (April 2019 / age 25+).
—
Since I didn't make enough swag bucks to get one of the rewards I wanted during the 4 hours experiment, I've gone back to Swagbucks when I've had a few spare minutes so that I could actually get a reward!
When I'd collected enough points to exchange for £10 Paypal credit, I realised that the email address you sign up to Swagbucks with has to match the one attached to your Paypal account. Obviously, I'd set up a new email address to sign up to Swagbucks with, but it was easy enough to change it to me other one and verify. It can take up to 10 days from claiming your reward to receiving it, so I'll update if/when I receive the Paypal payout!
[Update: I received the Paypal voucher within a couple of days of requesting it and got the money paid into my Paypal account with no issues.]
Are surveys worth doing? The advantages and disadvantages of online surveys
Can you really make money doing surveys? And if you can, is it worth the effort?
As with most things, the success stories and claims you find online vary massively, which is why I thought I'd have a go for myself…
For a bit of pocket money, yes. But as you can see from my experience above, this isn't the reason to pack in your day job.
It can be very time-consuming and if you hit a run of surveys you're ineligible for, you can feel like you're going round in circles and wasting time.
One thing I learnt pretty early on was that I kept getting screened out of most surveys for saying that I work in Marketing. I'm not sure why this is an issue, but that's the only thing I wasn't honest about. This question pops up mostly as part of the screening surveys you have to fill in before you even get through to the survey. As well as wanting to know what industry you or members of your household work in, these demographic questionnaires ask things like your race/ethnicity, household income.
While online surveys aren't a particularly strenuous or brain-twisting way to spend your time, it is repetitive and once you've answered the same question for the eighteenth time, your willpower will be tested.
On top of that, you have to be willing to share some personal information. Most of the surveys are anonymous and GDPR protections are in place, but it still feels a bit weird to be asked about your annual income, postcode, or child's name (like I was).
Top tips for making money doing surveys:
Accept that it's time-consuming.
Surveys can take anywhere from 2 minutes to 45 minutes (and sometimes longer), depending on type and number of questions. And a lot of surveys require you to complete qualifying questions beforehand to make sure that you're the right fit. If you're not, you won't be able to do the survey. And this can happen over and over. In fact, you may only qualify for 1 out of 10 surveys that you apply for. However, keep going and you'll soon be racking up those points and rewards.
Look at the minimum payout amount.
This differs depending on the survey site you use. For example, on Swagbucks you can claim a £3 Amazon gift card which is pretty low. However, some sites won't payout until you hit around £50 which can take ages! Make sure you do your research on this before you sign up so that you don't feel like you're doing hundreds of surveys without seeing a reward.
Check the expiry date.
If you choose to swap your points for gift vouchers, make sure you check the expiry date so that you don't run out of time to use them.
Make it your bit-on-the-side.
Because most survey sites have apps, you can do them anywhere, anytime. It makes sense to spend your spare time earning money rather than wearing your thumbs out playing Candy Crush, right?
Open a new email account?
This one's up to you. Setting up an email address that's just for surveys makes sense because it can keep your everyday account 'spam' free but it's not really necessary. Also, some sites will only pay out to Paypal accounts that use the same email address as you signed up to them with.
Tell the truth.
Some surveys repeat questions or put in trick questions to try and catch you out. If you fall for them, you're likely to get kicked out of the survey. In that way, it pays to be honest. Most companies who put out surveys are looking for honest feedback on their products or services so that they can improve their offering.
Don't take it too seriously.
Doing online surveys will never make you rich, so don't get too upset if you feel like you're going round in circles. It's something to have fun with and make a little bit of extra money along the way.
As I've said a couple of times throughout this piece, it's unlikely that you'll make enough from doing online surveys to replace your regular 9 to 5, but it's a good way to earn a little extra money. If you find yourself with a few spare minutes throughout the day, sign up to an online survey site and start making those moments count. It all adds up!
If you're looking for a way to turn your spare time into cash a bit more quickly, you might want to consider matched betting. This is an online money-making technique that allows you to make a profit from the free promotional bets offered by bookmakers. It's not a matter of luck, either: as you bet on both outcomes, the only way you can lose money if you make a mistake. So, if you're prepared to devote some time to it, you could stand to make much better money then you would by filling out online surveys. Check out our 'What is matched betting?' guide to find out what you need to do to get started.
There are lots more ways to make money online, too. You could try reselling goods for a profit using retail arbitrage techniques, setting up a dropshipping business, or freelancing. If you're social media savvy, you could even aim to make some money from Instagram by becoming an influencer—check out our Instagram tips from a successful influencer to learn more.