A new survey[i] by OddsMonkey has found that one in four Brits have a side hustle, with average earnings of £230 per month. And, while a quarter of people already have one, another (22%) are planning on picking up extra work in the next 12 months.
We discovered that one in three people in the UK are struggling to make ends meet — could this be the reason why so many Brits have or are looking at getting a side hustle to boost their income?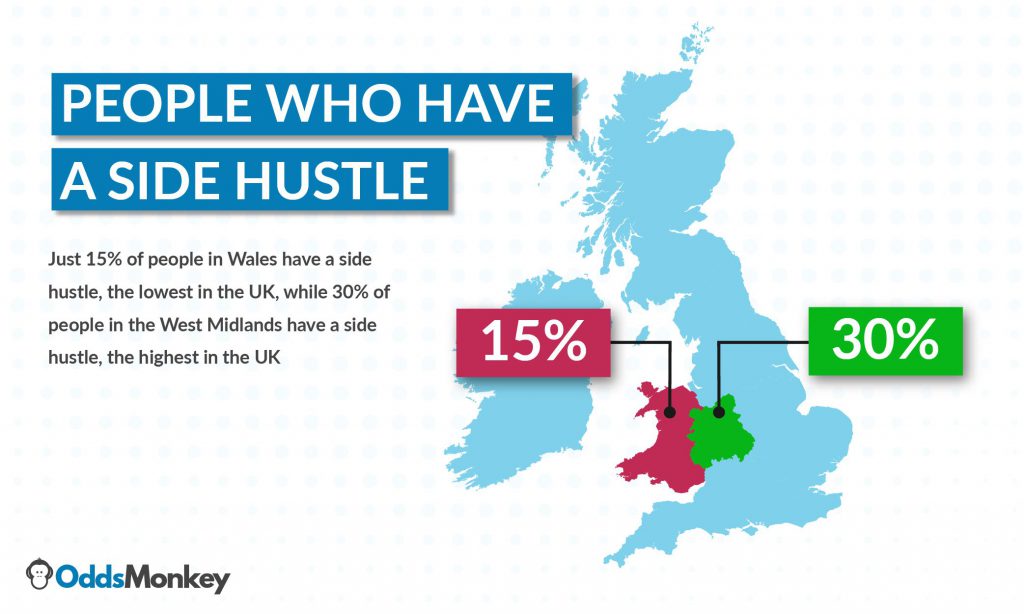 [i] Study source: Research conducted via Onepoll on 2,000 British adults during February 2019.
We found that the West Midlands was the region where the highest share of people had a side hustle at 30%, while just 15% of people in Wales felt the need to pick up a secondary income.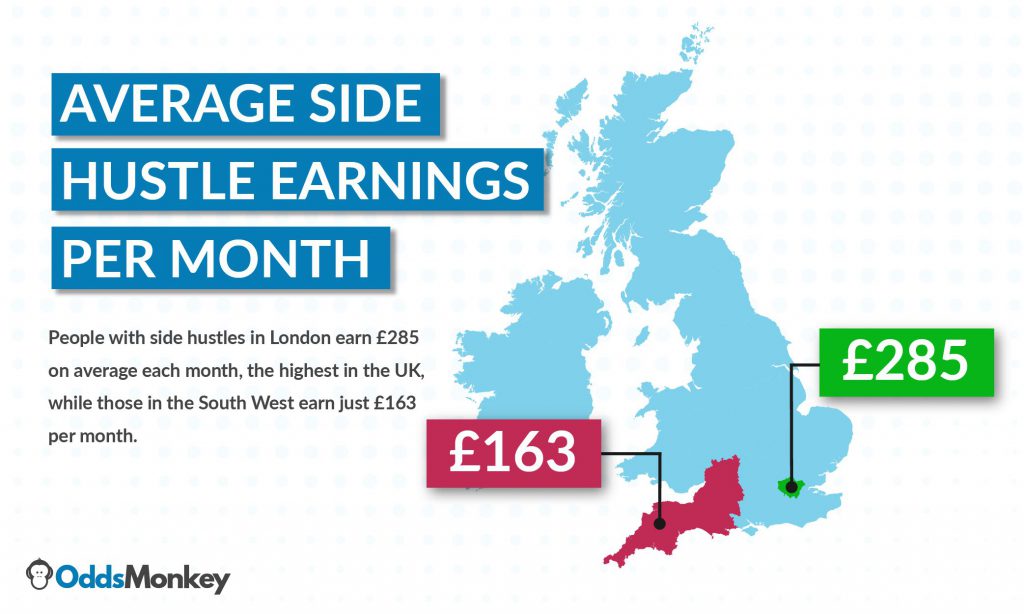 The survey results also provided an insight into how much people earned from a side hustle in parts of the UK. Londoners were the top earners, with an average income of £285 per month, while those in the South West only brought in £163 each month.
Money is the main motivation for side hustles
By far and away the main reason for picking up extra work is to earn extra income, with 62% of those with a side hustle doing it for the money.
Cash isn't the only motivation, however, as 19% said they were doing it because they enjoyed it as a hobby, while 17% were using the opportunity to build up a skill or gain more experience.
Many people also find satisfaction in their side hustle, with more than one in three (36%) preferring it to their day job. 43% said they'd be interested in turning their side hustle into a full-time job or second job.
Photographers and bloggers can earn over £4,000 annually
There are a wide range of side hustles that British people dabble in to earn extra cash, ranging from baking goodies to renting out a driveway.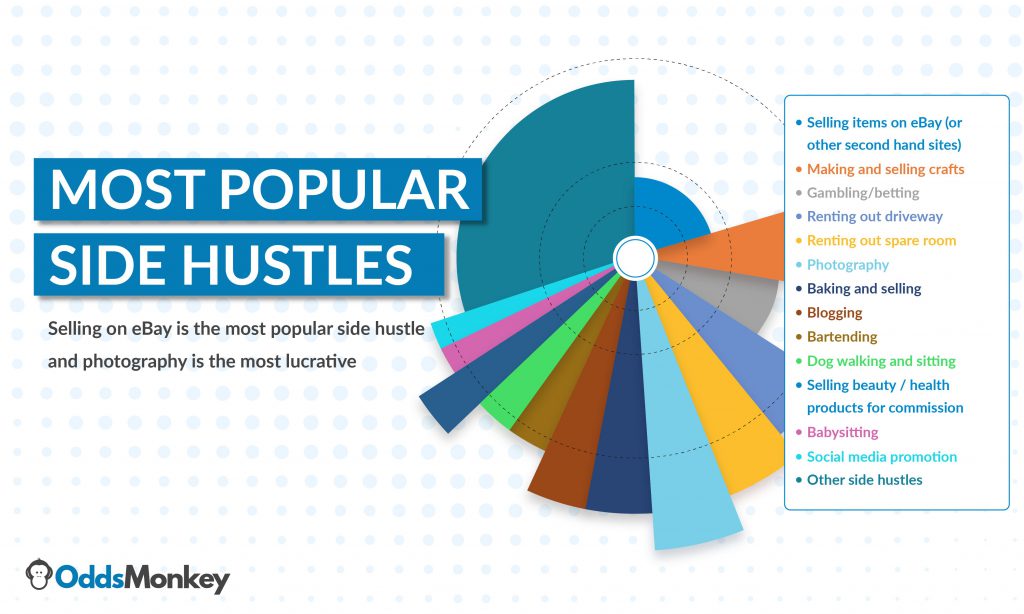 When we asked our survey participants who said they had a side hustle, they revealed that selling items on eBay (or other second-hand selling sites) was the by far the most common activity, with 20% of people with a side hustle partaking. Outside of this activity, the most common side hustles were making and selling crafts (8%) and gambling/betting (6%), which includes matched betting, a very low risk and productive method of earning additional income.
The most lucrative method of making a secondary income was photography, which made an average of £389 per month. Not far behind was blogging, which netted an extra £333 for those that have a way with words. This means that, on average, part-time photographers and bloggers can earn over £4,000 per year from their side hustle.
However, it should be noted that while the two highest-earning side hustles require a lot of practice and skill, there are others that can earn for almost anyone. For instance, renting out a spare room (£294), bartending (£270), and renting out a driveway (£268) can each add an extra income of over £250 per month.
Here's our list of the most popular side hustles and how much is earned on average:
| | | |
| --- | --- | --- |
| Most popular side hustles | % of people with a side hustle doing this as their main activity | Average monthly earnings |
| Selling items on eBay (or other second-hand selling sites) | 20% | £143 |
| Making and selling crafts | 8% | £220 |
| Gambling/betting | 6% | £216 |
| Renting out spare room | 5% | £294 |
| Social media promotions | 5% | £264 |
| Photography | 5% | £389 |
| Baking and selling | 4% | £266 |
| Renting out driveway | 4% | £268 |
| Bartending | 3% | £270 |
| Blogging | 3% | £333 |
| Selling beauty/health products for commission | 3% | £184 |
| Babysitting | 2% | £180 |
| Dog walking and sitting | 2% | £190 |
| Other side hustles | 30% | £237 |
More than one in three Brits don't earn enough to cover living expenses
Our research also looked deeper into the financial motivations and habits that were driving people to pick up a second income. We discovered that more than one in three (36%) British people aren't making enough money in their main job to cover their living expenses, which may go a long way towards explaining why side hustles are so commonplace.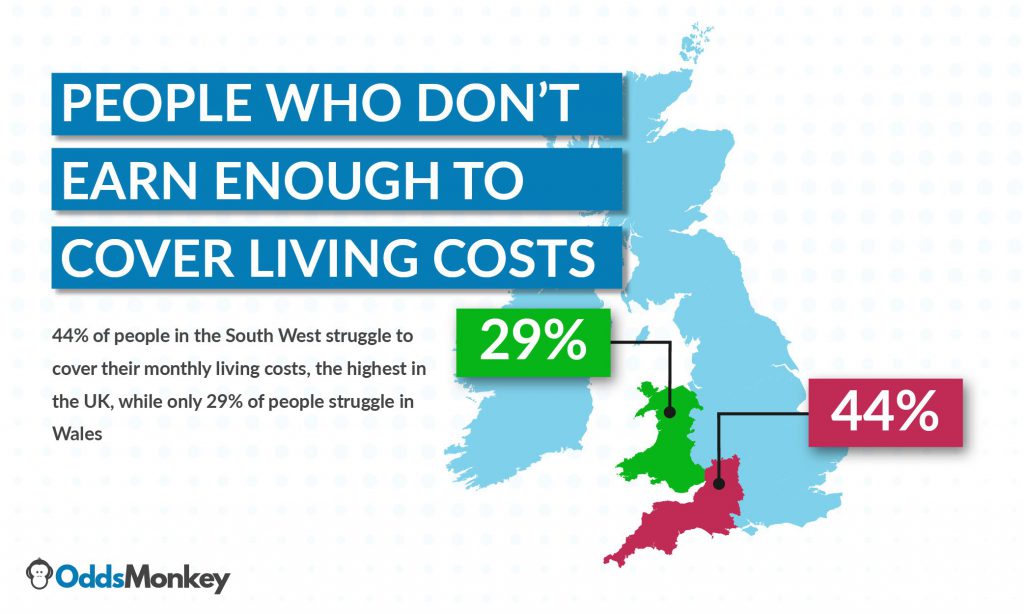 The South West is the region where people struggle the most, with 44% of respondents saying they don't earn enough to cover their living costs. People in Wales are the least impacted, with just 29% facing a deficit every month.
The main expense that these Brits are struggling to keep up with each month is bills, with 31% saying that they were an issue. Other financial commitments that are proving problematic are mortgage and rent payments (18%), food and drink (10%), and social activities (9%).
We also asked our participants about debt that they'd taken on. More than three quarters (76%) of respondents said they owed some form of debt, with credit cards (29%), personal loans (19%), overdrafts (15%), and car finance (13%) being the most common.
Our survey also found that 42% of British people are getting financial help from loved ones, with parents (15%), partners (13%), and friends (6%) the most common source of extra money. Of those getting cash from family and friends, 44% were receiving £200 or less and 28% get more than £200, with the average help standing at £229.
Peter Watton, spokesperson for OddsMonkey, said: "Thanks to the financial pressures of today, it's unsurprising that many British people are taking on a side hustle to make ends meet. While it's nice to see some people doing it as a passion project or for personal development, the overwhelming majority are pursuing a second income purely to earn more money, which is a sign of the times.
"Analysing the findings of the survey further, it appears that high living costs are driving many to find extra cash, with expenses like bills, mortgage and rent, and food and drink adding up each month. Many Brits are turning to credit cards, loans, overdrafts, and even their loved ones to be able to afford the things they need in life.
"I expect having a side hustle to become much more commonplace in the future, and they might even become the norm for the majority of people in the UK. As a specialist in one of the more popular types of side hustle — matched betting — we've certainly noticed more people looking to access a second income over the past year or so."
You can find more advice about picking up a side hustle here. You may also be interested in finding out more about matched betting for additional income.
Further information regarding the study can be found by getting in touch with [email protected]
[1] Study source: Research conducted via Onepoll on 2,000 British adults during February 2019.