What is Amazon FBA UK? Fulfillment by Amazon, often shortened to FBA, is an order fulfillment service offered by Amazon. Amazon Sellers can use the FBA service to fulfill customer orders on their behalf.  Instead of the Seller holding stock and then sending it out to the customer themselves, they can ship everything to an Amazon centre. With FBA, Amazon then takes care of everything for them.
Fulfillment of orders includes storing items and then picking, packing, and shipping them out. It is the Sellers' responsibility to keep inventory updated and stock ordered as needed.
The FBA programme launched in 2006 with the aim of helping third party sellers operate on a larger scale. Amazon wanted to share their platform, reach, customer service, and fulfillment capabilities with small businesses who might otherwise struggle to attract a customer base. 
Amazon Sellers and FBA vs FMA
Just like with most things, Amazon comes with its own lexicon. We're not going to go into lots of detail here but let's look at some of the most relevant terms:
Amazon Seller
An Amazon Seller is someone who is registered to Amazon and sells products via their Marketplace. Amazon.co.uk offers two levels of Seller account: Individual and Professional. We talk about both of these accounts in more detail throughout this guide. As a third party seller, you'll need to choose one of these accounts in order to sell through the Amazon platform.
This guide uses both 'Seller' and 'seller' to try and differentiate between those who sell through Amazon (capital S) and sellers (merchants) in general.
The following terms are the different types of fulfillment that can be done once an order has been placed.
FBA: Fulfillment by Amazon
When a customer buys something from you on Amazon, Amazon will pick, pack, and ship the item to them. Order fulfillment is taken care of with FBA.
FBM: Fulfillment by merchant
You are the merchant. FBM is where you fulfil a customer's order yourself. When a customer buys something from you on Amazon, you process, pack, and ship the order.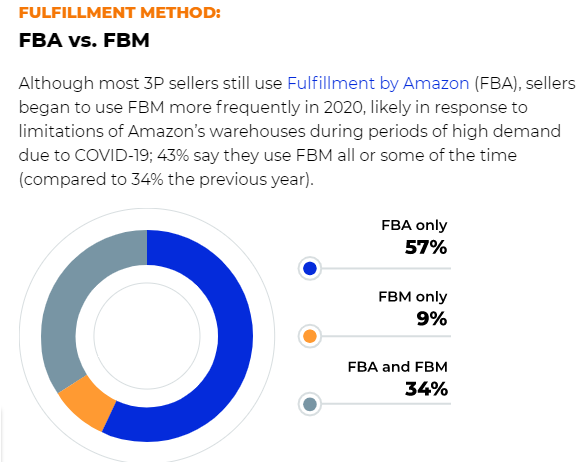 Above graphic from: https://www.junglescout.com/amazon-seller-report/ 
What is Amazon?
Amazon is a US technology company which has grown massively over the past 10 years. The company started life as an online bookstore but has become so much more. It now sells everything from children's paddling pools to camera lenses to pots and pans and most other things you can imagine. 
But Amazon doesn't hold and sell all of these items themselves. Instead, Amazon is home to thousands of third party Sellers.
In the UK, there are 250,000+ registered active Amazon Sellers.Despite some ups and downs, the monthly number of new third party sellers has generally increased over the last three years, according to data from a 2020 study. Figures also show that 2020 saw 113, 885 new third-party sellers entering the Amazon marketplace. 
The size of the platform reflects its popularity. Or at least its position at the front of people's minds when it comes to online shopping. And despite controversies including treatment of staff and tax avoidance, Amazon continues to dominate the world of ecommerce. 
How does FBA work?
So how does FBA work? There are four main steps to Fulfillment by Amazon:
Register as an Amazon Seller. If you're already a Seller, switch your account to FBA.
Prepare your inventory and send it to a fulfillment centre for Amazon to store.
Take advantage of Amazon's marketplace platform and make some sales!
Amazon fulfills any orders and ships the product(s) out to the customer. Their customer service team handles questions, returns, and refunds.
Payment is collected from the customer and paid to you every two weeks. This is the case if you use FBM or FBA. For more information about becoming an Amazon Seller, see their Beginner's Guide.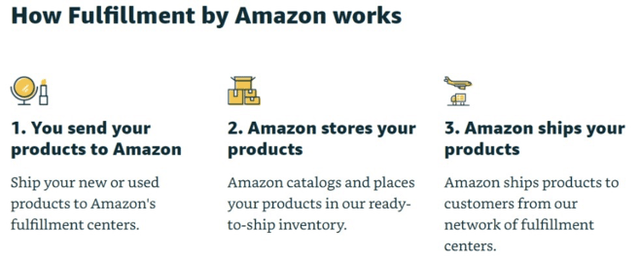 But let's take a quick step back. The above is an overview of how fulfillment works from start to finish. However, once you've decided to use FBA, there's a bit of work to do first to get started.
Register as an Amazon Seller
If you've only ever used Amazon as a buyer before, it's time to register for a Seller account. There are two types: Basic or Professional. A Basic account is free but you pay commission on every sale you make. It's perfect for individual sellers who make less than 40 sales a month. A Professional account costs £25 a month in the UK. We talk about these fees more later on in the guide.
Prepare inventory
There are a few steps within this section as preparation is an important part of Amazon FBA. First, you need to decide who will package the items: you or Amazon. If you choose to do this yourself, you must follow Amazon's prepping guidelines. Prepping requirements are outlined in great detail. For example, these are the rules around using bubble wrap to package items:
Products that require bubble wrap must:
Be tightly wrapped and taped shut so the product cannot fall out
Have a scannable barcode label on the outside
Pass a 125 cm drop test on a hard surface without the contents breaking. A drop test consists of five drops:

Flat on the base,
Flat on the top
On a corner
Flat on the longest side
Flat on the shortest side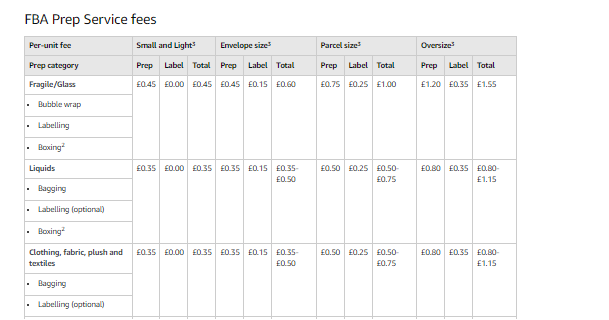 Preparing your inventory properly before sending it to an Amazon fulfillment centre is one of the most important parts of FBA. Your inventory won't be accepted to an Amazon fulfillment centre if it's not properly packaged. Or you will be charged per item that needs preparing properly.
Alternatively, use Amazon's prep service. Fees are charged on a per unit basis. Please see the table below for UK examples but check Amazon for full details:
Sell
This is where you come in. It's up to you to attract potential customers and convert site visits into sales. Selling through Amazon, you'll come up against a lot of competition so you have to stand out from the crowd. This may be through your pricing, brand awareness, or items on offer.  Use the Inventory Performance Dashboard to keep track of what is selling well, what isn't, and make sure stock levels are maintained on popular items. Drop anything that fails to sell.
Amazon fulfills
Once an order has been placed, Amazon workers pick, pack, and send it out to the customer from your inventory stock. Or if you're using stickerless inventory
Pros and Cons of FBA
As with most things, there are a number of pros and cons to choosing fulfillment by Amazon.
Pros:
Access Amazon's existing customer base and sell on a potentially worldwide stage. Buyers come to Amazon because they know they're likely to find what they're looking for. And sometimes, a load of stuff they're not looking for. But ultimately, they know they'll have options on Amazon from businesses competing for their attention.
Inventory Performance Index:
Introduced in August 2020 the Inventory Performance Index tells you how well your inventory is performing. The Index measures current performance and then suggests ways to improve. Get rid of excess inventory, keep stock levels updated, and improve sell-through rate to take your business to the next level.
FBA can be a great platform to start an online business from. You can start small, selling a few products and testing the waters. Gives yourself time to build up knowledge and confidence before scaling up. It helps that you don't have to worry about finding a larger brick and mortar premises or warehouse in order to make your online business bigger.
Returns and replacement policies:
Research has found that the average return rate on Amazon can range between 5% to 15%. Thankfully, with FBA, you can use Amazon's returns and replacement policies. And Amazon will process them for you.
Yes, it's another acronym, but with FBA, Amazon takes care of business for you. At least in terms of fulfillment and customer service.
Using FBA can help you create larger profit margins in a number of ways. For example, the monthly or annual cost of FBA vs hiring staff members to fulfil orders within your own business. Or think of the eliminated costs of overheads, etc. When you're running a small business, every penny counts.
Shipping costs are included in the FBA fees. This means that you don't pay extra to send via Amazon Prime for unlimited, fast One-Day Delivery on millions of orders.
Cons:
Profits aren't guaranteed:
Just because you have the potential to reach a lot of eyes, doesn't mean that sales, profits, and success are guaranteed. Selling through Amazon gives you a good foundation to start from but it's up to you to try and make consistent profits.
Due to the sheer amount of active Sellers on Amazon, competition for sales is high. You're competing with online shops of all shapes and sizes. You need to stand out from the crowd…within the confines of the Amazon marketplace.
Amazon has set guidelines around how you're allowed to communicate with your customers. There are specific rules around the kind of direct, indirect, or buyer-seller messages that are or aren't acceptable. As an Amazon Seller, it is up to you to follow these guidelines.
You don't have complete control over the platform you're selling from. Amazon FBA constantly changes to meet the needs of its sellers. While this can be helpful in some ways, it can also be difficult to keep up with the constant updates to processes, guidelines, and other aspects of the programme.
This is on the 'Cons' list because this recent addition to FBA could have a negative impact on your business. In 2020, Amazon introduced the co-mingling of inventory. Amazon can now store every unit of a single product together, regardless of the seller, and then ship any one of these units to a customer. Putting potential advantages of this new system to one side, the biggest risk to the seller is contamination of stock. Because products are picked from any available stock, your customer could receive a counterfeit product, rather than the authentic item you shipped to Amazon. Some sellers have received negative feedback and been banned from selling on Amazon, because customers have been sent counterfeit or damaged items.
Amazon FBA fees: How much does FBA cost in the UK?
Account fees
There are two types of Amazon Seller account: Individual (Basic) and Professional. The Basic account is free to open and is suitable for sellers who:
want to keep up-front costs low
want to sell fewer than 35-40 items a month
are still deciding what to sell and want to test different items
Although this type of account is free, you'll need to pay a charge of £0.75 (plus VAT) to Amazon on every product you sell.
The Professional seller account costs £25 + VAT a month but you don't have to pay each time you sell an item. This account is suitable for sellers who:
Are established ecommerce sellers with a pre-existing online shop
plan to sell more than 40 items a month
want access to advanced selling tools or add-on programs like Amazon Business, Launchpad, or Handmade
Inventory storage fees
When you send inventory to an Amazon fulfillment centre, they hold it for you until it is sold. The fees you pay are based on the volume of packaged inventory. Fees are charged on a monthly basis.
Monthly
At the time of writing, UK Amazon Sellers using FBA pay £0.48 per cubic foot (January to December) and £0.68 October and December. This is because of the run-up to Christmas being a much busier period for sales and Amazon workers. Please check Amazon for costs.
Remember that monthly storage fees are charged on the daily average volume that your inventory takes up within the fulfillment centre. Volume is measured in cubic feet and on the size of each unit  when properly packaged and ready to ship. Your inventory must be packaged in accordance with FBA Policies and Requirements.
Other storage fees
In addition to the monthly fees, you may be subject to long term storage fees. This is an occasional fee which is charged on stock which has been at a fulfillment centre for 365 days. At the time of writing, UK Sellers will be liable to pay £882.50 per cubic foot on inventory that has sat for twelve months. To avoid long term storage fees, keep an eye on inventory performance and cut items that don't sell from your shop.
Other occasional fees include: Removal order fees. (You can ask Amazon to return or dispose of any inventory in a fulfilment centre for a per-item fee). Returns processing fees or Unplanned services fees.
Fulfillment fees
Amazon fulfillment fees include picking and packing orders, shipping and handling, customer service, and product returns. Remember: most costs are determined according to the weight and dimensions of a packaged item. Fulfillment fees are paid per item sold and shipped from an Amazon fulfillment centre. 
See Amazon's Rate Card for more information on their UK fulfillment fees.
Amazon FBA Calculator
Here are a couple of handy calculators to help you work out Amazon selling fees and potential profits.
This calculator shows real-time cost comparisons between FBM or using FBA for UK Sellers.
Indirect or Marketing costs
Another cost you'll have to factor into running an online shop is marketing and advertising fees. Advertise products on social channels, either organically or through paid features. Each social platform has its own paid advertising options, so make sure you check out what works best for you.
Amazon offers their own advertising options to Sellers which include sponsored products and brands.
Returns costs
If a customer is unhappy with their purchase, they can choose to return it to Amazon. You will need to pay Amazon a return processing fee. For UK Amazon Sellers, the returns processing fee is equal to 50% of the total fulfilment fee for a given product. There's more information on the processing fees for returns here. https://sellercentral.amazon.co.uk/gp/help/external/201112630?ref_=sduk_fba_returns_i&initialSessionID=257-2723715-6188201&ld=NSGoogle 
Is there a way to reduce FBA costs?
There are a few ways to reduce FBA costs, but ultimately it's quite a cost-effective service. Perhaps one of the easiest ways to reduce costs is to avoid paying long term storage fees on inventory. Make sure that your items are selling well and not sitting in storage for 12 months or longer. That way, you only have to pay monthly storage fees without the extra long term charges.
Storage fees are charged on the size and weight of items, not their value. Therefore, one way to reduce costs could be to try and stock smaller and/or lighter items. Another way to reduce costs could be to focus on higher-value items to ensure that the gap between cost of storage and price of sale is larger. That way you could try and avoid paying more to store items than you make from selling them. 

Selling items in bulk or in a bundle means that you can avoid paying fulfillment fees on each individual item. The more items you can bundle together into one shipment, the less you have to pay Amazon to process and ship.
The best way to keep an eye on things is through the Inventory Performance Dashboard. This tool shows you all fees that your items are incurring. The dashboard lets you monitor activity and gives you insights into performance levels of the items you stock. With that information, you can create a strategy that will help eliminate unnecessary FBA costs.
Growing a business with FBA
The Amazon FBA business model makes scalability a real possibility for successful businesses. Once you know what works for your business, you can ramp up efforts. For example, why should a one-man operation stay local? There's no reason! And there's no excuse with the world at your fingertips.
Amazon is a global platform, so it's time to think globally. As an Amazon Seller, you can access their entire audience and use Amazon Global Selling to list and sell your products on any of their online stores in North America, Europe, and Asia.
And Amazon makes fulfillment possible too, with FBA Export. According to Amazon "FBA Export allows international customers to purchase export-eligible ASINs from your selling marketplace". This means that you can grow your business without having to worry about shipping to different countries. Once again, Amazon FBA takes care of that for you. 
FBA vs Dropshipping
We've looked at Amazon FBA but what is dropshipping? Dropshipping is another kind of order fulfillment service. For the most part, the two services are quite similar but there are some subtle differences.
With FBA you source inventory and usually have hands on it first before sending it onto an Amazon fulfillment centre. However with dropshipping, the chances are that you'll never come into contact with any of the items you sell. That's because they're usually held by a third party in China, where a lot of major suppliers are based. So what does that look like?
In dropshipping, inventory is sourced from and stays with a faceless wholesaler or manufacturer. You add a listing to your online store and when you take an order from a customer, you pass it straight onto your supplier. They then ship the order out directly to your customer. However, as far as your customer is aware, you dispatched their order.
The thing is that there probably won't be any of your branding on the packaging. (Unless this is something you're arranged with the supplier). Mostly though, dropshippers have no control over the quality, look, or speed of packaging and shipment. This may not matter to everyone, but be aware that anything 'wrong' will reflect badly on your brand and business. 
However, with FBA, you can trust that Amazon will provide a high level of all things fulfillment-related. They want to make the Amazon brand look as good and trustworthy as possible.
That's just one of the differences between FBA and dropshipping. Here's a quick look at some other comparison points and which is the 'better' option.
Initial investment
Dropshipping wins on this one because the initial costs are relatively low. All you need in an online store (eg Shopify). You don't need to pay to store inventory because you don't need to have it physically in your possession. That's the whole point of dropshipping. You only pay for an item once a customer has placed an order for it.
With FBA, there are a number of initial costs:
You need to be an Amazon Seller (Professional account £25 a month),
Purchasing stock from supplier,
Prepping and shipping inventory to an Amazon fulfillment centre, 
Storage costs,
Fulfillment fees
Winner: Dropshipping
Customer base and competition
By being an Amazon Seller, you have an instant audience. You can target Amazon's entire customer base, which means there's the potential for a lot of eyes…And sales. However, this also means that there's a lot of competition. You're up against thousands of other Amazon Sellers all around the world. Standing out from the crowd can be a bit difficult when the crowd is so big.
With dropshipping, you're on your own when it comes to building an audience. You can use social channels and existing contacts but ultimately you'll be starting from scratch. However, you are more in control of your brand and can make your niche quite obvious.
Winner: FBA because of the size of the target audience.
Direct customer contact
This is a bit of a tricky one. With Amazon FBA, there are quite strict rules around if and how you can directly contact a customer. However, the reason for this is that Amazon already has contact points in place. This system means there is little need for you to ever contact a customer directly. Most things are handled through the Amazon platform.
With dropshipping, you are responsible for customer service whilst having little control over what that service is. If customers are annoyed about the length of time an order takes to ship, they'll contact you. Same goes for if there's a problem with the item; they'll contact you for answers. You might be swamped with emails but be able to do little more than apologise.
Winner: FBA. Amazon takes care of most things customer service-related for you.
Branding and customisation 
Dropshipping ever-so-slightly takes the lead here because you have the opportunity to brand your online presence. On Amazon, Sellers are all quite uniform and there's very little customisation allowed. Neither option really gives you the freedom to customise things offline.
Winner: Dropshipping
Returns and refunds
This is where FBA really pulls away from dropshipping. As part of your Amazon Seller and FBA status, Amazon takes care of all aspects of customer service. This includes processing returns and refunds. With dropshipping, you're completely responsible. And you can lose out financially too. Sometimes you'll need to swallow costs or pay out of your own pocket to return an item to the supplier.
Winner: FBA
FBA FAQs
Can Amazon FBA make you rich?
How much money you can make using Amazon FBA depends on so many factors. In and of itself, you're not going to get rich using a fulfillment service. There's so much more that goes into running a successful online business. Using FBA to fulfil your orders means that you won't have warehouse overheads or staff salaries to pay. Again, these savings probably won't make you rich, but they can increase your profit margin.
Is FBA worth it?
FBA can save you time and money. By asking Amazon to fulfill your orders, you aren't having to process every single individual item to send out. You also don't have to have your own warehouse for stock or hire another employee to do it for you. If the cost of paying for FBA is lower than the amount you earn from selling each month, then FBA does seem worth it.
Can I sell on Amazon FBA as an individual seller?
Individual sellers can use FBA to send their orders out to customers. There are two types of Amazon Seller account: Basic and Pro. The Basic account is ideal for individual sellers who sell up to 35 products per month. Instead of paying a monthly fee, you pay a small commission on each item sold. Sellers who use a Basic or Individual account can use Amazon's fulfillment service.
Can I start Amazon FBA with no money?
Not really. Although you could use Amazon FBA as an Individual seller. The Basic account for Amazon Sellers is free to set up. However, there are a number of initial costs involved with the Amazon FBA service. For example, purchasing inventory, shipping it to an Amazon fulfillment centre, and then paying storage and fulfillment fees. If you plan on selling more than 35 or 40 items a month, you'll need to register as a Professional Amazon Seller which costs £25 a month in the UK.
There are other options when it comes to making money online. Matched betting is an online money-making technique that allows you to make a profit from the free promotional bets offered by bookmakers. Because you bet on and cover all potential outcomes, the only way you can lose money is if you make a mistake. Check out our 'What is matched betting?' guide to find out what you need to do to get started.