You've probably heard about spread betting, but may have been put off by how complicated it looks. But, it's one of the most exciting methods of betting. This is because the more right you are, the more money you could win. And, well, the more wrong you are, the more money you could lose. But if you have the appetite for big wins, and can stomach the risk of big losses, this spread betting tutorial will help.
If you aren't 100% sure what spread betting is, read our full guide here .
Spread betting tutorial
Step 1: Open your account
There are numerous spread betting sites, with Sporting Index and Spread Ex being the most popular. This post will use Sporting Index because they allow you to open a demo account, which can be very helpful for beginners.
One thing to be wary of is the type of full account you open. Sporting Index offer both a deposit account, and a credit account. A deposit account is where you play with your own money and with a credit account, you borrow it.
We'd recommend you open up a deposit account, especially as a beginner.
You can even get free bets for spread betting accounts to help you get off to a good start.

---
Step 2: Choose your bet
Using Sporting Index as an example, they have numerous different sports available. So like traditional betting, it is best to stick with the sports you know best. And then you need to explore.
For the purpose of the walkthrough, let's start with football. One of the most popular markets for spread betting on football is the 'Premier League Points' spread.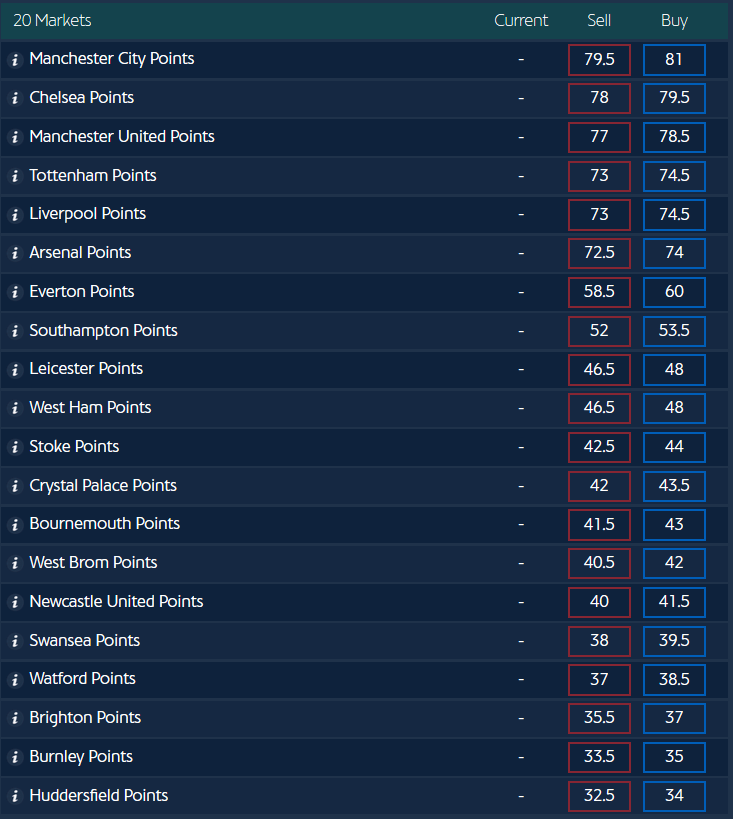 As you can see, every team is given a points spread. Your goal is to spot a team that you feel will either do significantly better than the number in the blue box. Or, significantly worse than the number in the red box.
If you feel Tottenham will repeat last season's tally of 86 points, you'll notice that is 11.5 points higher than the current spread.
---
Step 3: Add your bet to the betslip
Once you have decided on the bet you would like to place, you must choose the right option. If you want to sell, you click the red box. And if you want to buy, you click the blue box. In this case, we think Tottenham will do better than the spread, so we click buy.

Once you click on this selection, it will add it to the bet slip, as seen below: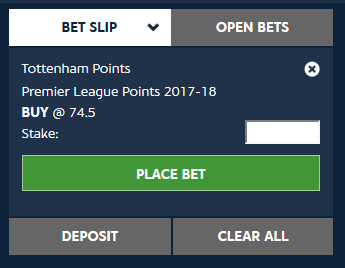 ---
Step 4: Add your stake
Now, you must remember what your stake represents. The stake isn't your total bet. It is the number you are willing to bet per point.
So to add your stake into the betslip, just type it in the box, as seen below.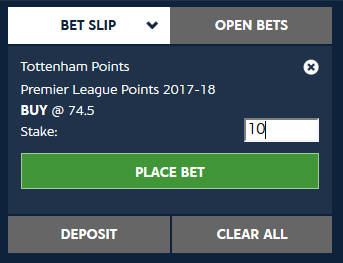 At this stake, if Tottenham finish the season on 86 points, you will win (86-74.5) x 10 = £110.50. This is the difference between the actual points tally, and the spread you bought at, timesed by your stake.
Obviously, this could go the other way. So if Tottenham finished on 50 points it would be (74.5-50) x 10 = £245. That is how much you will have lost.
---
Step 5: Place Bet
By now you have chosen your bet, input the stake, and made a calculation of your risk, just hit the big shiny button saying 'place bet'. Oh, and cross your fingers, scream at the matches on the TV, and hope your bet wins!
We hope this spread betting tutorial has been of use. Remember: always calculate your potential losses before placing your bets.
---
Download our matched betting glossary to make sure you've got the lingo down.
[the_ad id="1393″]