With applications for the latest season of Love Island now open, people from all over the UK will be perfecting their chat. Although tens of thousands of people apply each year, only 32 can be accepted onto the show. Luckily, our Love Island quiz[i] can tell you the odds of you being accepted onto the show before you apply, so you know if you'll get pied straight away!
The perfect contestant
A glance at our results showed that Love Islanders shared some common characteristics, and most won't come as a surprise. For example, we found that most islanders hail from Greater London, have brown hair and brown eyes, and work in the sport and fitness industry.
Looking at the averages for both male and female contestants, we've been able to put together profiles of the two perfect islanders: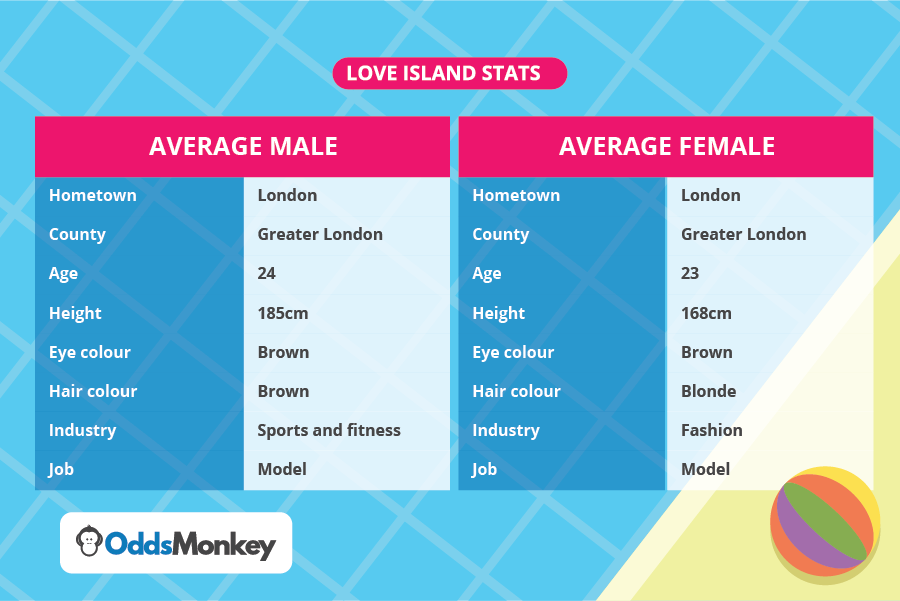 So far, no Love Island contestant has fit all of these criteria, so, if you do, then you're bound to get a few heads turning!
Jamie Jewitt from season three came close to being the perfect islander. As a model from Essex with brown hair, brown eyes, and standing at 185cm tall, Jamie fits almost all of the criteria to be the perfect islander.
Repping for the girls, season one's Zoe Basia Brown came the closest to being the perfect female islander. However, the 24-year-old model from South London with blonde hair and brown eyes just misses the mark when it comes to height, measuring 178cm tall.
The top 5s
That's not to say that you won't be accepted unless you fit the remit of the perfect islander. After analysing the data, we put together a list of the top five most common characteristics among both male and female contestants. If you have any of these, then your chances of getting onto the show could be high.
We discovered that most islanders come from:
Greater London (23%)
Essex (10%)
Greater Manchester (7%)
Tyne and Wear (4%)
Hertfordshire/the West Midlands (3%)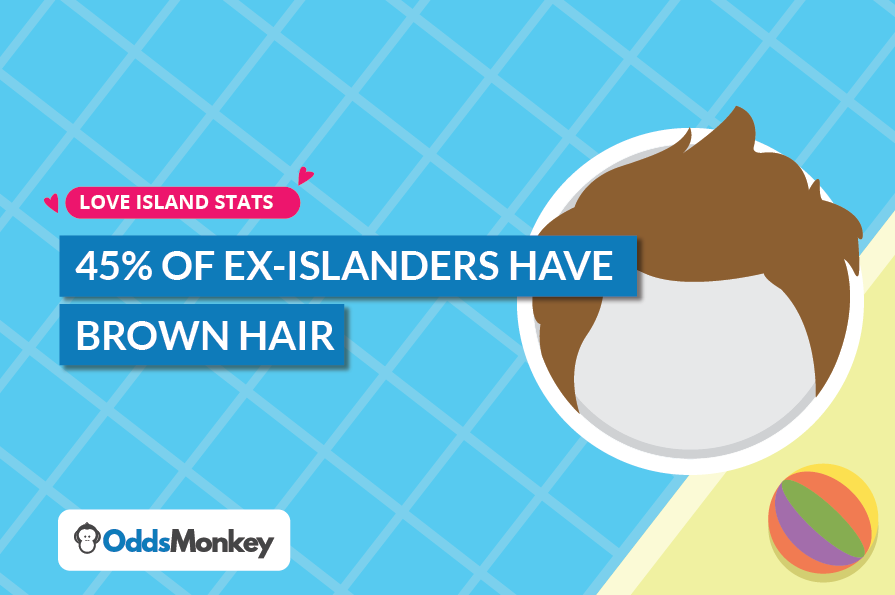 Over 45% of those accepted for the show have brown hair, making it the most common hair colour among contestants, followed by black (27%) and blonde (26%). Only one contestant had a different hair colour, which was Daisy Muller from season one's unique blue locks.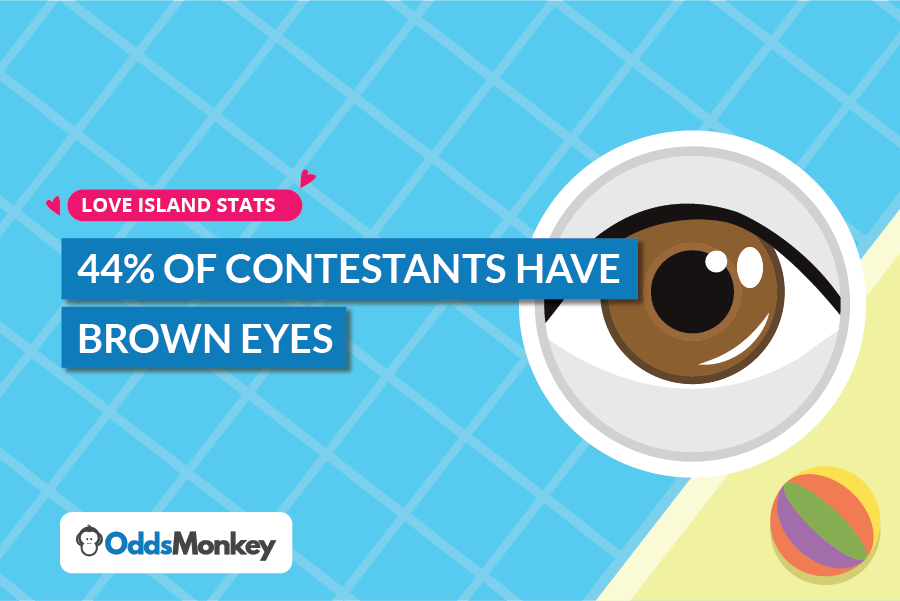 Our data also found that the majority of contestants have brown eyes (44%), while 31% had blue and 18% had hazel. Just 7% of ex-islanders have green eyes.
Love Islanders of the past have all had some interesting jobs, but sport and fitness is the most popular industry among all contestants, with 15% of them working in this kind of role at the time they appeared on the show.
The fashion industry was the second most popular among all islanders (14%), followed by construction (13%), beauty (7%), and performance (6%).
We also calculated the averages by gender, with the top counties, hair colours, eye colours, and industries among the boys being:
| | | | | | | | | |
| --- | --- | --- | --- | --- | --- | --- | --- | --- |
| | Top counties | % | Top hair colours | % | Top eye colours | % | Top industries | % |
| 1 | Greater London | 19 | Brown | 53 | Brown | 48 | Sports & fitness | 24 |
| 2 | Essex | 10 | Black | 27 | Blue | 27 | Construction | 16 |
| 3 | Greater Manchester | 10 | Blonde | 9 | Hazel | 18 | Fashion | 13 |
| 4 | West Midlands | 4 | | | Green | 7 | Sales | 6 |
| 5 | West Yorkshire | 4 | | | | | Hospitality | 5 |
For the girls, the top counties, hair colours, eye colours, and industries were:
| | | | | | | | | |
| --- | --- | --- | --- | --- | --- | --- | --- | --- |
| | Top counties | % | Top hair colours | % | Top eye colours | % | Top industries | % |
| 1 | Greater London | 27 | Blonde | 45 | Brown | 39 | Fashion | 15 |
| 2 | Essex | 10 | Brown | 37 | Blue | 35 | Beauty | 13 |
| 3 | Hertfordshire | 5 | Black | 16 | Hazel | 19 | Performance | 9 |
| 4 | Tyne & Wear | 5 | Blue | 1 | Green | 7 | Media | 8 |
| 5 | Devon/Greater Manchester/Merseyside | 3 | | | | | Operations | 8 |
The unlikely contestants
After analysing our results, we found a few unlikely contestants that made it onto the show.
On paper, season four's Georgia Steel, a student from York with brown hair and green eyes, doesn't fit many of the top-five characteristics of an islander. However, Georgia lasted a total of 47 days on the show and finished in eighth place.
Turning to the men, the average height of all male contestants is around 185cm, but season three's Kem Cetinay, a hairdresser from Essex, fell well below this, measuring 169cm. Kem even went on to win the season after coupling up with Amber Davies. So, you don't necessarily need to have all the aspects of the perfect islander to do well on the show.
How would the presenters do?
We've already looked at past islanders, but how do the Love Island presenters do? After entering the details into our Love Island quiz, we found that both Iain Stirling and Laura Whitmore have quite a few of the ideal characteristics, and they both have a 61–80% chance of being accepted for the show. Not too bad!
Peter Watton, spokesperson for matched betting specialist OddsMonkey, said:
"ITV have announced that Love Island will be back this summer, and there's no doubt they'll have an influx of applicants desperate to appear on the show. But, before they fill out the application form, they might be keen to know what their chances are of being accepted. We looked at the key characteristics of past contestants and created our Love Island quiz to tell people what the odds are of being on the show.
"Most of the data we expected to see, such as blonde and brown hair being the most common. It's also not surprising that most contestants hail from London, and we certainly expected that modelling would be the most common job title for both male and female islanders.
"However, it's interesting to see that some islanders who fit very few of the desirable criteria have still been accepted for the show and have gone very far before being eliminated. In fact, even some of our winners haven't been 'the perfect islander'. So, for anyone who wants to apply but doesn't think they'll be accepted, it's definitely worth a try. And, if you're not sure, you can always take our quiz to find out your chances of making it onto the show — you might be surprised!"
Although last summer's Love Island was cancelled, it's been confirmed that the show will return to our screens this summer 2021. We don't have a start date yet, but there's no doubt that we'll all be stuck to the sofa come 9pm desperate to find out who is the next person to be dumped from the island.
Lots of ex-islanders have gone on to make money from social media. If you haven't made it onto the show this year but you'd still like to become a social media star, then take a look at our tips from a successful influencer. Or, you might like try one of our other side hustle ideas.  
[i] Quiz was created by putting together a profile for each contestant that has appeared on Love Island UK from seasons one to six. The seven categories we looked at are hometown, county, age, height, eye colour, hair colour, industry, job. We then ranked the data from most common to least common to figure out what the 'ideal' Love Island contestant would look like. Data was taken from Wikipedia in February 2021. All data is correct as of the time each contestant entered the villa. Note: Height data was unavailable for some contestants.